Peak Crypto Craziness?
I'm writing this Saturday night, Pacific Time, and cryptos never rest. By Sunday morning, "Bitcoin Cash" might have soared another $1,000 or crashed by $1,000; and bitcoin might have soared or crashed by another $1,500. Neither would surprise me, the way these things are going.  One thing for sure, you're not watching grass grow.
Bitcoin Cash, which was split from bitcoin in August, began surging from $630 on Thursday mid-day Pacific Time. Within 24 hours, it jumped 50% (or by $320) to $950. It then lost steam. But in the wee hours of Saturday morning, it fired up again and soared another $450 to $1,400 by late morning. It then fell off, but Saturday night, it returned to form and spiked to $2,448 at the moment, nearly quadrupling in two days. Here is what the move looks like in US dollars in a seven-day chart (via WorldCoinIndex):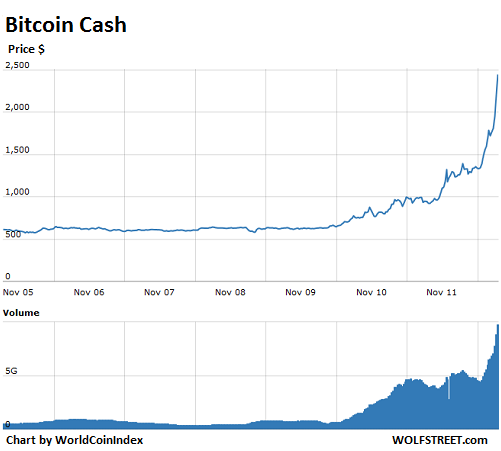 Its market valuation jumped by $30 billion over the two days, from $10.6 billion to $41 billion. I mean why even bother with the stock market.
Bitcoin went the opposite way. It plunged from a peak of $7,771 on November 8 mid-morning to $5,519 at this moment, losing $2,252 or 29% in three days. It's now back where it first had been in late October. Its market valuation plunged by $35 billion from $127 billion to $92 billion. $35 billion is starting to add up, so to speak (via WorldCoinIndex):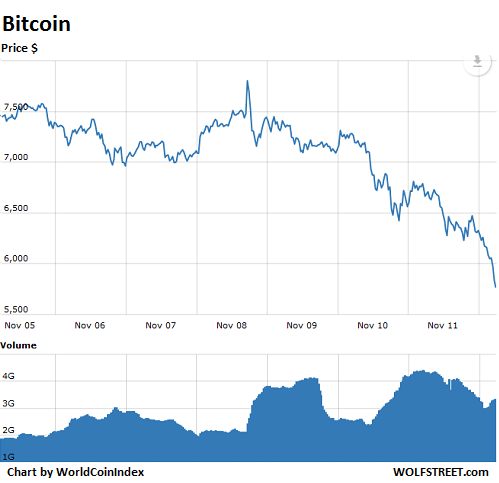 Bitcoin ran into an entanglement on November 8, when developers called off a planned software upgrade, SegWit2x. The upgrade was supposed to have improved transactions speeds. This was blamed for the plunge that started on Wednesday.
Then the fun focused on Bitcoin Cash. By Friday, as Bitcoin Cash had soared 50% while bitcoin was crashing, it was blamed on traders that were switching from chasing after bitcoin to chasing after Bitcoin Cash.
At the time, Joshua Raymond, a director at the foreign-exchange and CFD broker XTB, told Business Insider:
"The delay to Segwit2x has damaged confidence amongst bitcoin investors concerning the much-needed resolution to speed up bitcoin's slow processing speed.

"Everyone was hoping the Segwit2x would address this but unfortunately, the delay due to a lack of consensus on the mechanics has affected confidence. Confidence on transaction speed in Bitcoin has deteriorated significantly in recent months. As Bitcoin Cash enjoys much faster transaction speeds, we have started to see a recycling of positions out of Bitcoin into Bitcoin Cash as a consequence."
Just don't call cryptos an investment or asset or asset class or currency. While they could be used as currency, in reality, these kinds of violent moves make their use as currency way too risky and nonsensical. What's left?
The blockchain technology, which underpins these cryptos, is free and open source. Currently a lot of smart brains are trying to figure out how to put the technology to work in all kinds of industries. Some of them will likely succeed. I'm looking forward to the moment when there is a way of transferring money around the world that is universal, convenient, cheap, fast, not subject to violent fluctuations, and 100% reliable. But that moment isn't here yet, and neither bitcoin nor Bitcoin Cash will have anything to do with it.
Instead of being usable currencies, cryptos – CoinMarketCap lists nearly 1,300 of them, with many of them already worthless – are a form of online betting based on a new technology, and they're subject to different dynamics than classic online betting, but not regulated or forbidden by governments, unlike classic online betting.
These dynamics include artificial scarcity and artificial demand. Everything is just a game. If the Big Money – hedge funds, for example – jumps in, this stuff soars. If the Big Money tries to take profits and convert those massive, lightning-fast gains into dollars, euros, yen, yuan, or whatever, it crashes. That's it. But it sure is entertaining.
The thing with artificial demand is that it can completely dry up without notice and never return, and then the value can go to zero, a journey many cryptos have already undertaken. But like all forms of betting, it can be fun and very lucrative for as long as ceaseless hype continues to create this artificial demand.
On a side note: These moves tonight are so nuts that I have to change the numbers dramatically every few minutes as I'm working on this article. But I think it's time for a good beer, to let these things go their crazy way.
Our risk-free forever-surging stocks are too tame? Chase "blockchain" and cryptocurrencies. Read… Big Bitcoin Investor Believes Bitcoin Might Still Go to "Zero," Just Riding the Momentum
Enjoy reading WOLF STREET and want to support it? You can donate. I appreciate it immensely. Click on the beer and iced-tea mug to find out how:

Would you like to be notified via email when WOLF STREET publishes a new article? Sign up here.