Even from Japan – whose export producer prices are soaring.
The oil price collapse that started in 2014 pushed down input costs that companies – the "producers" – faced. And producer price indices, which measure inflation further up the pipeline, plunged. But this is over. And the biggest export powerhouses in Asia that have ballooning trade surpluses with the US, show how.
The Producer Price Index in Japan – the "Corporate Goods Price Index," as it's called there – jumped 3.4% in October compared to a year ago, after already climbing an upwardly revised 3.1% in September, the Bank of Japan reported on November 13. It was the tenth month in a row of year-over-year gains and the highest annual rate since September 2014, by which time the collapsing energy prices were mopping up any inflationary pressures (chart via Trading Economics):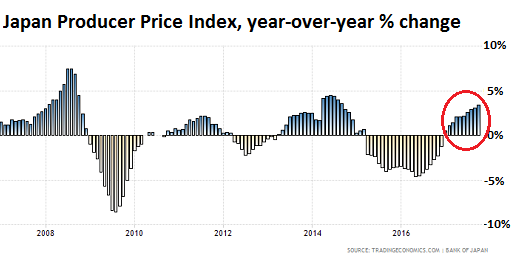 On a monthly basis, the index rose 0.3% from September. But excluding "extra charges for summer electricity," the index jumped 0.6% month-over-month.
The biggest movers: Nonferrous metals prices soared 22.4% year-over-year, petroleum and coal products 15.8%, iron and steel 9.7%, and chemicals and related products 3.6%.
On the negative side of the ledger there wasn't much activity: prices for electrical machinery and equipment edged down -1.1%, for business oriented machinery -0.4%, and production machinery -0.3%.
Export prices in October jumped 9.7% year-over-year in yen terms and 3.8% in contract-currency terms. Export prices of Metals and related products soared 25.8% in yen terms and 17.7% in contract-currency terms. Chemical and related produces soared 16.3% and 11.8% respectively. Other primary products and manufactured goods prices jumped 10.3% and 4.2%. All three of them soared in double-digit percentages just from September!
Japan has exported $101 billion in goods to the US so far this year.
China is the trade giant: it has exported $365 billion in goods to the US so far this year. And its Producer Price Index for October, which was released on November 9, painted a similar picture, only hotter, with a year-over-year surge of 6.9%, the 14th straight month of gains (chart via Trading Economics):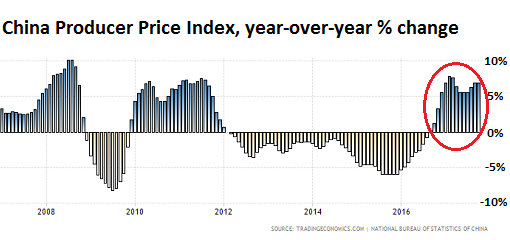 South Korea, another Asian export powerhouse, with $53 billion in exports to the US so far this year, has not reported its October PPI yet. But its September PPI jumped 3.6% year over year, the 11th month in a row of increases (chart via Trading Economics):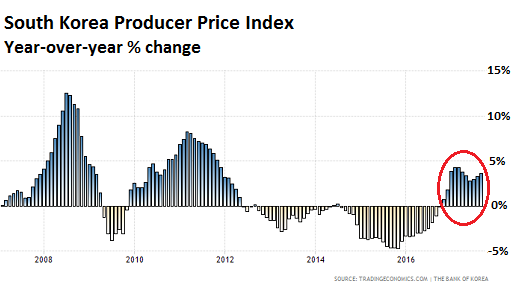 These price pressures will work their way into the US supply chain and come on top of other price pressures that have been building up in the US recently.
The Consumer Price Index for September already rose 2.2% year-over-year, up from 1.9% in August, and 1.7% in July. The relief from dropping energy prices has faded. Now energy prices are rising. But the inflation story doesn't just play in the realm of goods. Prices for services have been rising too, with the CPI for services without energy rising 2.6%. And at the moment, globally, there isn't a whole lot in sight to push inflation in the US down. But there are a lot of indications emerging, such as the PPI data above, that inflation is in the process of heating up. Bond market, are you awake? Nope, lulled to sleep.
Asset price inflation has already been rampant for years in the US. Here's Silicon Valley. Read… The Cities in Silicon Valley with the Biggest Housing Bubbles
Enjoy reading WOLF STREET and want to support it? You can donate. I appreciate it immensely. Click on the beer and iced-tea mug to find out how:

Would you like to be notified via email when WOLF STREET publishes a new article? Sign up here.