But household incomes got left behind, even in Silicon Valley.
Ten years have passed since the peak of Housing Bubble 1 in Silicon Valley. In 2007, home prices were crazy. After they began diving, accompanied by a deafening layoff boom, everyone called what had happened before a "bubble." But in early 2010, the layoff boom flipped around and turned into a dizzying hiring boom, and home prices bottomed out in late 2011, as global liquidity was once again washing ashore.
Now, ten years later, the hiring boom that has created hundreds of thousands of jobs in the Bay Area is stalling. And home prices?
Let's start with the most expensive Bay Area town first: Atherton, with a population of less than 8,000. Only a few homes are sold every month. Currently, 25 homes are listed for sale on Zillow, ranging in asking price from $2.8 million to $22.8 million. Some of them have been on the market for well over a year (including 945 days). With few sales every month, the median price can be a very jumpy.
For example, Forbes, when it called Atherton the most expensive zip code in 2015, figured that the median home price was $10.6 million.
In its new report on the 10-year changes in property prices and household incomes in Silicon Valley, PropertyShark placed the peak of Atherton's Housing Bubble 1 in 2008. Prices "took a tumble in 2009 and 2010, only to rebound and grow even faster over the following years," it said. After perhaps a few low-brow homes sold, the median price was at $5.1 million (as of August 31), up 45% from the prior peak.
In terms of income, based on IRS data of "Adjusted Gross Income" (AGI), Atherton was in sixth place nationally among zip codes with at least 1,000 tax returns. Its tax returns sported a median AGI of $2 million.
The Census Bureau, using its survey data set of household income – income from all regular sources, including interest and dividends but not including capital gains and other one-time events – figured Atherton's household income at $250,000.
So Atherton is probably not the most representative example for Silicon Valley because it is such an outlier in its small size, its sky-high home prices, and its hard to plumb incomes.
A step down, in the second most expensive town in Silicon Valley, Los Altos Hills, the median home price – all prices include single-family houses and condos – surged 79% from peak to peak, from $2.2 million in 2007 to $3.9 million in August 2017. That's a gain of $1.7 million. But median household income ticked up only 3% over the period to $226,300.
In the third most expensive town, Hillsborough, the median home price jumped 45% from peak to peak, to $3.6 million, while the median income rose 13% to $229,100.
Several steps down, the center of Silicon Valley's venture-capital ecosystem, Palo Alto, is in seventh place, with a median home price that surged 131% from peak to peak, reaching $2.75 million, while the median household income eked out a gain of 15%.
The seven most expensive cities of the 29 on the list experienced peak-to-peak home-price increases of over $1 million! At these prices and with these dollar-gains, they make San Francisco look like a forlorn outpost in the boonies.
The table below shows these 29 towns that make up Silicon Valley, in order of median home price in August 2017 (data via PropertyShark):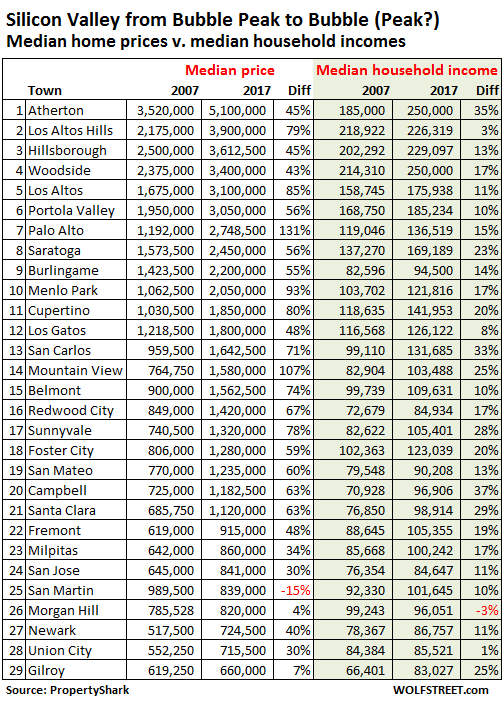 Note that Mountain View, in 14th place, saw home prices more than double from the prior peak, with the median price soaring 107% to $1.58 million, while household income rose 25% to $103,500.
There is only one town — San Martin, near the southern end of Silicon Valley — where home prices haven't quite reached the peak of Housing Bubble 1. At $839,000, the median price remains 15% below the prior peak. However, household incomes have increased 10%. In neighboring Morgan Hill, home prices now squeaked past the prior peak (+4% to $820,000), but median the household income, at $96,051, is still down 3%.
Of the 29 towns, only eight have median home prices under $1 million. This includes San Jose, the largest city in Silicon Valley. The remaining seven are somewhat removed from the heart of Silicon Valley.
The above table depicts a story of crazy home prices and dizzying price increases in Silicon Valley since the prior peak. This housing bubble, fired up by global liquidity and cheap credit, is by far greater than any other before it.
And it also shows that household incomes – in what has become a national theme – haven't moved up nearly enough to deal with the surging home prices. These numbers combined form the "Housing Crisis" where even relatively high incomes may not be enough to pay for a modest home.
House prices in San Francisco experienced a record luxury-volume spike in October. But most homes sold are condos, and they've hit a ceiling. Read…  San Francisco House Prices Go Nuts, Condo Prices Stall
Enjoy reading WOLF STREET and want to support it? You can donate. I appreciate it immensely. Click on the beer and iced-tea mug to find out how:

Would you like to be notified via email when WOLF STREET publishes a new article? Sign up here.