A record luxury-volume spike in October.
The median selling price of a single-family house in San Francisco spiked by $113,000 from the crazy spike and peak in May, to a new record of – fasten your seat belt – $1.588 million, according to Paragon Real Estate Group. This was up 13.4% from October last year:
But it's complicated, as they say. The market for condos, lofts, and TICs (Tenancy in Common, a peculiar San Francisco form of apartment ownership and financing) isn't quite so ebullient. The median price – half cost more, half cost less – for condos ticked up year-over-year but remained below the August peak. The median price for TICs declined further. And the median price for both combined, at $1.134 million, was down a tiny bit year-over-year (-$5,500), as it is bumping into a ceiling of sorts, and after a downturn last year, hasn't moved all that much since early 2015: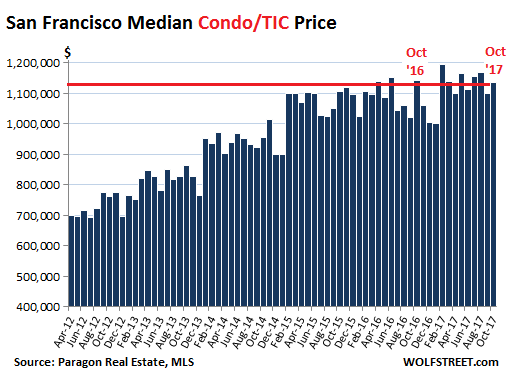 In San Francisco, condo sales outpace single-family house sales. Over the past 12 months, there were 3,602 condo sales and 2,256 house sales. So the overall median selling price for all types of dwellings is more impacted by condos than by houses.
Given the spike in house prices and the flattish prices of apartment units, the median price of all dwellings combined rose 4% in October from a year ago: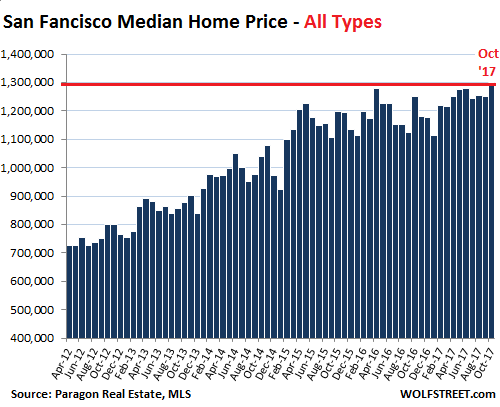 So what happened with single-family houses in October to cause this kind of crazy spike?
"October was a record-breaking month for luxury house sales, and more sales of expensive homes pull up the median price," explained Patrick Carlisle, Chief Market Analyst at Paragon Real Estate Group, in his analysis.
He points out that "median price changes are not perfect measurements of changes in fair market value." They're volatile and seasonal. And they're impacted by an increase in volume at either end of the price scale.
October sales are sales that closed in October though the homes might have gone under contract a month or two earlier. The price spike reported for October reflected activity that extended into September and August. And it's not uncommon for the luxury home sales – those over $3 million – to surge during that time.
"In recent years, October has become the biggest month for very expensive house sales. This is not the case for luxury condos, which typically peak in spring," said Patrick Carlisle, adding:
[T]he luxury home market grew dramatically from 2012 through 2015, cooled significantly in 2016 (especially the luxury condo segment), and then surged back in 2017 to hit new highs. But then everything seems to be surging higher nowadays, from stock markets to homes to iPhone prices.
What in fact happened in October was that sales volume of luxury houses (over $3 million) spiked to 38 sales, up from 25 sales during the spring peak, and up from just 13 sales in September. Luxury house sales accounted for 17% of total house sales, a new record high, up from their 10% annual share.
The prior record of luxury house sales was set during the luxury-volume spike in October 2016, when 36 of these houses were sold. There was no luxury-volume spike in October 2015. But October 2014 saw a luxury-volume spike, with 28 sales in that category.
These spikes in volume at the very high end skew the median price, given the relatively small number of houses sold in San Francisco. This is how an additional 30 sales at very high prices impact the already crazy median price for the entire market.
But rents in San Francisco have peaked. Even Seattle rents are under pressure from new construction. But rents are surging in mid-tier markets. Read… It Gets Serious: Biggest US Cities Where Rents Are Plunging
Enjoy reading WOLF STREET and want to support it? You can donate. I appreciate it immensely. Click on the beer and iced-tea mug to find out how:

Would you like to be notified via email when WOLF STREET publishes a new article? Sign up here.