But condos have issues: "Foreign buyers have played a significant role; it is possible this demand has declined due to political issues here and in China."
The median sale price of single-family houses in San Francisco had been flat-lining, despite all the monthly volatility, since the spike in May 2015. At the time, it peaked at $1.40 million. In May 2016, it fell 4% to $1.35. The peaks over the next 12 months stayed in that range. But in May 2017, all statistical heck broke loose.
The median house price suddenly spiked by $111,000 from April, by $152,000 or 11% from May 2016, and by $100,000 from the prior peaks in May 2015 and October 2016, to reach just over $1.5 million: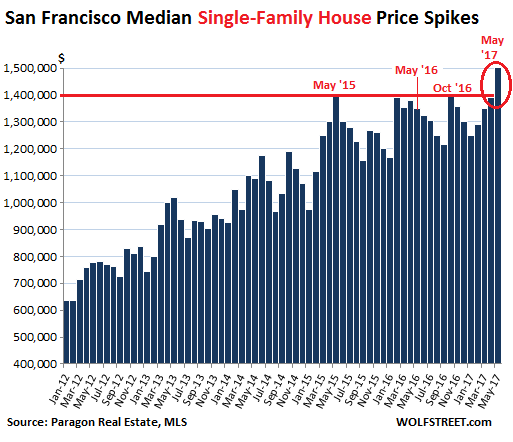 For condos a similar pattern occurred – but there were some complications (which we'll get to in a moment).
The median condo price had been edging down ever so slightly, interspersed with plunges and spikes, from the May 2015 peak of $1.15 million. In May 2016, it dropped 6% year-over-year to $1.08 million. By April 2017, it was $1.12 million, still below the peak nearly two years earlier.
But according to Paragon Real Estate, which provided this data based on MLS data, the median condo price spiked this May by $100,000 from April, and by $113,000 from May 2016 to a new record high of $1.2 million: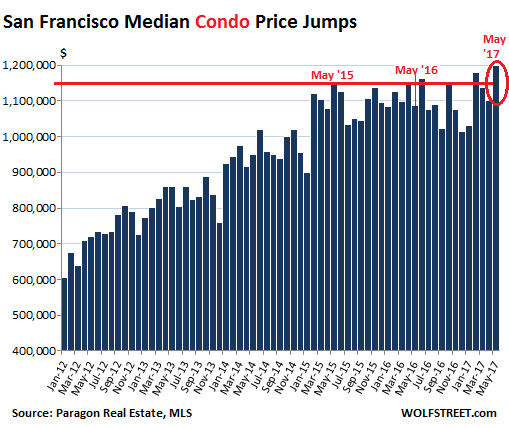 With the median prices of single-family houses and condos combined, a similar picture emerges, of two years of flat-lining but highly volatile prices, and a sudden spike in May 2017: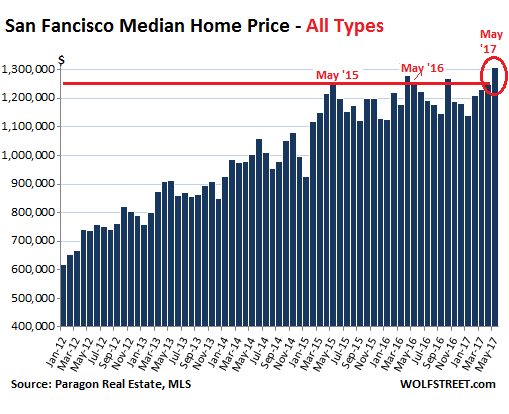 But all the up-and-down drama over the past few years has been happening to a drumbeat of declining sales volume.
In terms of sales volume, May is typically one of the top months of the year. This May, sales volume of all types of homes combined, at 467 sales, was the highest so far this year, as is typical. But compared to other Mays, it was the second lowest over the past five years, with only May 2016 (458 sales) being lower. This trend over the past five years of declining year-over-year volume has also been present during the rest of the year. At the bottom end of the volume scale, this January's 255 sales were the second lowest, barely ahead of the 253 sales in January 2016. This February's 267 sales were the lowest since the housing boom began anew in 2012.
This chart shows the trend of declining sales since the volume peak in 2013. Between May 2013 and May 2017, sales volumes have ever so gently plunged 26%:
Patrick Carlisle, Chief Market Analyst at Paragon Real Estate Group had some caveats in his report about these volatile median prices:
We are not that enthusiastic about using monthly median prices, because San Francisco does not have that many sales in any given month (400-550), and they're divided among four property types in 70-odd neighborhoods with different values.

Note that it is not unusual for median sales price to spike in spring and then decline thereafter as the market starts to cool for summer (i.e. spring median prices do not immediately become the new normal).
Carlisle points out that the house market is "hotter than the condo market, and the more affordable house market (affordable by San Francisco standards, i.e. under $1.5 million) turned into a feeding frenzy this spring."
While there have been a lot of new residential units coming on the market as a result of a historic construction boom, they're all condos and apartments. Practically no single-family homes are being built in the city.
The hottest neighborhoods were Sunset, Parkside, and Golden Gate Heights, when measured by "overbidding" – the amount that sales prices exceed final list price. In those areas, the median percentage of sales prices over list prices reached a "stupendous" 22%, Carlisle wrote.
No such luck with condos. Overbidding was generally much lower. And in the neighborhoods where much of the new construction is coming on the market – South Beach and South of Market (SoMa) – the median percentage of overbidding was zero. In Pacific Heights and the Marina the median percentage of overbidding was also zero.
The luxury end of the market had taken somewhat of a beating in late 2015 and in 2016, and though it bounced back some, Carlisle says that it, "generally speaking, is still not quite as strong as it was in spring 2015." There are more dark clouds for that end of the market:
The biggest change in the luxury home market has been the dramatic drop, almost 50% year over year, in luxury condo sales reported to MLS in the greater South Beach/ SoMa/ Yerba Buena district, even as listing inventory there has hit new highs.

This is the area where large, very expensive, high-rise projects continue to come on market, and, to some degree, they may be cannibalizing MLS sales in the resale market.
And he has a special word about foreign buyers and China:
Foreign buyers have played a significant role here in recent years and it is possible (we do not have hard data) that this demand has declined due to political issues here and in China.
So after nearly two years of sideways movement in the San Francisco housing market, with luxury condos taking a definite hit, there is now a one-month price spike outside the luxury condo market. June or July will kick off the summer doldrums with price declines merely by dint of seasonality. So it will take a while to confirm whether the May spike is taking the craziness to the next level, or if it was a statistical blip. Stay tuned.
While hiring in May was, according to LinkedIn data, strong in most of the US, there was an exception: San Francisco and Silicon Valley, where tech skills are suddenly "abundant." Read… It Starts: Hiring Falls in San Francisco Bay Area, Says LinkedIn
Enjoy reading WOLF STREET and want to support it? You can donate. I appreciate it immensely. Click on the beer and iced-tea mug to find out how:

Would you like to be notified via email when WOLF STREET publishes a new article? Sign up here.