Even Seattle rents are under pressure from new construction. But rents are surging in mid-tier markets.
Over the past few years, commercial real estate prices have boomed, and so has multi-family construction, enticed by dropping and desperately low rental vacancy rates that have pushed up rents. But vacancy rates bottomed out in Q2 2016 and have since turned up. In Q3 2017, the rental vacancy rate rose to 7.5%, the Census Bureau reported on Tuesday. While still low, it's the highest rate in over three years: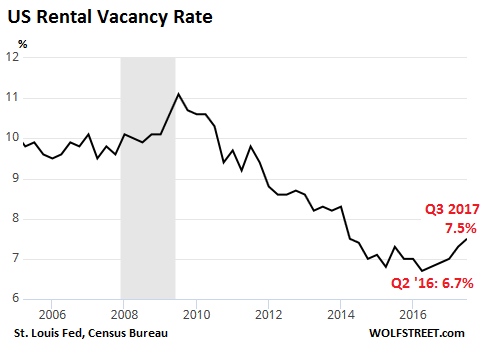 Rents have started to respond in the most expensive rental markets.
In San Francisco, the most expensive major rental market in the US, the median asking rent for a one-bedroom apartment inched up 1.2% year-over-year to $3,420 but is down 6.8% from the peak in October 2015. For a two-bedroom, the median asking rent dropped 5.9% year-over-year to $4,500 and is down 10% from the peak.
These are asking rents in multifamily apartment buildings, that Zumper aggregated in its National Rent Report. Single-family houses or condos for rent are not included. And these asking rents do not consider incentives, such as "one month free" or "two months free," which effectively slash the rent for the first year by another 8% or 17%. The data is based on "over one million active listings," Zumper explains in its methodology. Importantly, the data also includes asking rents from new construction.
So this is not what renters are currently paying, which in many cities includes rent-controlled units. Rather, it's a measure of the open market, including new construction units.
And these new units have an impact. In New York City, the median asking rent for a one-bedroom dropped 4.3% year-over-year to $2,870. For two-bedrooms, it dropped 10.7% to $3,100. Measured from the peak in March 2016, asking rents – not including incentives – have plunged respectively 15% and 22%.
After this plunge, New York's one-bedroom rents are in second place and two-bedroom rents in fourth place behind San Francisco, Los Angeles, and Washington DC – which also says a lot about how expensive DC and LA have become.
In Chicago, the median asking rent for a one-bedroom apartment dropped 15.9% year-over-year to $1,530, and 15.6% to $2,110 for a two-bedroom. Whatever the reasons – from Chicago's declining population to its fiscal woes – median asking rents have plunged by 25% and 20% respectively from their peaks in late 2015.
Even in Seattle, asking rents are coming under serious pressure, possibly due to new construction units piling on the market as years of crane-counting are producing results. The median asking rent for one-bedroom apartments dropped 1.1% year-over-year and is down 7.7% from the peak in August. Part of the sharp decline since the summer may be due to seasonal patterns. Rents for two-bedrooms still rose 3.7% year-over-year but are down 5.7% from their peak in April!
In this table of the 12 most expensive major rental markets, the shaded area indicates peak rents and the changes since then. Note the prodigious amounts of red ink. Double-digit declines from peak hit one-bedroom rents in four of the 12 cities and hit two-bedroom rents in six of the 12 cities: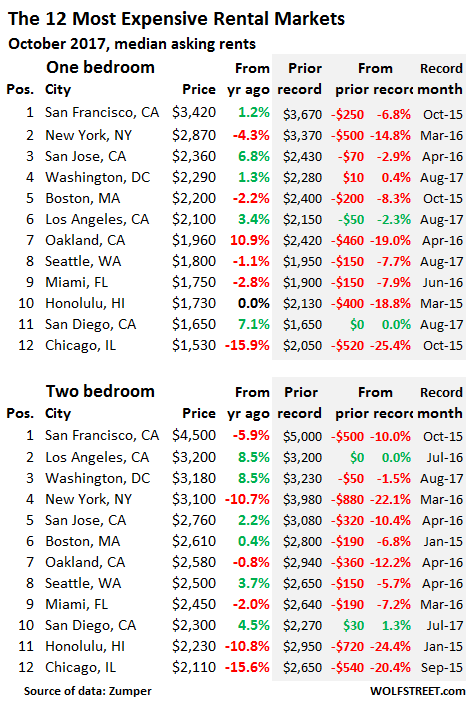 A word about the other double-digit losers among the top 12:
In San Jose, rents are coming under pressure compared to their peak in April 2016, with the median two-bedroom asking rent down 10% from the peak.
In Oakland – once red-hot as it attracted San Francisco's housing refugees – one-bedroom and two-bedroom rents have plunged 19% and 12% respectively from their peaks.
In Honolulu, rents plunged 19% and 24% from their peak, rivaling Chicago's rental market.
But there's a boom in "mid-tier" rental markets.
In many "mid-tier" markets – "mid-tier" in terms of the magnitude of the rent – asking rents are soaring. Here are some of the mid-tier markets with double-digit year-over-year rent increases (one-bedroom and two-bedroom apartments):
Denver, CO (+10.3% and +4.2%)
Dallas, TX (+10.7% and 12.5%)
Irving, TX (+14.3% and 8.0%)
Sacramento, CA (+15.0% and +14.4%)
Orlando, FL (+14.7% and 7.5%)
Houston, TX (+15.4% and 15.4%). This surge suggests that the damage Hurricane Harvey did to the housing stock is goosing the rental market.
However, asking rents in some formerly hot mid-tier markets are now declining on a year-over-year basis, including in Portland, OR (-2.2% and -3.7%) and in Austin TX (-5.2% and -6.8%). And other mid-tier markets have come under heavy pressure, including New Orleans (-12.1% and -11.4%) and Minneapolis (-15.4% and -7.7%).
Whiplash from the drama on the ground?
With rents plunging in some markets but rising or surging in many others, the picture of this vast nation shows that rents are still rising overall.
This is confirmed by recent inflation figures. In September, the Consumer Price Index for "rent of primary residence" increased by 3.8% year-over-year. And according to Zumper's national rent index, the median asking rent for a one-bedroom rose 4.1% year-over-year and for a two-bedroom 3.8%. These overall rent increases will continue to feed inflation. It's just that in the most expensive markets in the US, rents have hit a ceiling and have bounced off this ceiling. And some of this is now spreading to other markets.
Here's some extraordinary home price inflation in all its beauty. Read…  The US Cities with the Biggest Housing Bubbles
Below is Zumper's list of the top 100 most expensive rental markets and price movements. Check out your city (click to enlarge).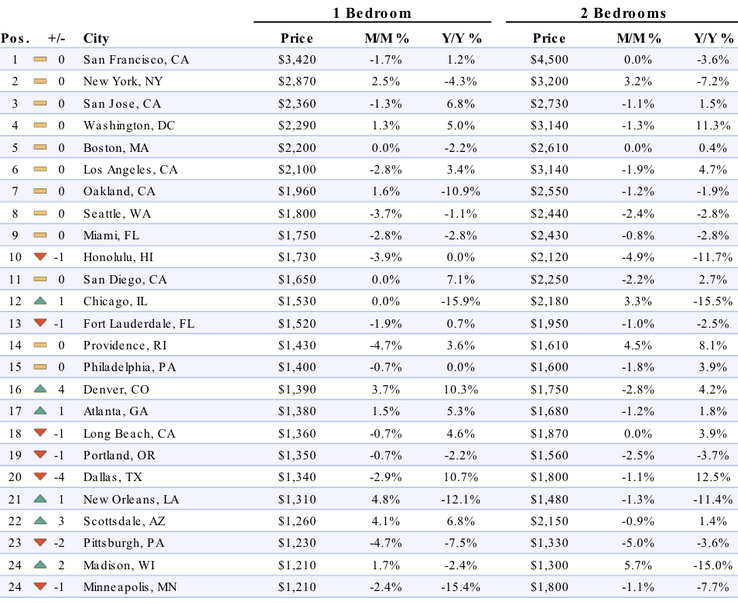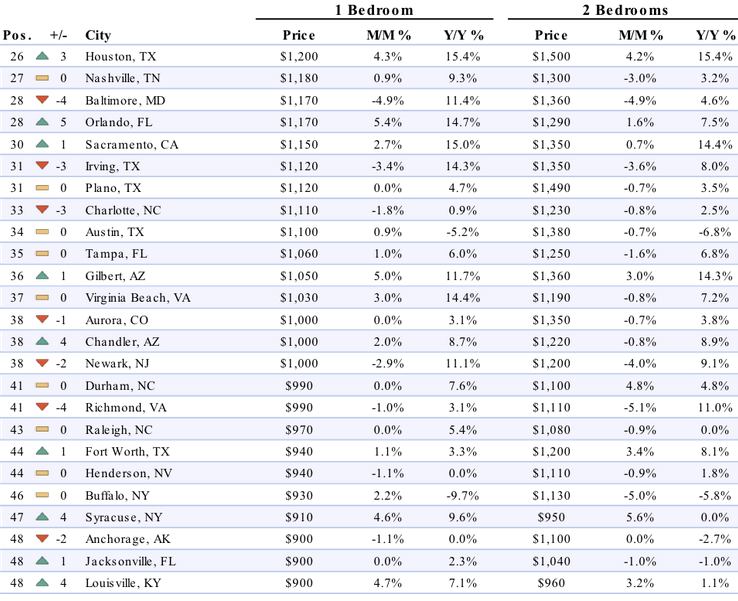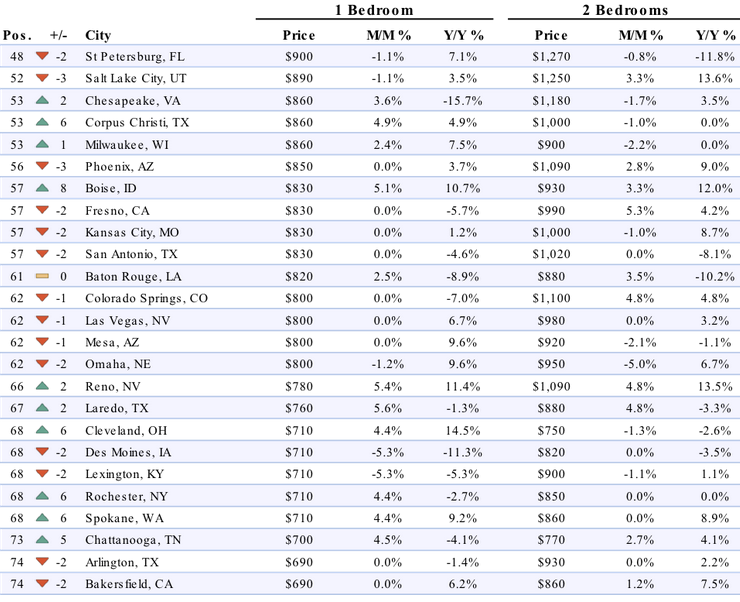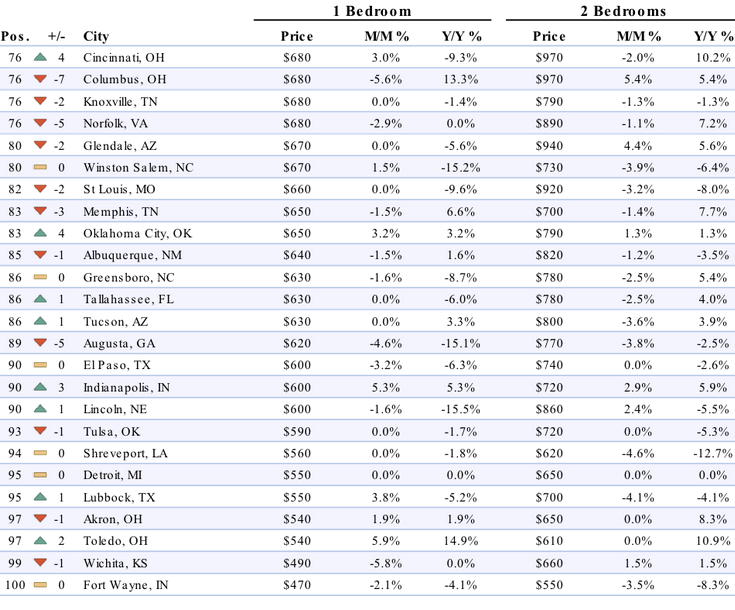 Enjoy reading WOLF STREET and want to support it? You can donate. I appreciate it immensely. Click on the beer and iced-tea mug to find out how:

Would you like to be notified via email when WOLF STREET publishes a new article? Sign up here.