Extraordinary home price inflation in all its beauty.
The S&P CoreLogic Case-Shiller National Home Price Index for August was released today. The not-seasonally-adjusted index jumped 6.1% year-over-year. Yesterday we learned that "real" disposable income for US consumers inched up only 1.2% in September over the 12-month period, and that on an individual basis — on a "per capita" basis — it edged up only  0.56%.
Home price increases have been outrunning disposable incomes for years. The Case-Shiller index has now surpassed by 5.7% the crazy peak in July 2006 of Housing Bubble 1: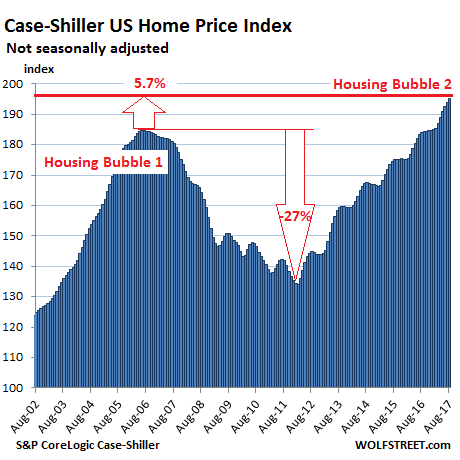 Real estate prices are subject to local dynamics. But they're also massively impacted by monetary policies, particularly in places where the money flows to, which creates local housing bubbles. When enough local bubbles occur simultaneously, it becomes a national housing bubble – as demonstrated in the chart above.
Below are the local housing bubbles of major metro areas in all their magnificent beauty:
Boston:
The index for the Boston metro rose again on a monthly basis and has surged 6.9% year-over-year. During Housing Bubble 1, it soared a blistering 82% from January 2000 to October 2005, before the plunge set in. But after years of price surges, it is now 13% above the peak of Housing Bubble 1: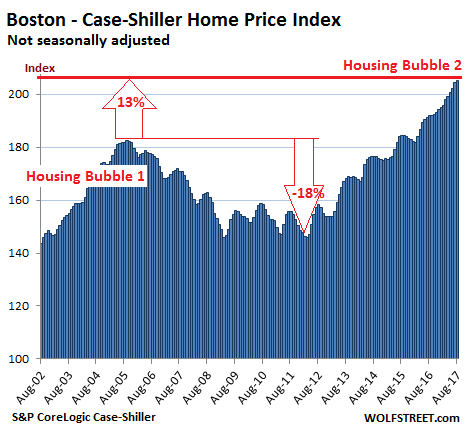 The Case-Shiller Index is based on a rolling-three month average; today's release was for June, July, and August data. Instead of median prices, the index uses "home price sales pairs," for instance, a house sold in 2011 and then again in 2017. Algorithms adjust this price movement and incorporate other factors. The index was set at 100 for January 2000. An index value of 200 means prices have jumped 100%.
Seattle:
The index for home prices in the Seattle metro was flat on a month-to-month basis, after having spiked since the spring of 2016. First sign of a let-up? Maybe not. The index is not seasonally adjusted, and a flat spot this time of the year is not atypical. The index has spiked a breath-taking 13% year over year and is now 20.4% above the peak of Housing Bubble 1 (July 2007):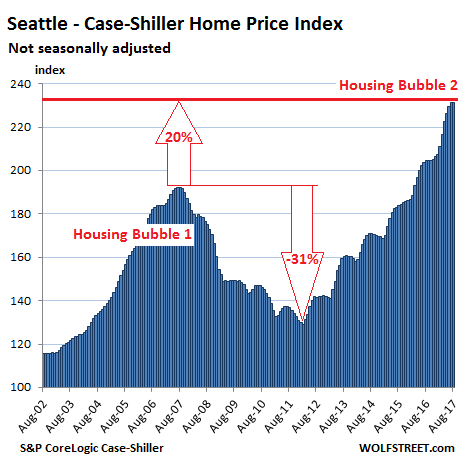 Denver:
The index for the Denver metro notched up another monthly gain and is up 7.2% year-over-year. It has now surged 44% above the prior peak in the summer of 2006. When Housing Bubble 1 was blooming in many big markets, home prices in Denver were rising but not exploding, gaining about 12% in four years, and people felt left out. But in 2012, all heck broke loose with Housing Bubble 2: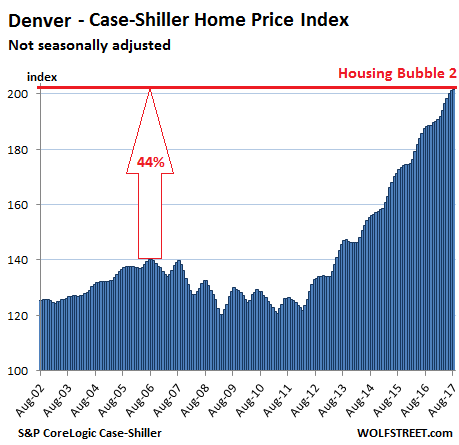 Dallas-Fort Worth:
The index for the Dallas-Fort Worth metro ticked up again on its relentless march higher. It's up 7.1% year-over-year and 42% from the prior peak in the summer of 2007. Like the folks in Denver, homeowners in North Texas felt left out during Housing Bubble 1, when prices rose "only" 13% in five years, and a sense of unwelcome housing sanity prevailed: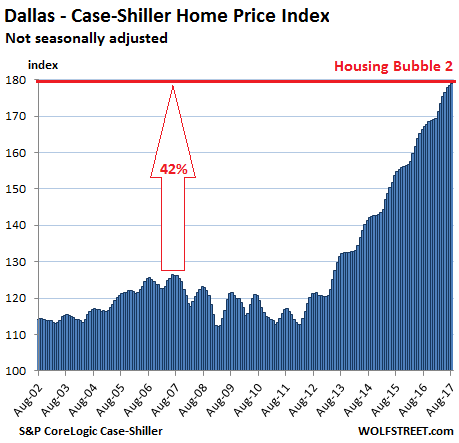 Atlanta:
Home prices rose 5.4% year-over-year and are now 2.5% above the peak of Housing Bubble 1. From that peak, the index plunged 37%. It's now up 70% since February 2012: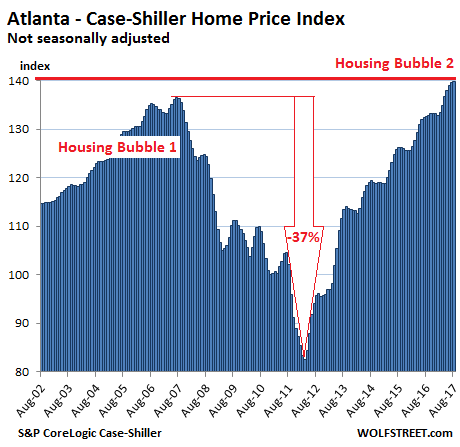 Portland:
Home prices rose again on a monthly basis and are up 7.2% year-over-year. Prices have soared 73% in five years and are 20% above the crazy peak of Housing Bubble 1, having ballooned 123% in 17 years: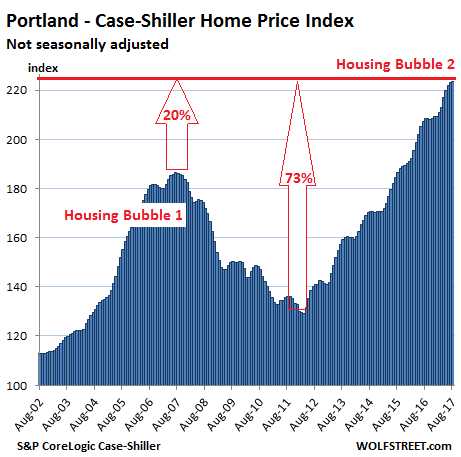 San Francisco:
The index, which covers five counties of the Bay Area and not just San Francisco, actually — I mean, wow — inched down for the month. Sign of things to come? As in Seattle, monthly declines this time of the year are not uncommon. And the index remains up 6.7% year-over-year.
Case-Shiller also offers a "High Tier" index (not pictured) for the area, which tanked 43% during the housing bust but has now surged past the prior peak. The index dropped nearly 1% from last month, but remains 11% above its peak during Housing Bubble 1.
The overall index (chart below) is now 27% above the crazy peak of Housing Bubble 1, and is up 83% from the end of the housing bust, when the liquidity from global monetary experimentation washed ashore in the Bay Area: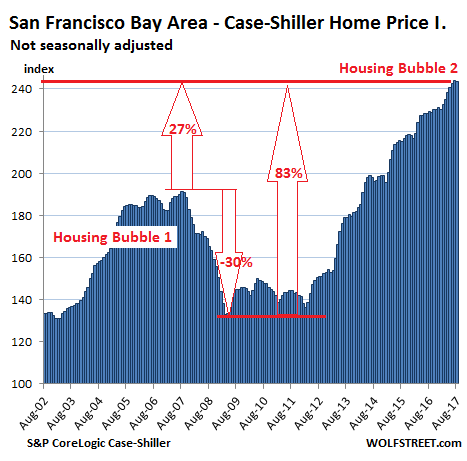 Los Angeles:
The index rose again for the month and is up 6% year-over-year. In terms of Housing Bubble 1, few cities can hold a candle to LA's beautiful sugar loaf, where home prices skyrocketed 174% from January 2000 to July 2006, before giving up much of it. Though the index has soared at a dizzying rate since the bust, it's still not quite back at the insane peak of July 2006, but getting closer, just 2.5% shy of taking out that record: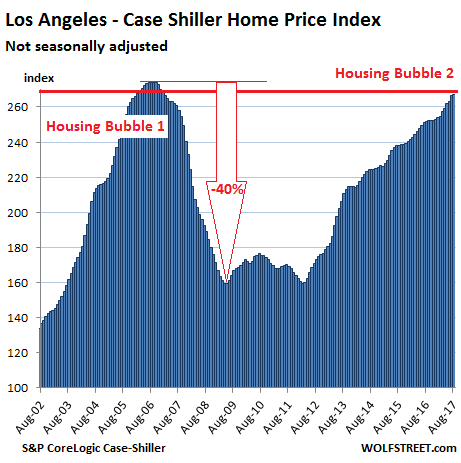 New York City Condos:
So the condo bubble in New York City is taking a breather: The index edged down for the month! But it remains up 3.9% year-over-year amid signs the condo market in Manhattan is running out of steam. Note that the index skyrocketed 131% from 2000 to February 2006. That was Housing Bubble 1. It barely deflated before the Fed's flood of money inundated Wall Street. The index is 19% above the peak of Condo Bubble 1 and has soared 175% over the past 17 years: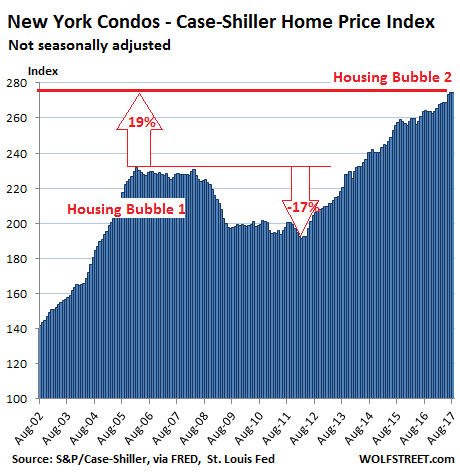 This is what asset price inflation looks like. A property whose price increases by 50% in five years isn't 50% bigger than it was before. Instead, the value of the dollar with regards to assets has gotten crushed under the Fed's policies of QE and ZIRP. These policies produced no wage inflation, moderate consumer price inflation, and extraordinary asset price inflation.
In other words, labor has gotten shafted and now working people struggle mightily to buy or rent housing with the fruits of their labor — hence the "affordability crisis" — while asset holders have gotten the spoils. This is not a prescription for a healthy economy.
Yet the term "housing bubble" to describe the housing market that peaked in 2006 and imploded afterwards with global effects is getting expunged from the national vocabulary. The idea currently being propagated is that years of asset price inflation have "healed" the housing market and that the crazy peak of Housing Bubble 1 is the new normal base for future asset price inflation or something.
This confirms what many Americans feel in their wallets. Read… The Bitter Irony about Today's "Real Disposable Income"
Enjoy reading WOLF STREET and want to support it? You can donate. I appreciate it immensely. Click on the beer and iced-tea mug to find out how:

Would you like to be notified via email when WOLF STREET publishes a new article? Sign up here.