Carmageddon for Tesla, Fiat Chrysler, Hyundai, and Kia.
Tesla just reported its worst quarter ever, which means something. It lost $671 million and burned $1.4 billion in cash in the third quarter, on $2.98 billion in revenues. In the three quarters this year, it lost $1.47 billion and burned $3.2 billion in cash. The Model 3 isn't happening in any appreciable numbers. Only a few hundred hand-fabricated units have been rolled out, with mass-production being woefully behind the company's silly promises.
All this is OK for a young company trying to needle the giants. But its stock price isn't OK. Though shares fell to $305 in late trading, down 21% from their peak earlier this year, they're still giving Tesla a market capitalization of an inexplicable $54 billion.
In October, according to Audodata estimates, Tesla sold a total of 3,550 vehicles in the US, down 13.4% from a year ago. Tesla deliveries in the US, after a strong first half, have been declining since July on a year-over-year basis. Whatever happens to the Model 3, Tesla is losing ground in the US with its other models.
Tesla's market share in the US in October was a minuscule 0.26% of the 1,354,875 total new vehicles sold in the month. Tesla was ahead only of Maserati and Ferrari – tiny niche brands. Beyond the Wall Street hype, when it comes down to real sales numbers in this vast industry, Tesla essentially gets lost as a rounding error.
Among all automakers, total new-vehicle sales in the US fell 1.3% in October to 1.355 million units (delivered by dealers to their customers, or delivered by automakers directly to large fleet customers).
On a year-to-date basis, total sales are down 1.7%, which puts the industry 250,000 vehicles behind last year at this time. Of the 10 months so far this year, nine experienced year-over-year sales declines, with September having been the exception.
October had one selling day less than last year, so the Seasonally Adjusted Annual Rate (SAAR) of retail sales, which adjusts for seasonal and selling-day differences, was 18.09 million units, weaker than September, but the second highest so far this year. Harvey did push some buttons:
Trucks, trucks, trucks — Texas needs them.
Overall truck sales – pickups, vans, SUVs, and small SUVs ("crossovers" because they're often based on a car chassis) – rose 3.6% to 876,140 units compared to October last year, and are up 4.3% year-to-date.
Trucks sales accounted for 64.6% of total sales. Pickup trucks were in high demand.
Ford F-Series sales surged 15.9%, their best October since 2004. The average F-series price jumped by $4,000 from a year ago to $47,300! These are high-margin units; Americans don't mind paying extra for a truck.
GM's Chevrolet Silverado sales rose 6.8%; GMC Sierra sales jumped 25.5%.
Fiat Chrysler's Ram pickup sales rose 1%, producing its best October ever.
Nissan's Titan truck sales surged 29%.
Toyota's Tundra truck sales rose 5.1%.
But car sales sucked.
Sales of cars fell 9.1% year-over-year to 478,735 units. The relentless decline continues. Americans are shifting from cars to trucks – as the industry defines "trucks," which includes crossovers, the cool successor to the station wagon.The industry considers them "trucks" most likely for marketing reasons. Year-to-date, car sales are down 10.4%.
Here are new-vehicle sales by automaker, sorted by sales in October. The automakers with declining sales in October are marked in red. Note Tesla's position near the very bottom of this list: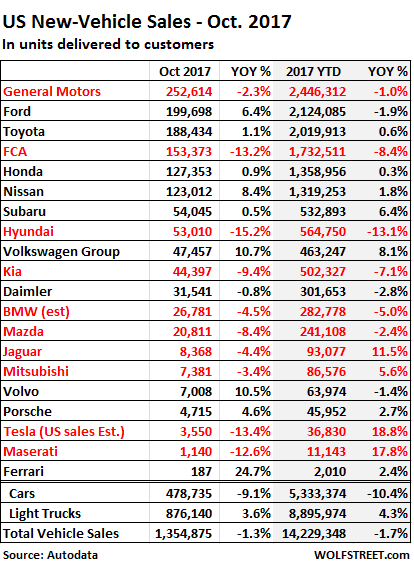 The biggest losers in terms of October sales were:
FCA sales plunged 13%, with car sales down 17% and truck sales down 13%.
Hyundai sales plunged 15%, as truck sales rose 12% but car sales plummeted 27%, by far the worst of any automaker.
Kia sales plunged 9%
Oh, and Tesla sales, plunged 13%.
Incentives, according to auto industry consultants J.D. Power and LMC Automotive, were once again over 10% of MSRP and have exceeded 10% in 15 of the past 16 months. GM's discounts amounted to 13.5% of MSRP.
Sales at dealers in the hurricane-affected areas of Texas are booming. This will continue in November. But so far this year, the industry is 250,000 units behind. That's a big nut to crack in two months, especially since December last year had been very strong, with automakers having pulled all levers to make a go of another record year. So, despite the replacement demand surge, 2017 full-year sales will likely remain behind 2016 sales. Then the replacement demand from Harvey will fade and the underlying issues will creep back to the surface.
Overcapacity is hounding GM's car plants. But other automakers do just fine with cars. Read…  GM to Lay Off 1,500 More Workers, as its Car Sales Plunge Twice as Fast as Rest of Industry
Enjoy reading WOLF STREET and want to support it? You can donate. I appreciate it immensely. Click on the beer and iced-tea mug to find out how:

Would you like to be notified via email when WOLF STREET publishes a new article? Sign up here.