"Buyers are not rushing to put their name on any contracts if they fear that a property might be overpriced."
In Sydney, home prices had jumped over 80% from the end of 2009 through the peak in September last year, after having dipped only 4.6% during the Global Financial Crisis, turning the city into one of the hottest housing bubbles in the world.
But the price boom has run its course. According to CoreLogic Daily Home Value Index, home prices fell 4.2% by the end of May compared to a year ago, with house prices down 5.9%, and prices of condos ("units" as they're called) down 0.4%. In the eight months since the peak in September, the index has fallen 4.7%: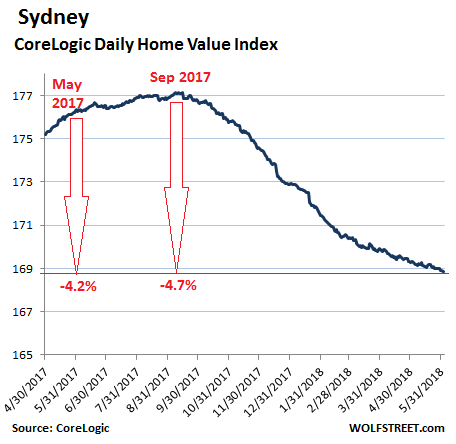 Melbourne is a few months behind Sydney. Home prices peaked in December 2017 and have since declined 1.7%, but are still remain up 2.2% from a year ago, with house prices up 1.5% condo prices flat (-0.1%).
But the last three months in Melbourne's housing market were not propitious, according to CoreLogic head of research, Tim Lawless:
Melbourne has taken over from Sydney as the weakest housing market, recording a 0.5% fall in values over the month to be 1.2% lower over the three months ending May. This is the largest decline in Melbourne dwelling values over a three month period since February 2012.

Melbourne's housing market was previously looking more resilient to value falls relative to Sydney. Recently however, auction clearance rates have been deteriorating, inventory levels are rising, and transaction activity is tracking 12.9% lower than one year ago.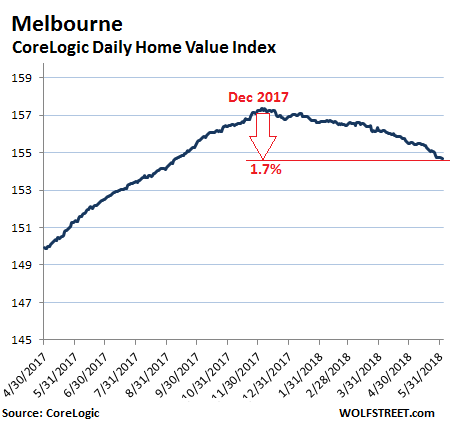 For the other three of the five capital cities, the situation is mixed. In Brisbane, home prices ticked up 1.2% from a year ago. In Adelaide, home prices edged up 0.6% from a year ago, so essentially flat.
In Perth, home prices have been declining since Western Australia got hit by the mining bust. According to Landgate, the median home price peaked at A$585,000 in November 2014 and then dropped 8% over the next three years to A$538,000 in November 2017. The CoreLogic Daily Home Value Index shows that the drop has slowed recently, with prices down 1.8% at the end of May from a year earlier, with houses flat (-0.1%) and condos down 3.2%: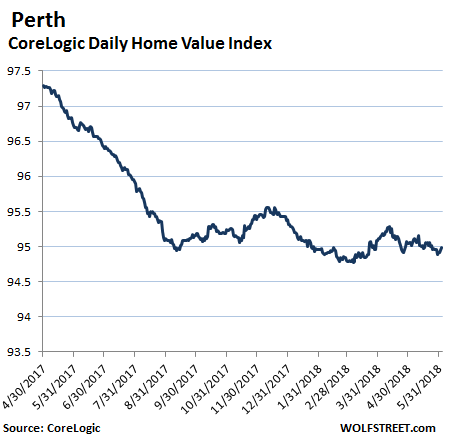 In the five capital cities in aggregate, home prices have dropped 1.1% from a year ago – the first annual decline since October 2012, according to CoreLogic. The index has now declined month-to-month for eight months in a row for a total of 2.2% from the peak in September last year.
CoreLogic's Tim Lawless:
The negative headline growth rate is a symptom of weakening housing conditions across the capital cities, led by Melbourne and Sydney where previously, capital gains were nation-leading. Sydney and Melbourne comprise approximately 60% of Australia's housing market by value, and 40% by number, so the performance of these two cities has a larger effect on the headline market performance.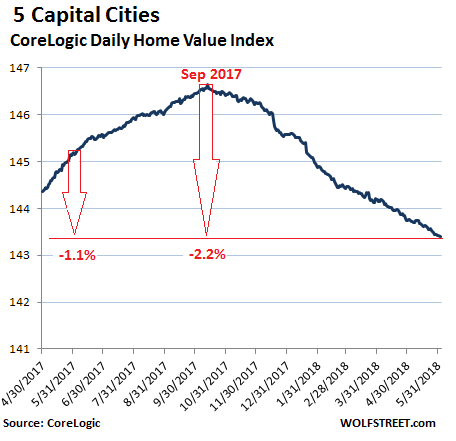 But that may be the rosy scenario, according to Lindsay David of LF Economics in Australia. He explained it this way:
Corelogic suggests that house prices have fallen 2.2% thus far in Sydney since the beginning of this year. However, in-the-field research is telling me that house prices in Sydney have fallen significantly faster than this figure. While it's hard to pinpoint a completely accurate figure, I would say somewhere closer to an accelerating 5%-7% is more in-line with what we are seeing on the ground, with a total 7%-9% fall since the market peaked last year.
But Lindsay David said, "we are seeing an increased effort to make auction clearance rates" – a much cited indicator in Australia of the housing market – "appear higher than they really are."
"For most foreign observers of the Australian housing market, it may be curious that auction clearance rates are of such interest to Australians that without fail, they make the Monday headlines of our major regular and business news sites," he explained. "Heck, we even have a business channel that transitions to a real estate channel on weekends showing live property auctions all day!"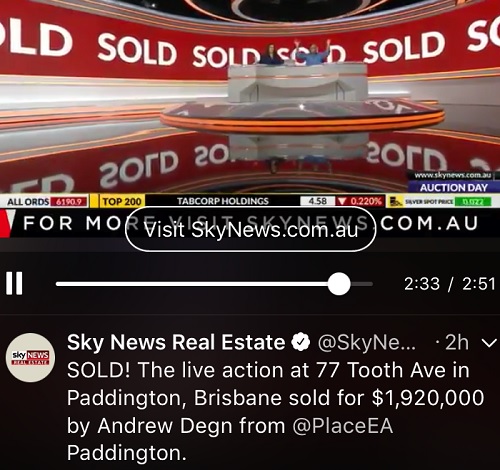 This is how it worked in Sydney, for the last batch of auctions, according to Domain:
There were 670 homes scheduled for auction on the weekend. But only 336 of the auction results were "reported" by June 2. Of those 336 "reported" results, 238 homes sold either before the auction or at auction. And 91 homes were "withdrawn." The all-important "auction clearance rate" is figured by the sum of all homes sold at auction and before auction, divided by the sum of all "reported" auctions and all homes withdrawn. This produced an auction clearance rate for the weekend of 56%, the lowest since February 2013!
From 2013 through 2016, clearance rates in Sydney had mostly been in the 70% to 80% range. Last year, they began to deteriorate, and late last year fell below 60%, something that happened only a couple of times since 2012, including once in February 2013.
Clearance rates for Melbourne have also started to dip below 60% recently, something that hasn't happened since 2014. For this weekend, they were 60%.
These dismal auction clearing rates were the consequence of an "upsurge in fussy buyers," according to Domain.
"Buyers are willing to walk away because there is no anxiety in the market anymore and no feeling that, 'I've got to buy now because tomorrow the price will be higher,'" Richard Simpson, president of the Real Estate Institute of Victoria, told Domain. "The buyers are not rushing to put their name on any contracts if they fear that a property might be overpriced."
In the most prominent housing bubbles in the US, home prices haven't reached that point yet. In fact, there are some beautiful spikes. Read…  Update on the Most Splendid Housing Bubbles in America
Enjoy reading WOLF STREET and want to support it? You can donate. I appreciate it immensely. Click on the beer and iced-tea mug to find out how:

Would you like to be notified via email when WOLF STREET publishes a new article? Sign up here.