A sharp deterioration that started in Aug. 2017.
With the impeccable timing of coincidence, given the current spat over Gary Cohn's departure from the White House, the Bureau of Economic Analysis this morning released some extra-gloomy numbers on the US trade deficit in goods and services for January. The consensus estimate by economists tracked by the Wall Street Journal projected that this deficit would widen to $55.1 billion, up from a nine-year high in December of  $53.1 billion "amid a surge in imports." But that was wishful thinking.
The deficit in goods and services widened to $56.6 billion, the worst since October 2008, and December deficit was revised to $53.9 billion. In the chart below, note the sharp deterioration since August 2017: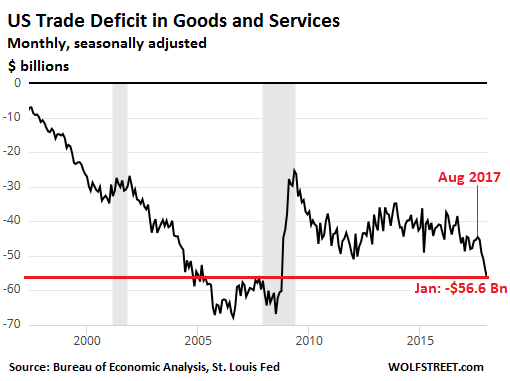 Year-over-year, the trade deficit in goods and services jumped 16.2% (or by $7.9 billion). Exports rose by $9.7 billion (or 5.1%), but that wasn't nearly enough to balance out the surge in imports of $17.6 billion (or 7.4%).
The US still has a trade surplus in services with the rest of the world, but after growing for years, it peaked in February 2015 at $22.6 billion and has since been declining, In January, the surplus in services fell 2.1% year-over-year to $19.9 billion: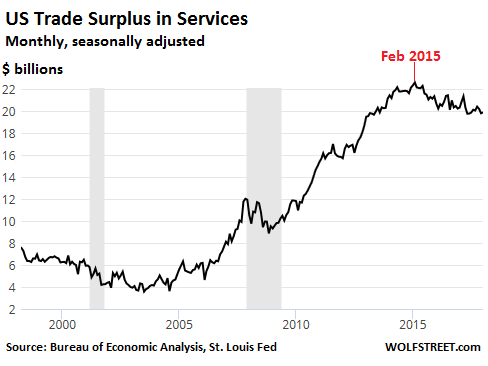 The trade deficit in goods widened by 10.8% year-over-year to $76.5 billion in January, barely above the worst-ever goods deficit during the trough of the Great Recession when global trade came to a halt for a brief moment. And note what has happened since August 2017: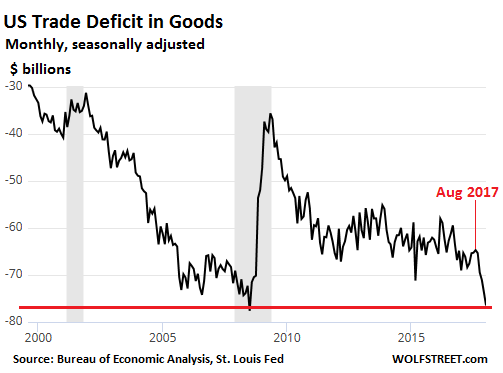 These trends of growing imbalances are not propitious for the US economy. At some point, there will be an adjustment, either in some kind of "contained" and gradual manner, or something more out of control. Note how trade reacted in the Great Recession.
Whatever the solutions may be, to be functional rather than destructive, I suspect they'd be complex and nuanced and should include Corporate America because that's where a big part of the causes lie. But at least the issue is on the table today, and is being publicly discussed, with policy makers lining up on all sides of the issue and taking a stance, after prior administrations have pussyfooted around it for two decades.
For the year 2017, the US trade deficit in non-petroleum products hit an all-time record of $734 billion in 2017. The US trade deficits by country. Read…  How Out-Of-Whack are US Trade Relationships? 2017 Trade Deficit Worst since 2008
Enjoy reading WOLF STREET and want to support it? You can donate. I appreciate it immensely. Click on the beer and iced-tea mug to find out how:

Would you like to be notified via email when WOLF STREET publishes a new article? Sign up here.