Which part of Brick-and-Mortar is crumbling?
This is where retail sales are booming: E-commerce sales in the fourth quarter soared 16.9% from a year ago – the largest jump since Q1 2012 – to a new record of $119 billion (seasonally adjusted), according to the Commerce Department this morning. E-commerce includes sales by the likes of Amazon but also by the online operations of brick-and-mortar retailers, such as Walmart and Target.
Total retail sales – e-commerce and brick-and-mortar combined, but excluding sales at restaurants and bars – in Q4 increased 5.7% year-over-year. This was the hottest quarter since 2012, when US retail was bouncing back from the Great Recession.
And retail sales without e-commerce – an approximation for brick-and-mortar sales on their own – rose 4.7%.
But there are sectors whose sales are not – or at least not yet – conducted online: gas stations, auto dealers, and grocery and beverage stores. These are the "online-resistant" sectors. The remaining sectors are under all-out attack from e-commerce. And sales at the "under-attack" sectors grew only 4.0% in Q4.
None of these numbers are adjusted for inflation. Note that the consumer price index increased 2.1% from a year ago.
So here we go.
This chart shows the surge of e-commerce sales. They've more than doubled over the past five years from $58.2 billion in Q4 2012 to $119 billion in Q4 2017. Even during the Financial Crisis, sales dipped only briefly; by Q3 2009, e-commerce was setting records again: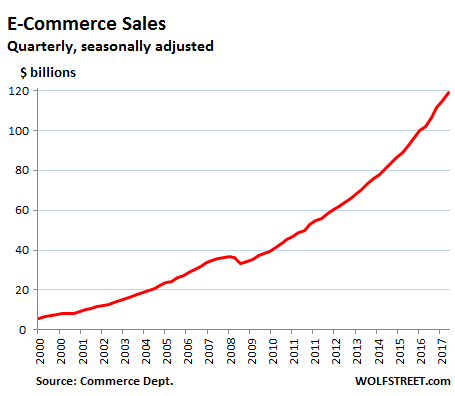 Many observers keep pointing out that e-commerce still accounts for only a negligible part of retail sales. In Q4, the e-commerce share of retail was still just 9.1%, though up from 8.2% a year ago.
The chart below shows brick-and-mortar sales versus e-commerce sales. Note the long and hard beating that brick-and-mortar retail took during the Great Recession, from which it didn't recover until Q2 2011: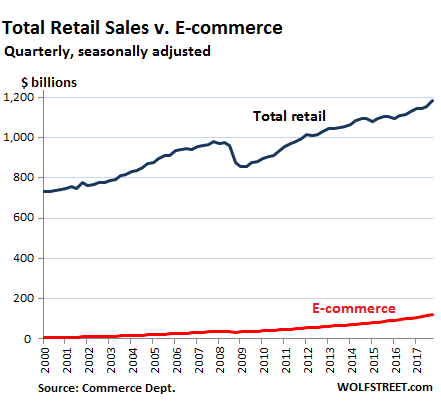 Is the online-effect on brick-and-mortar overblown?
There are large brick-and-mortar sectors that are still considered "online-resistant" due to the physical nature of their merchandise, state franchise laws that protect dealers, ingrained consumer preferences, and other factors. The three biggest of these sectors account for 51% of retail sales:
New- and used-vehicle dealers and auto-parts retailers: 26% of brick-and-mortar retail.
Grocery and beverage stores: 15% of brick-and-mortar retail. Despite the efforts by Amazon, Costco, Safeway, etc., online grocery sales in the US reached only about $14 billion in 2017, or 1.9% of sales at grocery and beverage stores. This will change, but slowly.
Gasoline stations: 10% of brick-and-mortar retail. They will hold out until electric cars become a bigger thing.
The remaining 49% of retail are under attack – and those "under-attack" retailers are typically the stores that populate the malls. The "under-attack" retailers combined generated $575 billion in sales in Q4, up 4% from a year ago, even while e-commerce sales soared nearly 17%.
This difference in growth, playing out now for over 20 years, has allowed online sales to grab an ever larger market share from the under-attack retailers, reaching 20.7% in Q4, up from a share of 18.4% a year ago. This chart shows the share of e-commerce sales as a percent of the sales at "under-attack" brick-and-mortar retailers: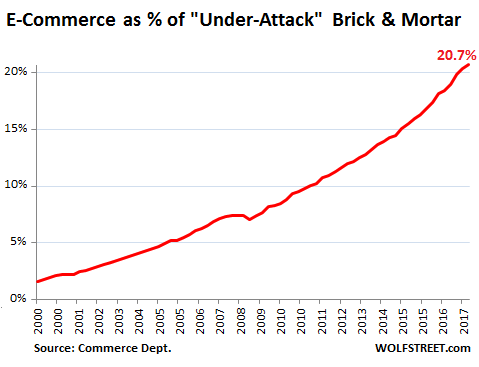 Some sectors have already been decimated by e-commerce, such as book stores and toy stores. Others have largely been wiped out, such as music stores and video stores.
Department stores are hanging on by the skin of their teeth. Sales peaked in 2001 and have since plunged 34%, despite inflation and population growth. These chains include the most iconic names in the US, and they're closing stores as they go and laying off workers, year after year. They're getting crushed by e-commerce: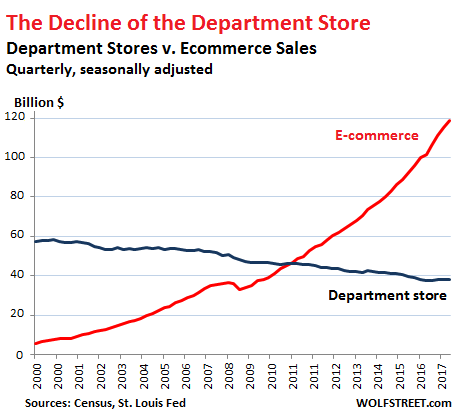 It boils down to this:
The pressure from online retail is focused on 49% of brick-and-mortar retail. While online retail accounts for only 9.1% of total retail, it accounts for 20.7% of under-attack retail, which are largely the mall retailers. And online is going to expand its share inexorably.
Brick-and-mortar retailers that are investing heavily in their online business are experiencing soaring sales at their online entities (Walmart, Macy's, etc.), even as they're grappling with declining same-store sales at their physical stores, and as they're shuttering them and laying off people. Retailers that have failed to build a thriving online business will have trouble, or have already fallen into bankruptcy.
But there is still plenty of room for brick-and-mortar retailers if they invest in their stores, perfect their merchandising, and offer customers a satisfying experience. And discount stores whose primary appeal is low price – unaffected by the high costs of shipping to retail customers – will likely thrive, given that a large part of the US population is perennially struggling to make ends meet.
But online retail will continue to surge and take share away from under-attack sectors. This is not a sudden event but a structural process that has already stretched out over 20 years and will continue to cause upheaval in the retail sector for many more years.
In the ensuing meltdown over the past two years, many brick-and-mortar retailers were doomed by the private equity firms that had acquired them. Here's an astounding list. Read…   The Private Equity Firms at the Core of Brick & Mortar Retail Bankruptcies
Enjoy reading WOLF STREET and want to support it? You can donate. I appreciate it immensely. Click on the beer and iced-tea mug to find out how:

Would you like to be notified via email when WOLF STREET publishes a new article? Sign up here.