But something funny happened on the way to the headlines.
In describing the retail-sales data released today, words like "slumps" and "declines" kept cropping up in the headlines. This referred to the seasonally adjusted month-over-month data, so the percentage change from December retail sales (peak holiday selling season) to January retail sales (peak merchandise-return season). This comparison is only possible with gigantic seasonal adjustments that try to smooth away the holiday selling peak and the post-holiday hangover in a way that, hopefully, the index ticks up a bit from December to January.
In today's reading, this change in seasonally adjusted total retail sales – includes food services and drinking places such as restaurants and bars – ticked down 0.3% from December to January, triggering the "slumps" and "declines" in the headlines. But this figure is only as good as the seasonal adjustments. Here is what the month-over-month percentage change of total retail sales looks like not seasonally adjusted: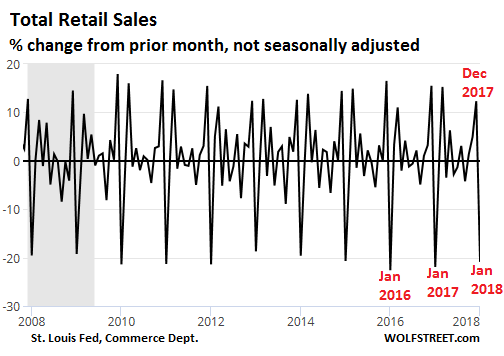 Not seasonally adjusted, total retail sales plunged 21% from December to January, but they plunged between 19% and 23% in prior Januaries. Hence the gigantic seasonal adjustments needed to smoothen out this wildly gyrating seasonal data.
But on a not-seasonally-adjusted basis, the year-over-year growth in total retail sales was a healthy 5.1% in January, compared to January 2017, in the same range of the year-over-year changes in prior months and at the higher end of the spectrum since 2012: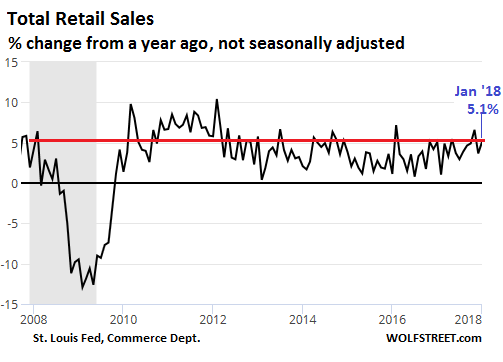 There was only tepid growth in the bar-and-restaurant business, with sales of food services up only 1.8% year-over-year. Excluding food services, retail sales jumped 5.6% year-over-year not seasonally adjusted: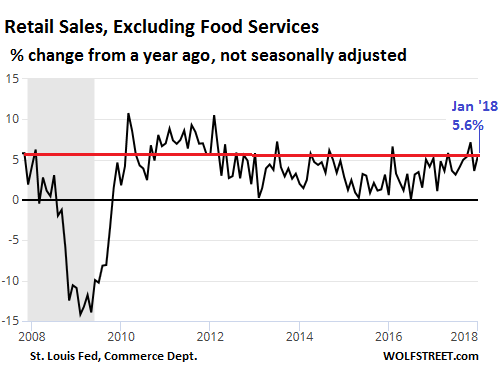 So retail sales in January were solid, despite the "slumps" and "declines" in the headlines. Once we get the Q4 ecommerce data, we will likely see that much of the growth came from e-commerce, which is estimated to have surged 18% over the holidays.
None of this data is adjusted for inflation. Today, the Bureau of Labor Statistics released its Consumer Price Index. For once, all eyes were riveted on it. If it surprised to the upside, it would add fuel to the rate-hike trajectory of the Fed and the bond market's reaction to it. If it came in below expectations, it could cool some of this fever.
The Wall Street Journal consensus forecast was for a gain in CPI of 2.0% year-over-year. This morning before the release, the WSJ said: "The report is likely to face special scrutiny this month after fears about accelerating inflation sparked a global rout in stocks this month."
Then the report was released: CPI rose 2.1% year-over-year, slightly above expectation. Core CPI (without food and energy) rose 1.8% year-over-year, the fastest pace since April 2017. So inflation as measured by CPI isn't exactly soaring, but it is not backing off either: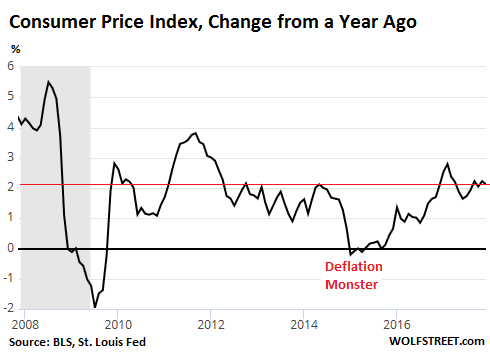 This wasn't an inflation "shock" or whatever, but it was above expectations. It was enough to convince the Treasury market that the Fed will take inflation seriously, that it will continue on its path to push for higher interest rates in an attempt to tighten the very loose financial conditions.
On the news, 10-year Treasuries sold off and the 10-year yield jumped 9 basis points to 2.91% by early afternoon. If it closes at this rate, it would be the highest since January 2014. 30-year Treasuries sold off too, with the 30-year yield jumping 7 basis points to 3.17%.
Hedge funds and speculators that have shorted Treasuries with longer maturities have been on a winning trade. But because it is such a logical trade, it's a very crowded trade that is now going begging for a contrarian reaction. Read…  Record Short Bets against 10-Year Treasury Promise Turmoil
Enjoy reading WOLF STREET and want to support it? You can donate. I appreciate it immensely. Click on the beer and iced-tea mug to find out how:

Would you like to be notified via email when WOLF STREET publishes a new article? Sign up here.