Food is the exception and pricing levels "continue to be a concern": Walmart CEO. Sky-high food prices rose further.
What we got today confirms what we've seen develop for over a year: Prices of many consumer goods are coming down from their crazy spike, and I mean prices are actually falling, rather than just rising more slowly, as inflation has moved from goods to services, such as insurance and housing. Falling prices are good for consumers, and they boost inflation-adjusted consumer spending and "real" GDP, but they're not good for companies that sell these goods, though their own input costs are also declining.
Import prices of consumer goods excluding autos – see Walmart, which we'll get to in a moment – dipped again in October and are now down close to 1% from the peak in May 2022, after the surge, according to data from the Bureau of Labor Statistics today.
This is what we're seeing elsewhere in consumer goods: Prices are easing off their sky-high levels, but they're not plunging, as there is resistance by businesses to cutting their prices, but it's happening. The drop in import prices of consumer goods reflects part of the input costs for retailers, such as Walmart and Amazon: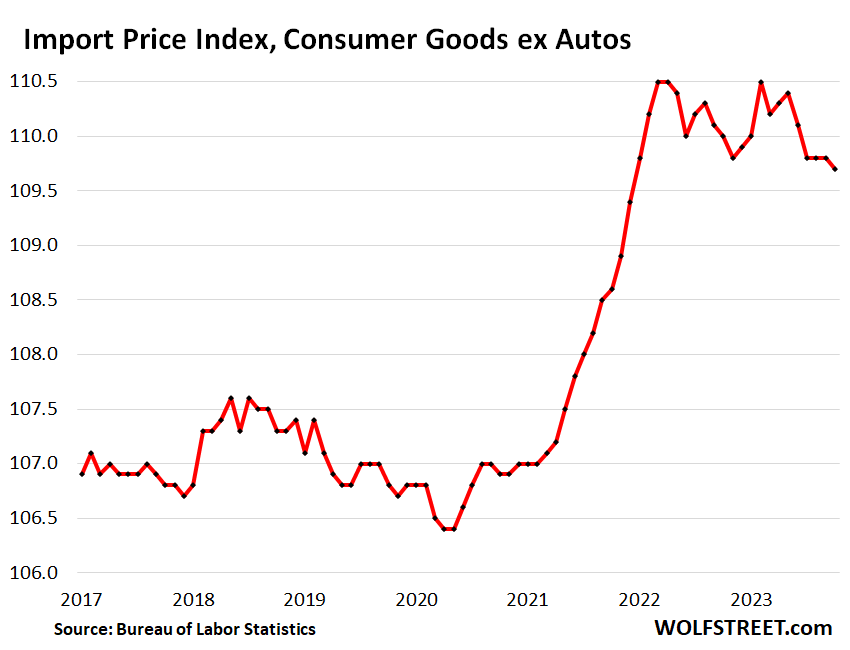 The pay-whatever craziness before.
Prices of many goods had spiked in 2020 through at least 2021, and for some goods deep into 2022, fueling the original inflation fire, with stupid inflation in used vehicles of 55% from 2020 through 2021; "stupid" because it was totally unnecessary. Many people – enough people to cause demand to collapse – could have just refused to buy and drive their trade-in for a while longer. But no. They were armed with stimulus checks, PPP money, extra unemployment benefits, spiking gains in their stock and crypto holdings, and what not, and they went out and gleefully paid whatever.
It gave rise to idiocies such as Tesla-flipping where people would buy a new Tesla and flip it for huge profits. It gave rise to a pandemic of addendum stickers at new car dealers that where ripping people off by charging $10,000 and more on top of MSRP while the ripping was still good, and people went for it and paid whatever instead of driving the still-good trade-in for a few more years.
This is "stupid" inflation: Consumers, armed with all kinds of cash, were willing to pay whatever, and inflation was off to the races. We started documenting this inflationary mindset in January 2021.
And now it's over. Americans are back to their normal self, no longer willing to pay whatever when they go to the store or shop online, which largely ended those price increases. And goods prices are dropping.
But inflation moved to services, and 65% of consumer spending goes into services, and inflation is hot in services, such as insurance and housing, and that's where inflation now is now entrenched.
Slight deflation in durable goods has been common for the past 20 years amid more efficient manufacturing, technical innovation, offshoring to cheap countries, etc.
Walmart: Consumers are no longer willing to pay whatever.
Walmart shed some light on this today when it reported earnings. Comparable sales at its Walmart U.S. unit – a huge ecommerce retailer and the largest grocery retailer in the US – rose 4.9% on the strength of groceries and ecommerce; and its ecommerce sales soared by 24%.
So there is plenty of consumer demand, even though more people buy this stuff online and avoid the stores, a structural change that has been going on for 20 years.
CEO Doug McMillon said on the earnings call (transcript via Seeking Alpha) that "the other good news is that general merchandise prices continue to come down." They're now "down low to mid-single digits versus last year."
"That enables us to rollback pricing which will help our customers during this holiday season when general merchandise is so important for gift-giving," he said.
"In the U.S., we may be managing through a period of deflation in the months to come. And while that would put more unit pressure on us, we welcome it because it's better for our customers," he said.
CFO John David Rainey told CNBC that consumers are "leaning heavily" into major promotions and search for deals. As customers hold out for lower prices, Walmart has seen a drop in purchases before and after a sales event, he said.
At the start of the holiday quarter — which began November 1 — sales of items including clothing picked up as holiday promotions gained momentum, he said.
But falling prices – though good for consumers and for inflation-adjusted consumer spending and for "real" GDP – are not good for stocks because they cause the opposite of rising prices: downward pressure on dollar revenues and profit margins.
So Walmart, which beat expectations today, gave disappointing earnings guidance. And worst of all, it slashed its share buybacks in the quarter to $111 million, from $3 billion in the same quarter a year ago, as it too is no longer willing to pay whatever for its shares. And the stock tanked 8% today.
Food is the exception.
Walmart, the largest grocery retailer in the US, pointed out today that food is the exception. "Pricing levels in many food categories continue to be a concern," CEO McMillon said in the conference call.
"Overall, our [food] product costs are up versus last year, and they remain up even more on a two-year stack, which is putting pressure on our customers," he said.
"Beef prices are high. But we're happy to see lower pricing in dairy, on eggs, and with chicken and seafood. The pockets of disinflation we are seeing are helping, but we'd like to see more, faster, especially in the dry grocery and consumables categories," he said.
Overall, food prices have ticked up further from their already sky-high levels – after having surged by nearly 25% during the pandemic. We've discussed this in detail in "Beneath the Skin of CPI Inflation." The CPI for food at home rose in October and was up 2.1% year-over-year: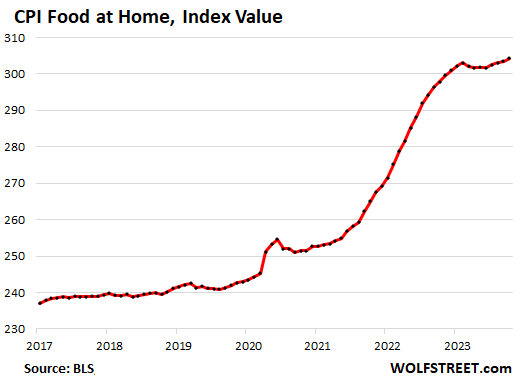 But other goods prices dropped, consumers no longer willing to pay whatever:
The CPI for durable goods (new and used vehicles, electronics, furniture, appliances, tools, etc.) dropped 0.4% in October from September and by 2.8% from the peak in August 2022, after the huge spike during the period when consumers were willing to just pay whatever.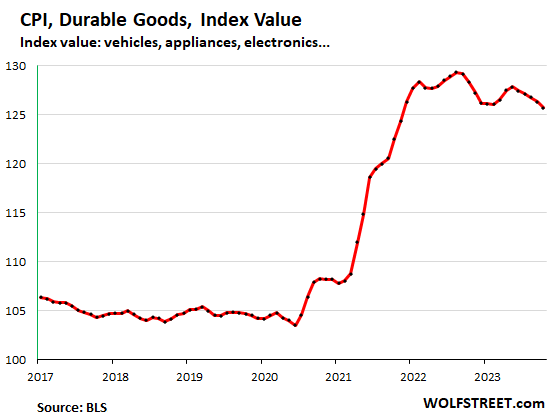 New vehicle prices have remained roughly flat for the past six months, after the 25% spike: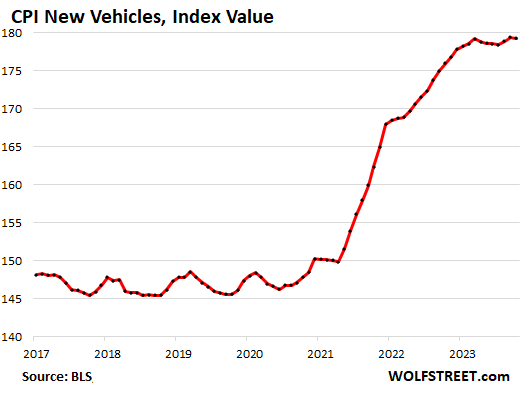 Used vehicle prices fell further in October and have dropped by nearly 13% from the peak of the spike at the end of 2021, after the stupid 55% spike during the pandemic. But it's still up 34% from February 2020: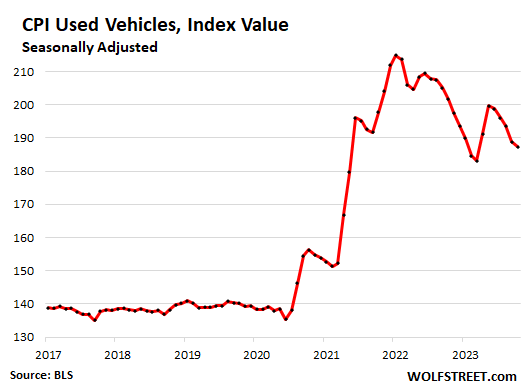 Energy prices have been zigzagging lower from the spike. The CPI for energy – half of which is gasoline, the rest is natural gas piped to the home, electricity, heating oil, propane, firewood, etc. – dropped by 4.5% and it's down by 13% from the peak of the spike in June 2022.
But the energy CPI is near where it was in 2008, pushed down by gasoline and natural gas which are now both cheaper than they had been in 2008. Natural gas is trading for around $3 per million Btu currently, far below the $5-12 range in the six years between 2003 and 2008: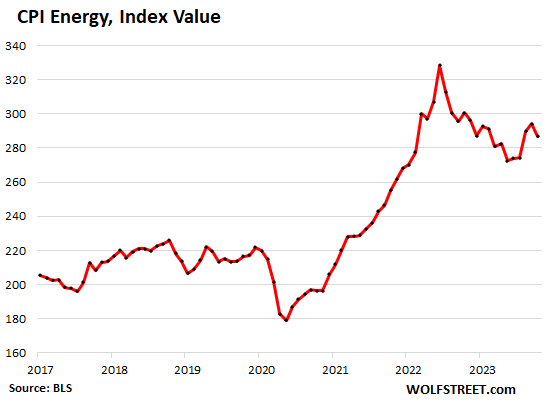 Enjoy reading WOLF STREET and want to support it? You can donate. I appreciate it immensely. Click on the beer and iced-tea mug to find out how:

Would you like to be notified via email when WOLF STREET publishes a new article? Sign up here.