Volatility. Powell mentioned it too. The 10-year yield is hugely volatile, and the drop over the past few days fits right in.
The 10-year yield dropped as low as 4.63% earlier today and now trades at 4.68%. It's going through its usual gyrations – but at higher yields than before.
In the morning of October 23, it briefly pierced 5% for a few seconds for the first time since 2007, and then "plunged" over the next few hours, turning this into a spectacle in its own right, and it continued to drop the next day, closing at 4.83%, followed by a bounce on October 25 to close at 4.95%, and then it dropped into the 4.88% range for a few days until yesterday at 8:30 A.M., when it let go.
This multi-day drop fits right in with the ups and downs that mark the volatility of the 10-year yield, and no pattern was broken, and there wasn't any kind of paradigm shift or whatever despite what the hype-and-hoopla organs are spreading around out there: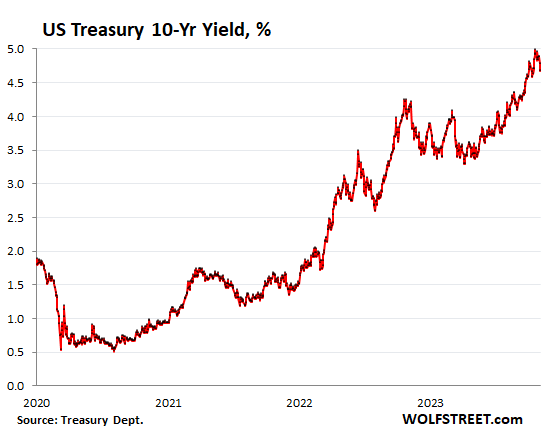 In terms of closing yields (per Treasury Department data), the 10-year yield dropped from the high of 4.98% on October 19 to 4.68% now, a drop of 30 basis points in 10 trading days. So that's a pretty big drop.
But when was the last time a 30-basis-point drop in 10 trading days occurred? In March 2023 (-58 basis points); in January 2023 (-45 basis points); in December 2022 (-34 basis points); in November 2022 (-46 basis points); in August 2022 (-36 basis points); in July 2022 (-43 basis points), etc. etc.
You get the idea: The 10-year yield is volatile, as Powell pointed out, and this stuff happens a lot, and to a larger extent.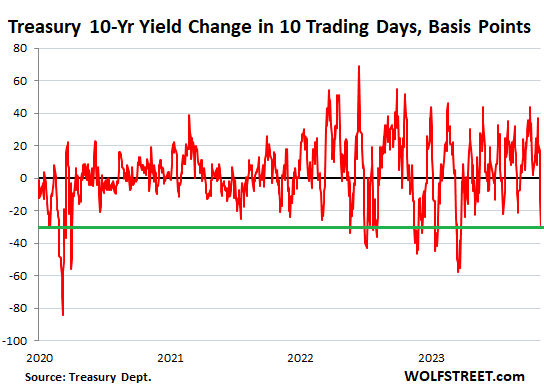 And all these drops were followed by big surges in the yield, and amid all the ups and downs, the yield kept wobbling higher.
In two trading days from the close of 4.88% on October 31, to the current yield of 4.68%, the yield dropped 20 basis points, which is a pretty big move for two days. How often has that occurred recently? A lot, starting with October 10 (-20 basis points), July 14 (-23 basis points), etc. etc.: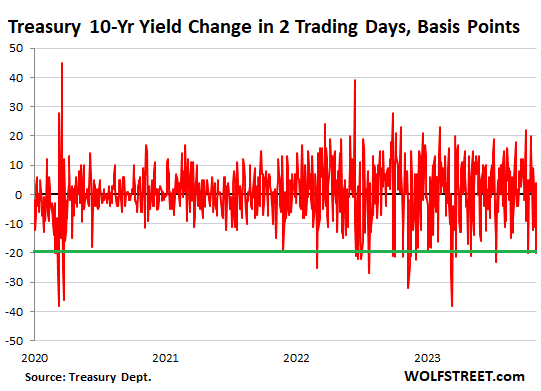 So what happened?
Yesterday at 8:30 A.M., the Treasury Department announced projections for its issuance of longer-term securities as part of its Quarterly Refunding documents. It had already announced on Monday that there is a tsunami of issuance coming to fund the incredibly ballooning deficit. Yesterday came the details.
Yesterday at 8:30 A.M., it said that issuance of longer-term securities, particularly 10-year notes, in Q4 and Q1 2024 would not balloon as much as feared because it would shift issuance from longer-term securities to T-bills (1 month to 1 year) and to 2-year notes.
In other words, issuance of longer-term Treasuries will still balloon, but just not quite as much as feared. Instead T-bill issuance and 2-year note issuance would balloon even more than feared.
It made this announcement specifically to drive down longer-term yields which have become a huge concern for the Treasury department that has to pay the interest, and a blue eye for the current fiscal policies that have become a nightmare.
The Treasury Department listed a dozen reasons in the documents why longer-term yields had shot up, and I made a big deal out of this and listed those reasons. I also included a green-line-versus-red-line chart comparing the August 2 projections to the new projections for the same time period, Q4 and Q1 2024. And the 10-year yield careened lower. And that was the Treasury Department's goal.
Then came the Fed's decision at 11 A.M. to hold rates at 5.5% at the top end and leave further rate hikes on the table. Powell confirmed all this at the press conference. He also pointed out that tightening financial conditions – including specifically a higher 10-year yield – would be needed to transfer the Fed's tightening of monetary policy to the economy.
The increase in longer-term yields "has contributed to a tightening of broader financial conditions since the summer," he said. Here's what Powell actually said at the press conference.
"In this case the tighter financial conditions we are seeing from higher long-term rates and also from other sources like the stronger dollar and lower equity prices could matter for future rate decisions, as long as two conditions are satisfied."
"The first is the tighter financial conditions would need to be persistent. And that is something that remains to be seen. But that is critical. Things are fluctuating back-and-forth. That is not what we are looking for. With financial conditions, we are looking for persistent changes that are material," he said.
"The second thing is that the longer-term rates that have moved up, they can't simply be a reflection of expected policy moves from us that would then, if we didn't follow through, come back down," he said.
So now the 10-year yield is fluctuating, but it needs to be persistently higher to do the work for the Fed, and so the drop in the yield is not helpful for the Fed's policy transmission, but what else is new, markets have been fighting the Fed for 18 months.
Enjoy reading WOLF STREET and want to support it? You can donate. I appreciate it immensely. Click on the beer and iced-tea mug to find out how:

Would you like to be notified via email when WOLF STREET publishes a new article? Sign up here.