The Spiking 10-Year Treasury Yields Apparently Rattled the Government's Nerves.
There was a lot of navel-gazing in the "Quarterly Refunding" documents released today and on Monday by the US Treasury Department about the explosive surge of the 10-year Treasury yield.
These documents project how much in marketable debt the government will have to issue to refinance maturing debt and add new debt to fund the ballooning deficits in Q4 2023 and Q1 2024.
The total amounts were released on Monday — $776 billion in Q4 and $816 billion in Q1 to be added to the marketable debt. Today, the details were released, including to what extent that new debt will be composed of longer-term notes and bonds.
There was a lot of navel-gazing because the last Quarterly Refunding documents released on August 2, and the expectations of that info in the month before had triggered a 120-basis point surge in the 10-year yield from about 3.8% in early July to 5% briefly on October 23, which was quite a spectacle. And that had apparently rattled the government's nerves.
So the recommendations today by the Treasury Borrowing Advisory Committee (TBAC) de-emphasized the issuance of longer-term securities, particularly those ranging from 7-year notes to 30-year bonds.
And instead, the recommendations shifted more weight to short-term Treasury bills (1 month to 1 year) and to 2-year notes and 5-year notes which respectively increased by $11 billion and $10 billion over the next six months in today's plan compared to the August 2 plan for the same period.
The chart shows the TBAC's issuance recommendations for 3-year notes through 30-year bonds, not including TIPS and FRNs, in today's documents (red line), and the documents released on August 2 (green line). Issuance of those 3-year notes through 30-year bonds will still balloon, but less than projected on August 2.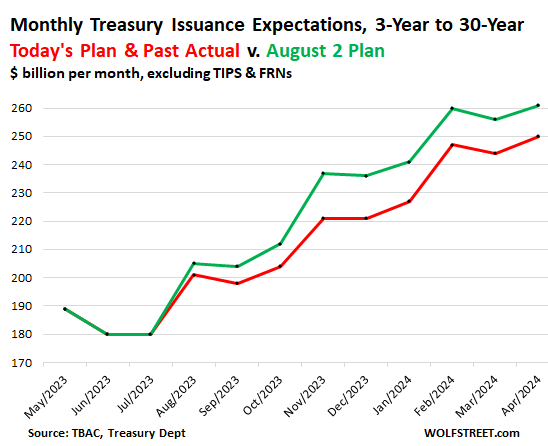 OK, so T-bills out the wazoo. TBAC figured that the shift to T-bill issuance will cause the amount of T-bills outstanding to balloon by $460 billion in Q4, and by an additional $586 billion in Q1, or by a combined $1.05 trillion in just two quarters!
At the end of Q3, there were $5.26 trillion in T-bills outstanding. The additional issuance in Q4 and Q1 would increase the total by 20% to $6.31 trillion.
At the end of Q3, T-bills accounted for 20% of marketable Treasury securities outstanding. By the end of Q1 2024, the share of T-bills would rise to 23%.
The navel-gazing about the surge in longer-term yields.
The TBAC's report went into details about why longer-term yields surged, and it came up with a laundry list — I counted a dozen — of reasons:
1. "Stronger-than-expected" economic activity. It cited the 4.9% surge in GDP in Q3, "strong consumption" of goods and services, growth in residential investment, growth in durable goods orders, job growth, etc.
2. "The possibility that the 'neutral' real rate of interest is now higher."
3. "Changing expectations around the near-term monetary policy path"—the higher for longer may finally be sinking in.
4. "Higher real yields as measured by TIPS securities."
5. The ballooning debt. Oops, someone figured it out. "The growing imbalance between supply of and demand for US Treasury debt may also have contributed to the sell-off." The ballooning debt will have to be sold, and new buyers need to be lured in with higher yields. We've been saying that here on WOLF STREET for a long while.
6. The Fed's QT that includes a $60 billion a month runoff in Treasury securities, totaling close to $900 billion on the balance sheet to be released tomorrow. This is "funding that will need to be replaced by issuance to the private market," TBAC said.
7. Oh, and "on August 1st Fitch downgraded the US long-term rating from AAA to AA+," which was a hoot.
8. Foreign investors and central banks, oh my. They are still adding to their positions but a lot more slowly than the debt increases, and their share has been tumbling. And worse: "The appreciation of the US dollar means some foreign central banks may consider liquidating Treasury securities in the process of defending their currencies," TBAC said.
9. Investors got caught on the wrong foot: "Anecdotally, some investors had expected that ten-year Treasury yields would not rise beyond the approximately 4.25% high of last year and had already extended the duration of their fixed-income portfolios – meaning they now have limited capacity to add more interest rate exposure," TBAC said.
10. Banks, after imploding, lost interest?: Their "security portfolio assets have been declining since last year with bank holdings of Treasuries down $154 billion compared to one year ago," I would think largely because a handful of banks have imploded because of those bets?
11. Treasury auctions show "some early evidence of waning demand," while still "consistently oversubscribed." TBAC said that "On October 12th a reopening of the thirty-year bond auctioned 3.7bp cheaper than the prevailing rate before the auction, the largest "tail" in a thirty-year bond auction since 2021."
12. The term premium demanded by investors: "Investors may now require an additional yield or 'term premium' to hold longer-term debt."
Enjoy reading WOLF STREET and want to support it? You can donate. I appreciate it immensely. Click on the beer and iced-tea mug to find out how:

Would you like to be notified via email when WOLF STREET publishes a new article? Sign up here.