It's hard to manipulate up a stock via even the best meme-stock tactics when a company sells hundreds of millions more shares into every rally.
We're keeping an eye on our favorite meme stocks here. Today's special is AMC Entertainment Holdings [AMC]. Since 2020, the company raised cash by selling shares to the meme-stock crowd in various share offerings that caused me to note in August 2021 that it had sold more shares than theater tickets. Since the Good Times in 2019, AMC quadrupled its share count but then could issue no more shares without shareholder approval, which shareholders turned down. In August 2022, AMC then came up with the ruse of the APEs (AMC Preferred Equity units) as a back door to issuing more shares without shareholder approval. And it worked.
Last Thursday, after it settled the legal fight with stockholders, AMC completed the 10-to-1 reverse stock split, where 10 shares became 1 share, and the price of the shares briefly spiked by 10x as a direct result of the reverse stock split, before further collapsing as there was suddenly a lot more room underneath to collapse into. Then on Friday, AMC converted the APEs into Class A common stock. All of this now allows AMC to sell about 390 million in new common shares to raise even more cash: about $4.3 billion at today's share price, promising vastly more dilution to existing shareholders. By comparison, market cap is down to $1.8 billion.
While all this fun was going on, over the past two weeks, shares have collapsed from the already collapsed levels by another 75% to an all-time low of $11.55 at the moment (Monday early afternoon), which would translate into a pre-reverse-stock-split price of $1.15. Stock prices in this chart are adjusted for the 10-1 reverse stock split (data via YCharts):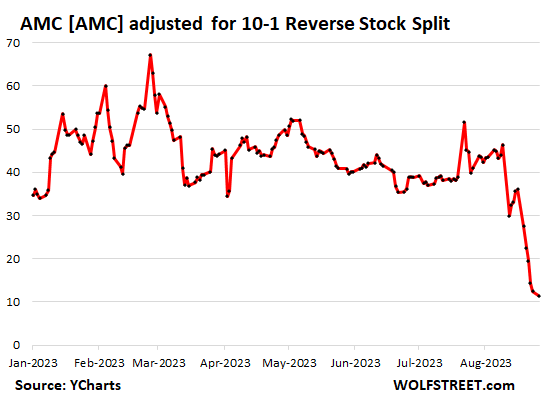 It's just hard to manipulate up the share price via even the best meme-stock tactics when a company uses every little rally to sell hundreds of millions more shares into the market.
Chinese conglomerate Wanda, which had acquired AMC in 2012, spun off a stake via IPO in August 2013, at the IPO price of $18 a share, now $180 adjusted for the reverse stock split. Wanda then started selling off the remaining pieces of its stake in various increments, some at huge losses but was also able to sell some portions to the meme-stock crowd at big gains during the run-ups. By May 2021, it was out of it.
The chart below shows the stock since the IPO, adjusted for the 10-1 reverse stock split. Since the IPO price, shares have collapsed by 94%. Since the intra-day meme-stock-idiocy peak on February 6, 2021, of $726 (pre-reverse stock split of $72.62), the shares have collapsed by 98%. This makes AMC a prominent hero in my pantheon of Imploded Stocks.
So against the grand collapse off the meme-stock idiocy, the 75% plunge over the past two weeks is barely visible (data via YCharts):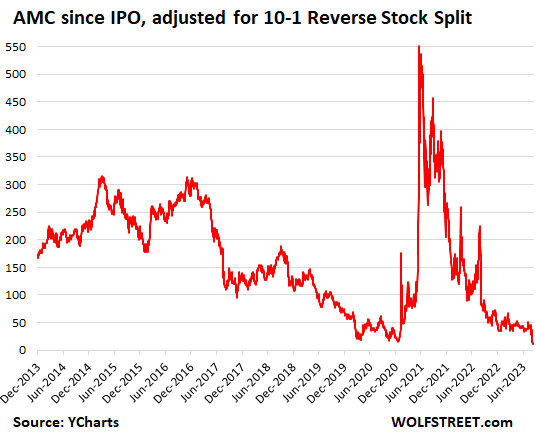 Even during the Good Times in 2019, shares had already collapsed by about 80% from the IPO price. The brick-and-mortar movie business has long been under attack from various technologies that allowed people to watch movies on high-definition screens at home.
AMC lost money even before the pandemic. In 2019, the Good Times, it booked an annual net loss of $149 million. Since then, it booked $7 billion in net losses. In Q2 this year, it made its first quarterly profit in years, of a minuscule $9 million. But it had $31 million in one-time items, including $21.6 million in gains on debt extinguishment. So it reported an "adjusted" net loss of $7 million. And it still had a negative free cash flow of $62 million.
And it has $10 billion in short-term and long-term debt, while the market capitalization of its shares has plunged to just $1.8 billion, and its book value, or shareholder equity (assets minus liabilities), has plunged to a negative $2.6 billion in Q2. Interest expense now exceeds $100 million a quarter.
By selling more shares, the company hopes to feed its negative cash flow and to pay down its pile of debt.
Cineworld, owner of Regal Theaters in the US – the second-largest chain behind AMC – filed for Chapter 11 bankruptcy in the US in September 2022 and emerged from bankruptcy earlier this month.
Anyone out there thinking about AMC shares should ask themselves: Why should they bail out the creditors of this company – those that hold the $10 billion in debt and other creditors – after the company has crushed and nearly wiped out its stockholders by hook or crook for years.
If investors refuse to play this game, and refuse to buy the shares that AMC wants to sell to raise cash and pay its executives the big stock-based compensation packages, well then, it cannot raise enough cash, and may have to file for bankruptcy, which would finally put an end to these games and turn over ownership of the company to the creditors under the supervision of the court. And it could emerge with a different set of shareholders (the existing ones having gotten wiped out) and with a lot less debt, and then it might have a chance to eke out an existence in what is a brutally challenging environment for brick-and-mortar theaters.
Enjoy reading WOLF STREET and want to support it? You can donate. I appreciate it immensely. Click on the beer and iced-tea mug to find out how:

Would you like to be notified via email when WOLF STREET publishes a new article? Sign up here.