Psychological effect of the barrage of layoff news? Workers give up some of their new sense of power, keep their nose to the grindstone, and quit quitting.
More and more data point in the same direction: After all the breathless headlines about global layoff announcements, and after seeing some actual layoffs, employees have gotten a little more worried about their jobs, and they're quitting their jobs less than a year ago, and because fewer workers are quitting, there are fewer job openings that they leave behind after they quit, and therefore fewer hires to fill those newly vacated jobs. At the same time, actual layoffs and discharges dropped back to the historic lows of 2022. In other words, all this scary talk of layoffs has reduced the churn in the labor force, and for employers, that's a good thing.
Layoffs and discharges remained in the historically low range of 1.55 million in July for the fourth month in a row, down from the 1.7-1.8 million range in January and March. The chart shows the three-month moving average (1.55 million for July), which irons out some of the artificial drama of the monthly ups and downs.
During the Good Times in 2014-2019, layoffs and discharges averaged 1.8 million per month. That was part of the normal way of business. During the Great Recession, monthly layoffs and discharges blew past 2.5 million. In March and April 2020, they averaged over 10 million.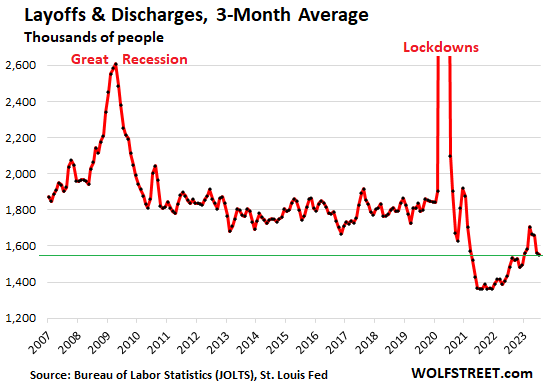 This data is based on surveys of about 21,000 work sites, released today by the Bureau of Labor Statistics as part of its Job Openings and Labor Turnover Survey (JOLTS). This is not based on the layoff hype in the media.
Workers quit quitting: Voluntary quits fell to 3.81 million (three-month moving average) in July, the lowest since May 2021, but still above the Good Times average in 2019 of 3.5 million.
The reduction in quits shows that workers are less confident and less likely to walk out if they don't like something, and more inclined to stick it out and keep their nose to the grindstone, a big relief for employers, that then don't constantly need to hire people to fill the newly open jobs. The layoff-hype in the media, and the actual layoffs, clearly had the effect to scare more workers into having second thoughts before quitting.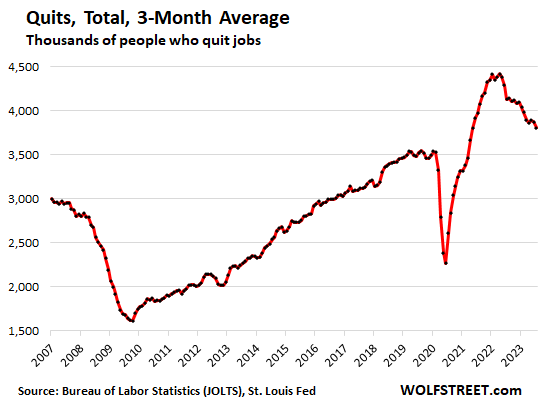 Job openings, driven by fewer quits, fell to 9.2 million in July (three-month moving average), the lowest since May 2021. This is still extraordinarily high, indicating that a number of industries are still struggling to staff up to meet demand, but it's down from the crazy levels of peak-churn and re-staffing in early 2022.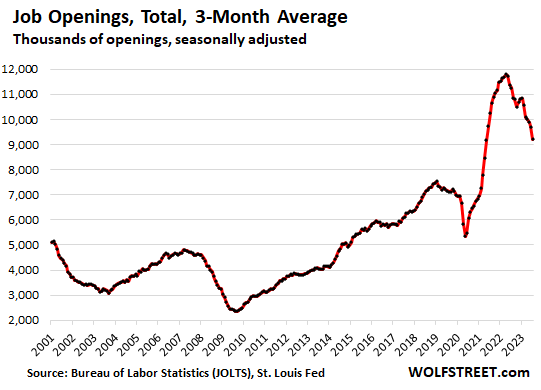 Hires, driven by fewer quits and therefore fewer newly open positions, dipped to 5.98 million in July (three-month moving average), the lowest since March 2021. July was just a tad above the pre-pandemic record: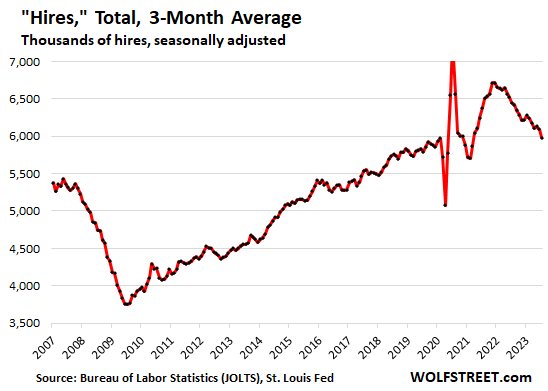 These are signs – declining and historically low layoffs and discharges, declining but still high voluntary quits, declining but still very high job openings, and declining but still high hires – that the massive churn in the labor market of 2021 and 2022, when it was difficult for employers to hang on to their workers, is abating, in part as a result of the psychological effects of the heavily promoted layoff announcements in the media, and of the layoffs themselves.
It shows that workers have given up a portion of their newly found sense of power in the labor market, and they're more likely to hunker down, put their nose to the grind stone, and get the job done, rather than quitting for the greener grass on the other side of the fence. All it has done is reduce the churn.
Enjoy reading WOLF STREET and want to support it? You can donate. I appreciate it immensely. Click on the beer and iced-tea mug to find out how:

Would you like to be notified via email when WOLF STREET publishes a new article? Sign up here.