Lot of demand and supply gone in equal, with no net impact on inventory, but huge impact on sales, commissions, profits, and jobs.
The artificially repressed mortgage rates from March 2020 through March 2022 caused a huge number of homeowners to refinance, including to cash-out refinance, into 30-year fixed-rate mortgages with rates of around 3%, many of them below 3%.
If these homeowners want to sell their home and buy a bigger home or a smaller home, or a home in a different location, or whatever, they would have to change from a 3% mortgage to a 6.5% mortgage, and that's a no-go zone. So they're not selling, and they're not buying. They've left the market.
This is bad for home sales, which have plunged, and for real-estate brokers that make money off each transaction, and for mortgage bankers that make money off mortgage originations, and if there are no transactions, they make no money and they have to find another job.
But the 3% mortgage jail has zero net impact on inventory.
When a homeowner sells the house they live in, to buy something else to live in, it has zero impact on inventories nationwide overall because a homeowner who sells their home and buys another home, adds one unit to inventory and subtracts one unit from inventory (+1 – 1 = 0).
All they do is churn the market, which is good for brokers and bankers. But they do not add inventory overall.
So if these homeowners cannot move because they cannot switch from a 3% mortgage to a 6.5% mortgage, it pushes down demand (yes ✔) and it pushes down inventory by the same amount (yes ✔), and the end result is a smaller market in terms of, both, demand and supply.
What actually adds to inventory of homes for sale?
In all these situations below, a home gets put on the market, and no home gets taken off the market, with the result that inventory actually rises. You can think of maybe a few other situations, but these are the big ones:
1. New construction. Lots of new homes are being built and inventories of new houses for sale at all stages of construction have piled up massively: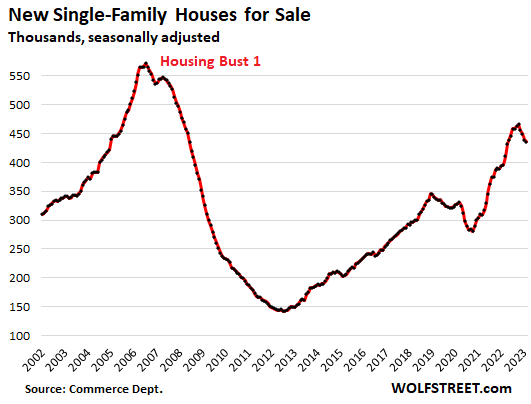 2. Homeowner dies or moves into care facility, and the home gets put on the market. Lot of that going around now.
3. Vacant homes being put on the market. We walked through the Census Bureau data a little while ago, taking the math from the 11 million homes that are vacant year-round down to the 3.5 million homes that could be on the market (rental or sale) but are held off the market for a variety of reasons. If just 20% of these 3.5 million units that are held off the market show up on the for-sale market, it would increase inventory by 75%.
4. Homeowner moves into a rental and puts home on the market. Some of that going around now, as homeowners try to lock in the high prices and to outwait this. I know a few myself, including a Realtor who totally nailed the peak in her local market last summer when she sold and moved into a nice rental house.
5. Homeowner moves in with friends or relatives or combines households. This could be a variety of arrangements, such as caregivers moving in with parents, or two single homeowners moving in together and making do with one home.
6. Homeowner moves to another country for work or to retire, and the home gets put on the market.
With the 3%-ers taken out as Buyers and Sellers, the total market is a lot smaller now, and will be for years to come.
Homeowners selling a home they live in to buy another home to move into adds zero to inventory in the end (+1 – 1 = 0) though that's what brokers and bankers live off. That's why the National Association of Realtors and the media, and just about everyone else, are constantly blaming low inventory on homeowners being locked into their homes with a 3% mortgage, when in fact, they're only to blame for low sales – and plunging commissions and big job cuts – but with zero impact on inventories.
It means that there are a lot fewer buyers, which is what we've been seeing, and that there are a lot fewer sellers, which is what we've been seeing. In other words, a huge group of BUYERS and SELLERS were simultaneously and in equal numbers taken off the market by 3% mortgage rates, and they're gone for years to come.
That demand is gone; and that supply is gone, in equal measure, with no impact on the inventory, but with a huge impact for sales, commissions, profits, and jobs.
The market is more in balance than it seems: hence dropping prices.
So now, it's the remaining buyers and sellers that make the market, and they're a much smaller group, making for a much smaller market.
The price drops are showing that within this much smaller market, there is more balance, and that buyers emerge when prices are low enough. And when these buyers have bought, prices drop further to pull in the next wave of buyers, which is just a normal market – but on a much smaller scale. And what is gone is the massive churn of homeowners selling and buying in order to move.
Enjoy reading WOLF STREET and want to support it? You can donate. I appreciate it immensely. Click on the beer and iced-tea mug to find out how:

Would you like to be notified via email when WOLF STREET publishes a new article? Sign up here.