More people having second thoughts before quitting?
Actual layoffs and discharges in the US – not mere announcements of layoffs by global companies that may not even take place in the US – is one of the major points that stood out in today's Job Openings and Labor Turnover Survey (JOLTS) by the Bureau of Labor Statistics: After slowly zig-zagging higher for months from the tightest-labor-market lows, they jumped in January.
Every day even during the best of times, companies lay off or fire people, which is part of the normal churn in the vast US labor market. Between 2011 and 2019, layoffs and discharges averaged 1.8 million per month. During good times, most of these workers find new jobs quickly. But during bad times, the flow of newly unemployed workers increases, while companies cut back on their hiring, and unemployment rises. This isn't happening yet.
What happened in January was that layoffs and discharges jumped to 1.72 million, the highest since December 2020, after having edged higher for months from the historic lows of around 1.4 million in 2021 and 2022. Layoffs and discharges have now reached the low end of the pre-pandemic range. There is a clear pattern of returning to the normal range – a sign the labor market is getting a little less tight: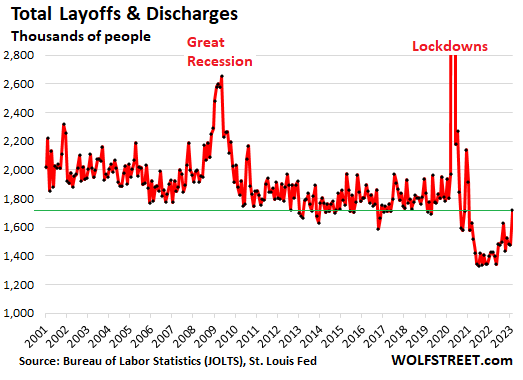 People having second thoughts before quitting? In the tight labor market over the past two years, one of the phenomena was that workers figured out that there were better jobs out there, that paid more or had better working conditions, or less of a commute, and they massively quit their current job to take on a better job, which created a huge amount of churn in the labor force. This arbitrage by the newly empowered workers spread wage increases across the economy as employers had to up the ante to hire and retain staff.
The number of workers who quit their jobs, after having gently zig-zagged down for months, dropped more sharply in January, to the lowest since May 2021, to 3.88 million, down from around 4.5 million in late 2021 and early 2022.
The pre-pandemic record was 3.55 million in January 2020, already indicating a lot of churn in a tight labor market. So this is still a historically large number of quits, in what is still a tight labor market, but it shows that some of the frenzy is leaching out: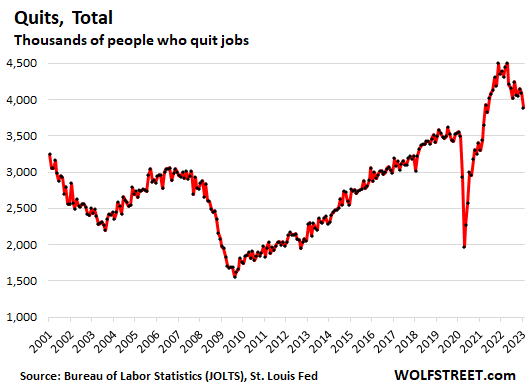 The decline in quits from the super-high levels a year ago, to still historically high levels, could be a sign of changes in the labor market, including:
Employers no longer upping the ante to the extent they used to, providing less incentives for workers elsewhere to quit their current jobs to jump ship.
Fewer alluring job openings out there in tech and social media, as we'll see in a moment.
Less confidence among workers that they will find a better job.
Job openings remained in the same high range in January that they've been in over the past two years: 10.82 million seasonally adjusted, and 10.77 million not seasonally adjusted – up from the 7,200 range before the pandemic. This metric does not show any indications that the labor market is getting less tight.
This data is not based on online job postings, but on surveys sent to 21,000 businesses, asking them how many job openings they actually have, the number of people they actually hired, the number of people they laid off or discharged, the number of people who quit, etc.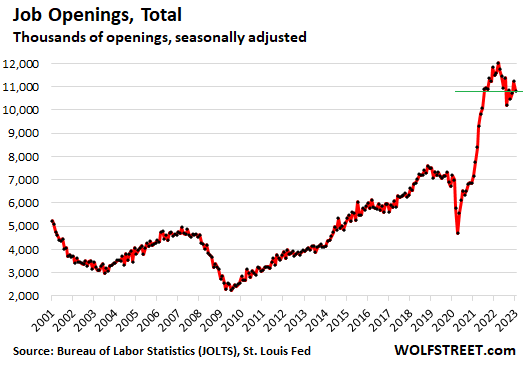 What is happening is that in some industries, particularly "information," where some of the social media and tech companies are classified, job openings vanished, while in other industries, such as the vast sector of "Professional & Business Services," job openings rose.
The sector with serious damage to job openings is "Information." The small sector with only 3 million employees includes web search portals, data processing, data transmission, information services, software publishing, motion picture and sound recording, broadcasting including over the Internet, and telecommunications. Many tech and social media companies are categorized in it (others are part of the vast and very broad "Professional and Business Services" sector). "Information" is where many of the layoff announcements have occurred.
Job openings in the "Information" sector, after a near-50% plunge in December – the biggest plunge since the Dotcom Bust – bounced a little, in line with the noise throughout the data series, and remained far below the frenzied levels during the past two years. The 143,000 job openings in January were down 38% from a year ago: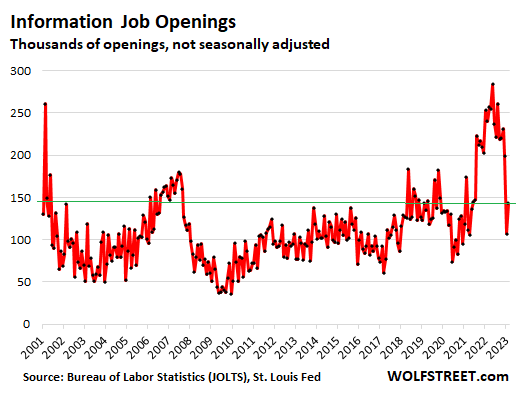 By contrast, job openings in "Professional & Business Services" rose and remained in the astronomical zone. This is a vast category, including some tech companies, with 22.4 million employees in these subsectors: Professional, Scientific, and Technical Services; Management of Companies and Enterprises; Administrative and Support, and Waste Management and Remediation Services.
Job openings rose to 2.18 million, very much in the astronomical zone, and barely down from the peak in March 2022: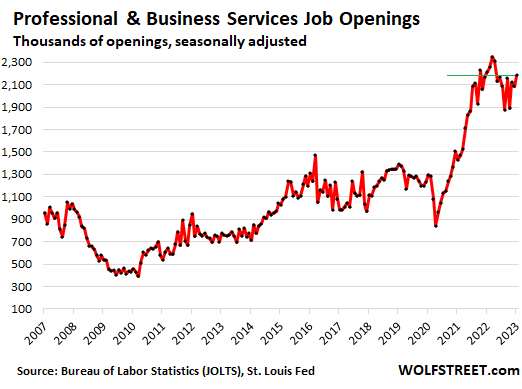 After over-hiring in tech and social media…. What CEOs of tech and social media companies are now admitting in their mea culpa blogposts is that they over-hired during the pandemic, to expand for a future that did not come, and that they're now trimming a portion of the expanded workforce to get their costs back in line.
What is also happening is that the startup bubble has imploded, and that these outfits that are burning cash like there's no tomorrow aren't getting more VC funding, and that those that made it out the IPO or SPAC window got crushed in the public markets and cannot raise more funds from the public. And they have to cut their staff in order to slow the cash-burn to push out the day of reckoning – the out of money day – a little further.
But what this data also shows, along with the rest of the pile of labor market data, is that most of the rest of the labor market is still largely on cloud 9.
Enjoy reading WOLF STREET and want to support it? You can donate. I appreciate it immensely. Click on the beer and iced-tea mug to find out how:

Would you like to be notified via email when WOLF STREET publishes a new article? Sign up here.