Inflation burns out of control, but the Fed is still pouring fuel on it. You can no longer just blame supply chains. This is far bigger.
OK, the Fed and American consumers and wage earners have, excuse the technical jargon here, a serious-ass problem on their hands that has just gotten worse. The broadest Consumer Price Index (CPI-U) jumped by 0.6% in January from December, and by 7.5% from a year ago, the worst since February 1982, according to data released by the Bureau of Labor Statistics today.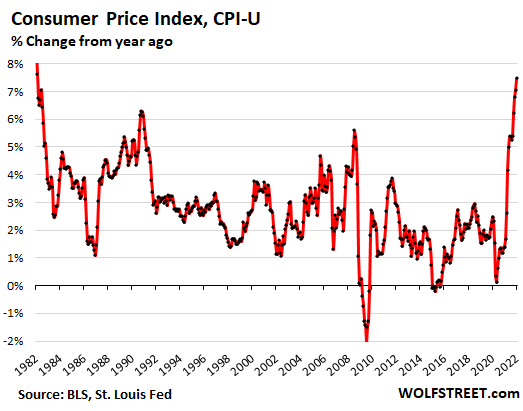 The narrower "core" CPI-U, which removes the volatile commodities-dependent food and energy components from the measure to show how inflation has seeped into the broader economy, spiked to 6.0%, the highest since August 1982: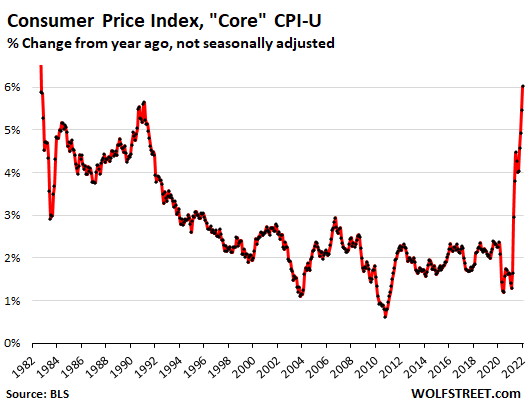 But back in 1982, Volcker was cracking down, interest rates were in the double digits, and inflation was heading lower.
Now, Powell has the foot still on the gas by still buying assets though at a slower pace, and by still repressing interest rates to near-zero.  The last time inflation spiked in this glorious manner was in 1978, but the Fed back then was pushing the federal funds rate toward 10%. Now the Fed is still repressing the federal funds rate to near 0%, which makes this Fed the most reckless Fed ever.
And folks, it's no longer just supply chains, labor shortages, chip shortages, factories in China, used cars, and new cars.
It's services that have begun to spike. The CPI for services spiked by 4.6% year-over-year, with big price increases now infesting every part of the economy: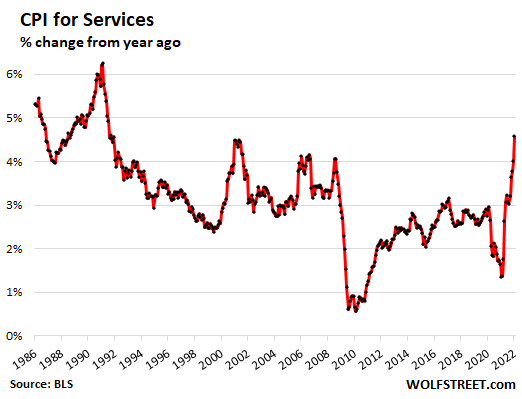 And this is Fed Chair Jerome Powell's reaction to today's inflation WOOSH, as captured by cartoonist Marco Ricolli for WOLF STREET: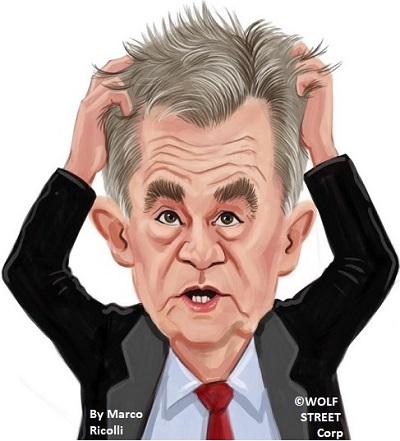 The loss of the purchasing power of the consumer's dollar – the politically incorrect term for inflation – worsened by 0.8% in January from December, and thereby the purchasing power of wages and salaries dropped by as much. The purchasing power of $100 in January 2000 has dwindled to $60.10, losing another 50 cents over the past 30 days: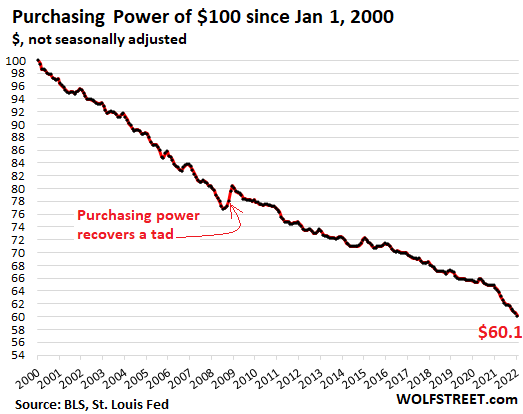 Housing inflation is making it into CPI, little by little.
The CPI for housing is based on two measures of rent that account for 32% of the total CPI. Both measures, after a drop in 2020 through mid-2021, have been rising every month since June 2021, gradually picking up the actual increases in rents. With both measures still below CPI, they're still holding down CPI, but less than before. And they're going resolutely in the wrong direction.
"Rent of primary residence" (7.4% of overall CPI) rose by 3.8% in January compared to a year ago (red in the chart below).
"Owner's equivalent rent of residences" (24.3% of overall CPI) rose 4.1%. This measure, used to estimate the costs of homeownership as a service, is based on surveys that ask homeowners what their home might rent for (green line).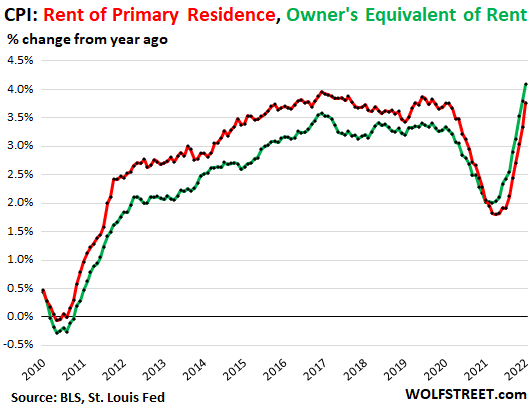 The surging market rents are gradually filtering their way into these two rent measures, with a long lag to reality. Even if market rents stopped rising today, these two measures would continue to rise as they pick up the prior rent increases.
But good luck with rents stopping to rise today. In January, the median asking rent for one-bedroom apartments jumped by 12%, and in some cities by over 20%, which is why I addressed this to the guy in charge: Dear Mr. Fed Chair Powell Sir, Rents Are Blowing Out and People are Hurting.
Alas, the actual costs of purchasing a house spiked by 19% year-over-year, according to the Case-Shiller Home Price Index, as seen in The Most Splendid Housing Bubbles in America, which creates this unreal disconnect between the exploding house prices via the Case-Shiller index (purple) and the just now rising stand-in for house prices, the "Owner's equivalent of rent" (red). Both indices are set to 100 for January 2000: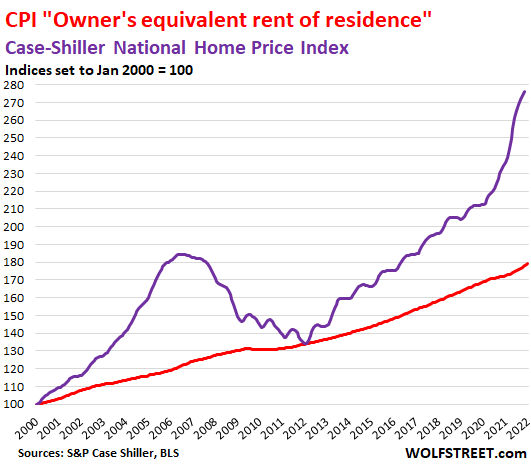 Food costs spiked by 0.9% for the month and 7.0% year-over-year. Food costs weigh 13.4% in the overall CPI. The two major components:
"Food at home" – what you buy at the grocery store – jumped by 1.0% for the month and by 7.4% year-over-year. The entire meat, poultry, fish, and eggs categories jumped by 12.2% year-over-year, and just don't even try to buy beef, which jumped 16%.
"Food away from home" – restaurants, cafeterias, delis, etc. – jumped by 6.4% year-over-year, the most since 1982.
Energy costs (7.5% of overall CPI) jumped by 0.9% for the month and by 27.0% year-over-year. Among them:
Gasoline dipped 0.8% in January from December, but was still up by 40% year-over-year
Utility natural gas to the home dipped 0.5% in January but was up 23.9% year-over-year
Electricity service spiked by 4.2% for the month and by 10.7% year-over-year.
The CPI for new cars and trucks (weighs 4.1% in the overall CPI) spiked by 12.2% year-over-year, the third-highest in the history of the universe, behind only the record in March and April 1975 as consumers are paying no matter what, including addendum stickers on top of MSRP: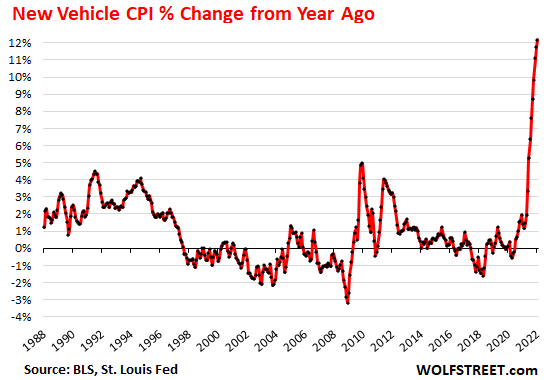 The CPI for used cars and trucks (weighs 4.1% in overall CPI) spiked 40.5% year-over-year. Wholesale prices in January started to level off, as pricing resistance has finally started to set in, and if that trend continues, it will filter into used vehicle CPI in about two months. There is no way that a spike like this can just keep spiking: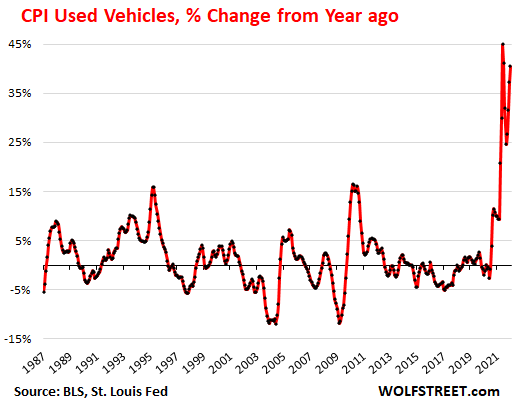 So this is inflation in the process of burning out of control, with the Fed – the most reckless Fed ever – still pouring huge amounts of fuel on the fire through its asset purchases that won't end until early March, and through its interest-rate repression that it will only too slowly, too little, and too late back off from, and through its recklessly gargantuan balance sheet that it will unwind too slowly and too late.
Enjoy reading WOLF STREET and want to support it? You can donate. I appreciate it immensely. Click on the beer and iced-tea mug to find out how:

Would you like to be notified via email when WOLF STREET publishes a new article? Sign up here.