China, Japan, other foreign entities dumped US Treasuries. But someone had to buy. Here's who.
Under the impact of a stupendous spending binge peppered with juicy tax cuts, the Treasury Department has had to issue a flood of Treasury securities to fund the cash outflow. So, over the past 12 months, the US gross national debt has ballooned by $1.5 trillion to $22 trillion as of January 30, according to Treasury Department data. And these are the good times when the economy is hopping. At the next recession, this is going to get cute.
But who the heck is buying all this debt? That question will grow increasingly important and worrisome as we move forward with this gigantic ballooning debt, fueled by deficits that Fed chairman Jerome Powell calls "unsustainable" at every chance he gets: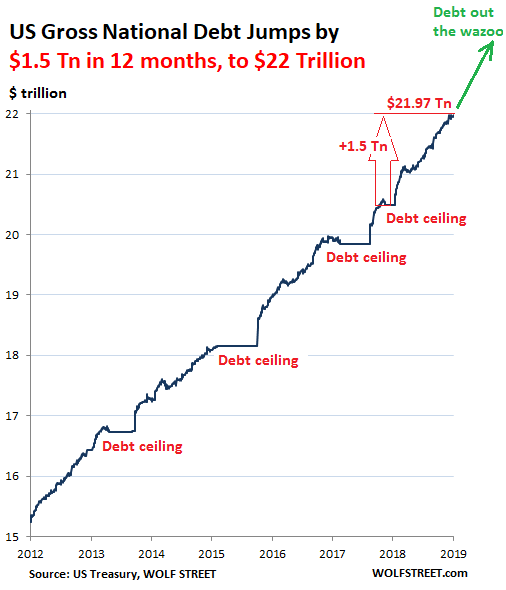 So, who bought all this debt?
US government debt, as expensive as it is in terms of interest payments for US taxpayers, is a mildly income-producing asset for the creditors of the US. Somebody has to buy it, every last dollar of it. The US relies on it. So, who bought this pile of debt that got issued in 12 months? China, Japan, other foreign investors? Nope. They're gradually unloading this debt.
All foreign investors combined slashed their holdings of marketable Treasury securities in November by $105 billion from November a year earlier, to $6.2 trillion, according to the Treasury Department's TIC data released today.
The Treasury Department divides these foreign investors into two categories: "Foreign official" holders (foreign central banks and government entities) cut their holdings by $144 billion over the 12 months, to $3.9 trillion at the end of November. But private-sector investors (foreign hedge funds, banks, individuals, etc.) increased their holdings by $52 billion, to $2.3 trillion.
The two largest foreign creditors of the US — China and Japan — have both been unloading their Treasury securities:
China's holdings fell by $55 billion from a year earlier to $1.12 trillion.
Japan's holdings fell by $47 billion from a year earlier to $1.04 trillion, having now reduced its stash by 16% since the peak at the end of 2014 ($1.24 trillion).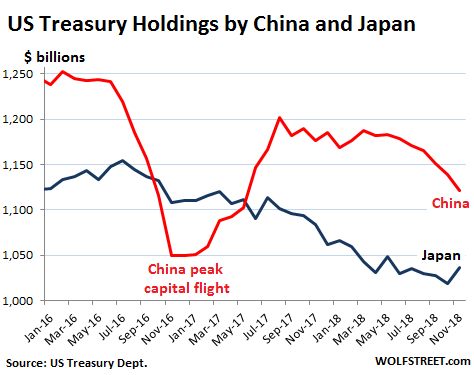 Though China and Japan remain the largest foreign creditors to the US, their relative importance has declined.
Over the 12 months through November 30, as China and Japan reduced their holdings by $103 billion combined, the US gross national debt soared by $1.26 trillion, to $21.8 trillion. So, China holds just 5.1% of US gross national debt (red line in the chart below), and Japan holds 4.7% (blue line). Their combined holdings (green line) has now dropped below 10% of the US gross national debt.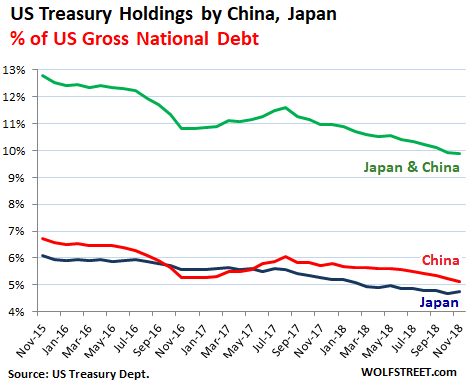 Other Big Foreign Creditors of the US
To round off the top 10 largest holders of US Treasuries, here are the remaining eight. Most of them are tax havens for foreign corporate and/or individual entities. Belgium is the location of Euroclear that holds about $32 trillion in assets in fiduciary accounts. The value in parenthesis denotes the holdings in November 2017.
Brazil: $311 billion ($265 billion)
Ireland: $279 billion ($324 billion)
UK ("City of London"): $264 billion ($226 billion)
Switzerland: $227 billion ($251 billion)
Luxembourg: $226 billion ($218 billion)
Cayman Islands: $208 billion ($240 billion).
Hong Kong: $189 billion ($195 billion)
Belgium: $173 billion ($115 billion)
With Foreign Creditors Net Sellers, Who's Buying?
This may turn out to be an increasingly hot question as the US gross national debt keeps ballooning and constantly needs new buyers. Over the 12-month period through November 30, this debt rose by $1.26 trillion, to $21.9 trillion. These are the entities who were net buyers or net sellers:
Foreign holders (official and private-sector), net seller, shed $105 billion — to $6.2 trillion, or to 28.4% of total US debt.
Federal Reserve, net seller, shed $204 billion — to $2.25 trillion through November 30, or to 10.3% of the total US national debt.
US government entities (pension funds, Social Security, etc.), net buyers, increased holdings by $20 billion — to 5.87 trillion, or 26.9% of the total US national debt. This "debt held internally" is owed the beneficiaries of those funds.
And who holds the Rest? The only entities left:
American banks (very large holders), hedge funds, pension funds, mutual funds, and other institutions along with individual investors in their brokerage accounts or at their accounts with the US Treasury were huge net buyers, while nearly everyone else was selling, increasing their holdings by $1.36 trillion over the 12-month period. These American entities combined owned the remainder of the US gross national debt, $7.5 trillion, or 34.4% of the total!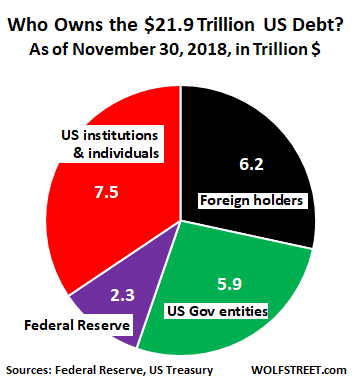 When that appetite among American banks and other big institutions for US Treasury debt wanes, yields will rise because buyers will have to be lured into this market to absorb this flood of new securities on a weekly basis. But so far, so good – with the enormous appetite among American entities pushing down the 10-year Treasury yield today to 2.63%.
"Patient" is the Fed's new favorite word. During the Q&A at the post-meeting press conference, reporters tried to get Fed Chairman Jerome Powell to nail down what "patient" actually means, how long "patient" would last. But they walked out empty-handed. Read… Fed's QE Unwind to Continue on Autopilot, Rate Hikes on Hold for "Common-Sense Risk Management": Powell
Enjoy reading WOLF STREET and want to support it? You can donate. I appreciate it immensely. Click on the beer and iced-tea mug to find out how:

Would you like to be notified via email when WOLF STREET publishes a new article? Sign up here.