This is getting serious.
Sales of new passenger vehicles, as measured by registrations, dropped 5.5% in December from a year earlier in the UK, the second largest auto market in the EU, behind Germany. Sales in the full year of 2018 dropped 6.8%, "reflecting 12 months of turbulence," and "the ongoing decline in consumer and business confidence," according to the Society of Motor Manufacturers and Traders (SMMT).
But in 2017, sales had already dropped 5.7% from 2016; and over the two-year period, sales were down by 12%. This chart shows the year-over-year change in new vehicle registrations: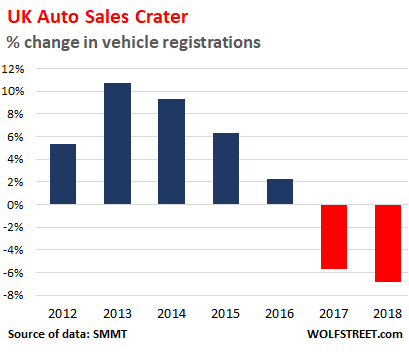 Sales fell for all three customer types: to consumers (-6.4%), to fleets (-7.3%), and to businesses (-6.4%). A lease counts as a registration because the leasing company buys the vehicle and leases it to the customer, at which point the vehicle is registered.
Sales in 2018 fell to 2.367 million new vehicles, as measured by registrations. This was the lowest level of sales in four years, and below 2014 sales (2.476 million):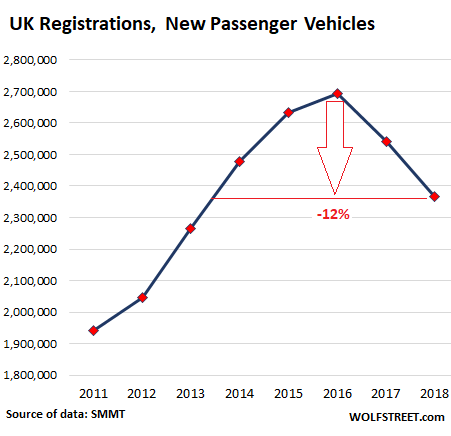 And diesel sales have collapsed. In 2018, they plunged 29.6%, after having already plunged 17.1% in 2017. Since their peak in 2016 (1.29 million), diesels sales have dropped 42%, to just 750,165: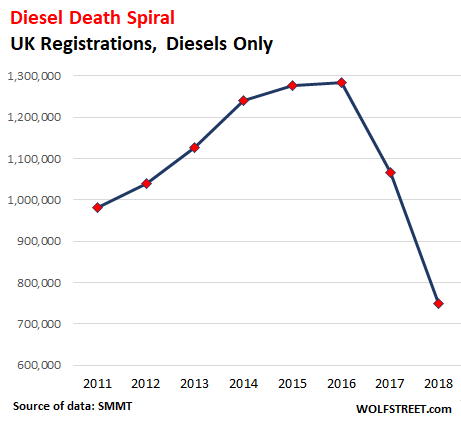 Demand fell across all vehicle categories except the "dual purpose" category (definition) which is close to SUVs in the US. Sales in that category jumped by 9.1% in 2018 to reach a market share of 21.1%.
Sales of superminis fell by 2.4% and sales of lower medium cars plunged by 9.4%. But small vehicles remain the bestsellers in the UK, unlike the US, whose sales are dominated by compact SUVs, pickups, and SUVs. According to the SMNT, smaller cars have a combined market share of 58.7%.
Below are the best sellers in the UK (table via SMMT). Note the #1 bestseller in the UK, the Ford Fiesta. In the US, Fiesta sales surged nearly 12% in 2018 (which is quite something given that overall car sales, unlike truck sales, have been plunging for years). But Fiesta sales in the US were tiny, just 51,730 vehicles in a market that is over seven times the size of the UK market; and they accounted for only 2.1% of Ford's total US sales: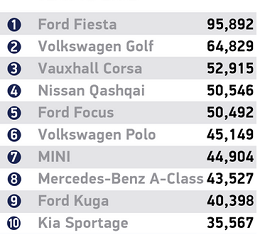 There was strong growth in sales of battery-electric vehicles (EVs) in 2018 (+13.8%) and plug-in hybrid electric vehicles (+24.9%), but their combined market share was still only around 2.5%, and they just didn't make enough difference; and there was strong growth in sales of gasoline powered vehicles (+8.7%).
This shows that many individuals, fleets, and businesses that were driving an older diesel vehicle replaced it with a vehicle with a different powertrain. But this switch was not enough to make up for the plunge in diesel sales. This brings up a more generic economic problem: It seems consumers and businesses have been backing off replacing their vehicles over the past two years, and are keeping their existing rides longer, which is the bane in the auto industry.
There are plenty of reasons for the steep decline in the UK auto market. This includes consumer aversion to diesels in Europe generally, and tepid consumer and business demand more broadly in the UK – likely a mix consisting of the uncertainty surrounding Brexit, economic cycles with their ups and downs, and broader disaffection among consumers and businesses for spending money on cars.
But the UK is not unique in the world – and blaming the uncertainty around Brexit exclusively will not do. Auto sales in the largest market in the world, China, ran into a buzz saw in 2018. The second largest market, the US, peaked in 2016, and sales have been tapering off. In Germany, registrations dropped toward the end of 2018, driven by declining commercial sales, and year-total registrations edged down 0.2%. So clearly, there is a broader theme: Global demand for new vehicles just isn't what it used to be – and this is another piece of the puzzle.
For the three biggest automakers in the US — GM, Ford, and Toyota — 2018 was the third relentless down-year in a row. For them peak sales occurred in 2015. Read...  Carmageddon for GM, Ford & Toyota: 3rd Down-Year in a Row. Industry Sales Below 2015. Hyundai-Kia Drop 11% in 2 Years. BMW & Mercedes-Benz Fizzle
Enjoy reading WOLF STREET and want to support it? You can donate. I appreciate it immensely. Click on the beer and iced-tea mug to find out how:

Would you like to be notified via email when WOLF STREET publishes a new article? Sign up here.