But average transaction prices rise to record highs.
In terms of new-vehicle sales in the US, 2018 was the third relentless down-year in a row for three of the four biggest automakers, GM, Ford, and Toyota. For them peak sales occurred in 2015.
GM delivered 2,954,037 vehicles in 2018, down 1.6% from 2017, down 2.9% from 2016, and down 4.2% from 2015: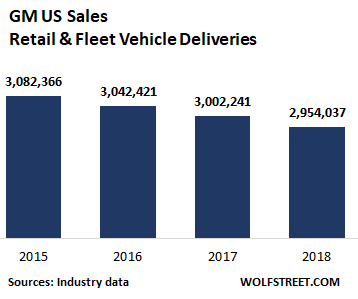 These are deliveries of new cars and trucks by dealers to their customers, by automakers directly to large fleet customers, and by automakers to their own employees via employee-purchase programs. A lease counts as a sale because the dealer sells the vehicle to a leasing company, a lender, or the automaker's own finance company, which leases it to the customer.
For GM, these deliveries included 1,034,808 crossovers, a relatively new and hot category. These vehicles are based on a car chassis and drive-train, but are dressed up like a SUV, only smaller. I call them the modern station wagons, but in terms of marketing, they're called "trucks," because no one would buy a "station wagon" and everyone is buying "trucks."
GM also sold 973,463 pickups. These two categories – crossovers and pickups – account for 68% of GM's total sales.
Those sales along with about 280,000 large SUVs and some vans — so total "truck" sales — accounted for about 80% of GM's deliveries in 2018. That doesn't leave much room for cars.
GM's press release was all about trucks, SUVs, and crossovers. The only car GM mentioned was the Bolt EV. GM said it increased production in Q4 "to meet strong global demand," and it expects higher sales in major markets in 2019. The rest of the cars are left for dead, as GM's big plans to shut down car assembly plants confirm.
Of GM's total deliveries in 2018, 21% were to fleets, mostly rental car companies and corporate fleets.
Pickups, SUVs, and crossovers come with hefty prices for consumers and big-fat profit margins for automakers, thanks to Americans' refusal to go on a buyer's strike to bring down those profit margins. And the average transaction price (ATP), which is the sales price to the customer after incentives, has been increasing across the industry. This includes a shift by consumers from cheaper, low-profit-margin cars to more expensive, higher-profit-margin crossovers, pickups, and SUVs.
So GM, in its press release, told Wall Street: "ATPs were a record $36,974 in the fourth quarter and a record $35,839 for the year." These record ATPs are why revenues in dollars have been holding up in the US, despite declining deliveries of vehicles. This is a strategy that can get costly.
Ford sold 2,485,222 vehicles in 2018 (of which 29.3% were to fleets). Sales were down 3% from 2017, down 3.9% from 2016, and down 4.1% from 2015: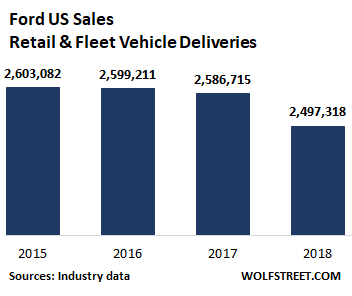 The only car Ford specifically discussed in its press release was the Mustang. Ford proudly announced that in the month of December Mustang deliveries jumped 9%. Alas, further down in the table, Ford disclosed that Mustang sales for the whole year dropped 7.4%. The only car line with sales gains in 2018 was Ford's smallest and cheapest car, the Fiesta (+11.9%), though it only sold 51,730 of them, just 2.1% of Ford's total sales. All other car lines booked sales declines – many of them deep in the double digits – with total car sales down 18.4%.
Ford is also leaving cars for dead by the wayside. What's selling are pickups (+4.2%) and SUVs, including crossovers (+2.9%). But they're unable to make up for the multi-year collapse of car sales.
Part of the volume problem at Ford is the urge to focus on high-priced vehicles with big-fat profit margins – pickups, SUVs, and crossovers. "A continued stronger mix of trucks and SUVs expanded transaction pricing for another new record of $38,400, a $1,600 increase over December last year," Ford said. It proudly tells Wall Street that this increase in ATP was over triple the size of the industry's ($470) and that its ATP is now substantially higher than that of the "overall industry at just $34,000 per vehicle."
So Ford has positioned itself as a premium product with high and ballooning prices and big-fat profit margins. And demand sagged by 4.1% since 2015. Go figure.
At Fiat Chrysler (FCA) – also includes Maserati and Alpha Romeo – sales in 2018 jumped 8.5% to 2,235,204 vehicles, of which 23% were fleet sales. But this comes after the catastrophic year 2017 when sales had plunged 8.8%. Despite the gain in 2018, sales were still down 1% from 2016, and down 1.3% from 2015: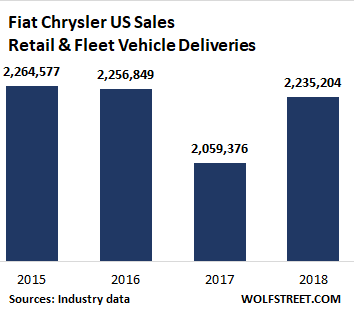 Toyota sold 2.427 million vehicles in 2018. This puts it in third place, behind Ford and ahead of FCA. Toyota's sales peaked in 2015 and have declined every year since. 2018 was down 0.3% from 2017, down 0.9% from 2016, and down 2.9% from 2015: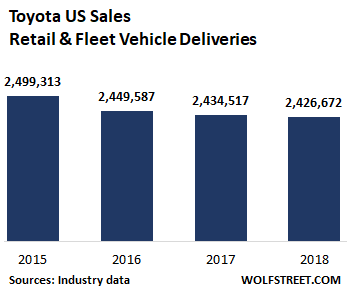 The other Japanese brands:
Honda's sales dropped 2.2% in 2018 from its peak in 2017, to 1.641 million vehicles.
Nissan's sales fell 6.2% from its peak in 2017, to 1.494 million units, which knocked sales 4.5% below 2016.
Subaru sales rose 5.0% to 680,135 vehicles in 2018, up 16.7% from 2015, a big success against its big brethren.
Mazda sales rose 3.7% to 300,325 vehicles in 2018. But this was down 5.9% from 2015.
Mitsubishi sales jumped 13.9% to 118,074 and 24% from 2015!
For all six Japanese automakers combined total sales dropped 1.3% from the peak in 2017, to 6.62 million units. The drop in 2018 put sales below those of 2016:
The German automakers – BMW, Mercedes-Benz, and Volkswagen Group – eked out a new high in 2018, with combined sales rising 3.6% to 1.35 million vehicles. But they're small: Combined, they're selling just 20% of the volume of their Japanese competitors. Toyota, Honda, and Nissan each outsell the combined German automakers: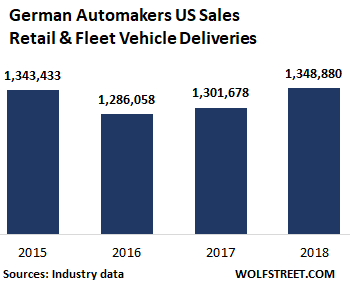 Mercedes-Benz sales dropped 5.5% to 355,413 vehicles in 2018 and are now down 6.6% from 2015.
BMW sales inched up 0.5% to 355,778 vehicles, after two really lousy years, with sales in 2018 down 12.2% from 2015.
Volkswagen Group (includes VW, Audi, Porsche, Bentley, and Lamborghini) sales rose 2% in 2018 and are up 5% from 2015.
Korean auto makers Hyundai and Kia, which are affiliated, went upscale, like everyone else, and are now paying the price. In 2018, their combined sales fell 0.6% from 2017, which had been a terrible year, with sales dropping 10% from 2016. That leaves 2018 sales down 11% over the two-year period and 8.6% below 2015: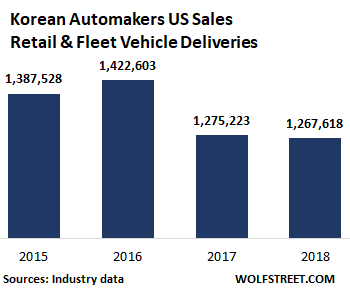 Among the niche automakers, the notable development in 2018 was that Tesla, with estimated deliveries in the US of 182,400 vehicles, giving it a market share of a minuscule 1.05%, beat Tata-owned Jaguar Land Rover (122,626 vehicles) and Geely-owned Volvo (98,263 vehicles) for the first time.
All automakers combined sold 17.33 million units in 2018, up 0.6% from 2017, but down 1.2% from the peak in 2016, and down 0.8% from 2015: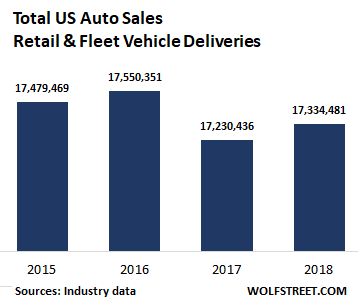 For the industry, sales of new cars plunged 13% in 2018; and sales of new trucks (SUVs, compact SUVs, pickups, and vans) surged 8.3%. Car sales, after four years of plunging, account for only 29% of total sales, the lowest share on record in US history. This is the price of going upscale — new cars are too damn expensive, and Americans aren't buying them anymore. They're buying used cars. Read…  Carmageddon for New Cars, But Used Cars are Hot
Enjoy reading WOLF STREET and want to support it? You can donate. I appreciate it immensely. Click on the beer and iced-tea mug to find out how:

Would you like to be notified via email when WOLF STREET publishes a new article? Sign up here.