The price of going upscale: New cars are too damn expensive, and Americans aren't buying them anymore.
Based on new-vehicle sales data this year through November, plus my own estimates for December, for the year 2018, sales of new cars plunged 13% to 5.5 million units; and sales of new trucks (SUVs, compact SUVs, pickups, and vans) surged 8.3% to 11.8 million units. Car sales are now down to 29% of total sales, the lowest share on record in US history. This is the fourth year in a row of declining new-car sales. Since 2014, new-car sales have plunged by 31%; but new-truck sales have soared by 38%: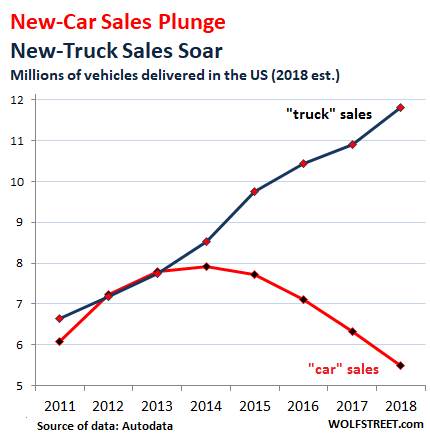 These are deliveries of new cars and trucks by dealers to their customers, and by automakers directly to large fleet customers. A lease counts as a sale because the dealer sells the vehicle to a leasing company, a lender, or the automaker's own finance company, which leases it to the customer.
Also note that the dominant buyer of cars are fleets, primarily rental car companies, but also other companies, and governments. And in total, fleet sales were up 7% year-to-date through November. But new-vehicle retail sales were down 1% year-to-date.
The collapse of new-car sales has caused Detroit automakers to shut down assembly plants in the US over the past two years, with GM being only the latest and repeat shutdown-and-layoff announcer [After Wasting $14 billion on Share-Buybacks, GM Prepares for Carmageddon & Shift to EVs, Cuts Employees, Closes 8 Plants].
"The market continues to abandon cars, with no end in sight. Automakers have slowed or stopped production, so inventory is down, and buyers are mostly looking at trucks and SUVs," said Karl Brauer, executive publisher of Autotrader and Kelley Blue Book, cited by Auto News.
"Every time we think we've hit the bottom in car market share, another month passes with trucks and SUVs gaining while cars lose," he said. "This is the reality that recently drove Ford and GM to announce plans to further reduce car production. Who can blame them?"
But have Americans really given up on cars? Nope.
Obviously, when you look around there are still a lot of cars on the streets. Turns out, where cars are hot is in the used vehicle sector – particularly bread-and-butter cars that people can afford.
In 2018, new-vehicle sales will be a tad over 17 million units, retail and fleet combined. But used-vehicle sales will be about 40 million units, sold by franchised dealers (such as Ford or Toyota dealers), independent used-vehicle dealers, and individuals. The used-vehicle retail market is backed by a large and liquid wholesale market where rental cars, lease-turn-ins, repos, etc. are sold at auction to dealers.
The largest auto-auction company in North America, Manheim – running about 8 million used vehicles through its auctions and online venues a year – points out the demand for basic used cars in its auction report for November:
On a year-over-year basis, most major market segments saw price gains in November; but more affordable vehicles continue to see the greatest increase in values. Compact cars and midsize cars outperformed the overall market, while utility vehicles and pickups underperformed the overall market.
In other words, what's hot in new vehicle sales (SUVs and pickups) is less than lukewarm in the used vehicle auction market. And what is ice-cold in the new-vehicle market (cars) is red-hot in the used-vehicle market.
J.D. Power in its Used Car and Truck Guide for November, said a similar thing. Year-to-date through November, prices of used vehicles up to five years old rose 2.8% on average. But…
On the mainstream-side of the market (non-luxury), prices this year have been supported by exceptionally strong performance of passenger cars. Compact car prices are expected to end the year about 9% above their position in 2017, while mid-size car prices are forecast to grow by around 7%.
Mainstream SUV prices are also up in 2018, but "not nearly to the same level as their car counterparts," J.D. Power says. One of the primary reasons for this is "affordability. which favors more competitively priced passenger cars."
And the luxury side is not doing well in the used-vehicle segment.
Prices are expected to be down for most [luxury] segments [cars or trucks], with some of the worst losses expected in the luxury mid-size car segment, which has seen steady year-over-year declines since 20012. Prices for this segment are expected to decline by over 7%.
What's hot are affordable used cars.
But they're growing scarcer as new-car sales, even to fleets, are declining year after year, while "truck" sales (SUVs, compact SUVs, pickups, and vans) are taking over as rental car companies shift more of their fleets over to trucks. Trucks being run through auctions now account for 48.5% of total auction sales, and cars accounting for 51.5%. The share of bread-and-butter cars being run through auction will decline further in the future, following the trend of declining new-car sales to fleets, in favor of trucks.
This shows that many Americans are clamoring for affordable cars, but that automakers have gone upscale on everything – thinking that that's where the money is – and now people are not buying new care any longer. Even Kia and Hyundai have gone upscale, and their car sales too have collapsed. Americans, to get the cars they want and can afford, end up buying used cars. But even there, the flow of used cars is slowing down, and given the strong demand for them, prices are surging. Clearly, something is out of alignment.
Enjoy reading WOLF STREET and want to support it? You can donate. I appreciate it immensely. Click on the beer and iced-tea mug to find out how:

Would you like to be notified via email when WOLF STREET publishes a new article? Sign up here.