Homebuilder Toll Brothers just said it out loud.
High-end homebuilder Toll Brothers, when it announced earnings this morning, made some peculiar comments.
Not so peculiar was the plunge in new orders in its fourth quarter, ended October 31: New orders dropped 13.3% from a year ago to 1,715 units. In California, Toll Brothers' largest market by revenue, new orders plunged 39.4% to just 226 units. Toll Brothers also slashed its guidance for home sales in its fiscal year 2019. This is not so peculiar because I already reported on the drop in new home prices across the US, amid unsold inventory of new homes that has ballooned to 7.4 months supply, the highest since February 2011, toward the end of Housing Bust 1.
Here is the peculiar part in its announcement concerning new orders (emphasis added):
"California has seen the biggest decline. Significant price appreciation over the past few years, fewer foreign buyers in certain communities, and the impact of rising interest rates all contributed to this slowdown."
High home prices and rising interest rates are a toxic mix. We have been discussing this for a while, and the first signs are visible in Silicon Valley and San Francisco. But Toll Brothers today threw in a new variable that is going to heck: fewer foreign buyers.
This is the greatest fear of the housing industry in the state. Once those foreign buyers dry up, who's going to buy? Because there is a little bit of an issue here.
At the end of November, the US Census Bureau released its data on state-to-state migration for 2017. So this does not include the new developments in 2018. But it gives us an idea of the magnitude of the problem.
People move to California for jobs and education. People leave California because the cost of living is just too damn high. Many retirees cannot afford to live in the state. Income taxes are another reason – though property taxes are extraordinarily low for people who've owned their property for a long time (due to a homeowner revolt that ended in 1978 with Proposition 13).
The data released by the Census Bureau at the end of November confirm the trends in prior years. When it comes to in-migration and out-migration between states, California is losing it.
In-migration: In 2017, a total of 523,000 people moved from other states to California. These are the top states from where people moved to California (data provided by the Census Bureau and real state brokerage Compass) :
Texas: 41,000
New York: 34,300
Washington: 33,100
Illinois: 27,100
Arizona: 26,900
Colorado: 25,000
Florida: 24,600
Nevada: 23,800
Out-migration: In 2017, a total of 661,000 moved from California to other states. These are the top destination states for Californians:
Texas: 63,200
Arizona: 59,000
Washington: 52,500
Oregon: 50,100
Nevada: 47,500
Florida: 30,900
Colorado: 27,000
New York: 25,000
So, with 523,000 people moving from other states to California, and with 661,000 people moving from California to other states, the state experienced a net domestic out-migration of 138,000 people.
And this is repeated year after year. According to those migration numbers between US states, it would seem that California is gradually emptying out of people. But that's not the case. In 2000, there were 34 million residents in California. In 2017, there were 39.5 million.
The chart below shows the population trends for California, Texas, New York, and Florida (via Google's public data visualization; click to enlarge):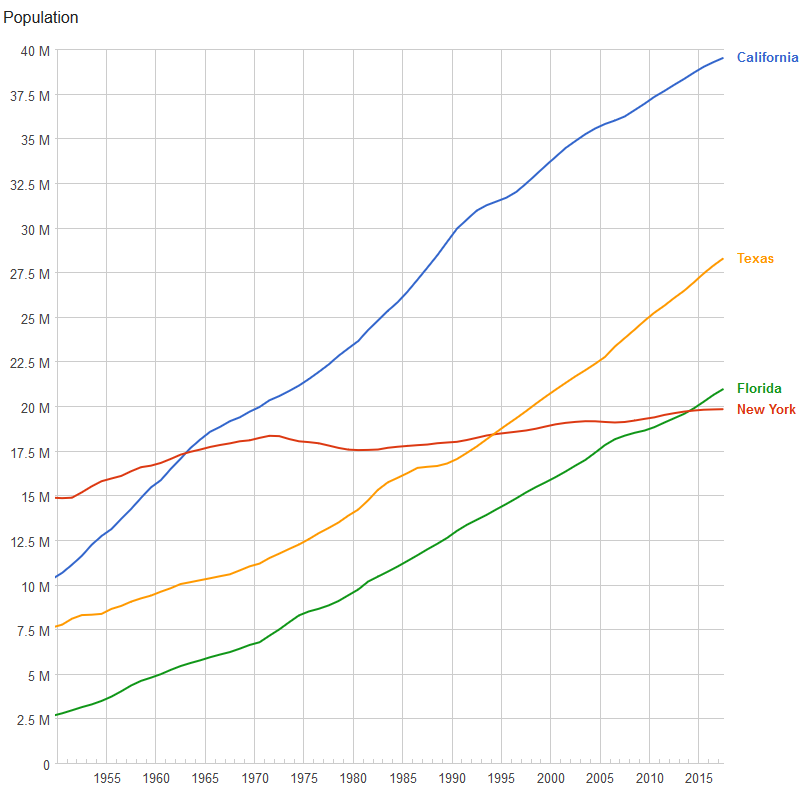 In 2017, net out-migration amounted to 138,000 people. But California's population grew by about 241,000 people over the same period. The difference – around 379,000 people – has to come from somewhere. A small component of it is births minus deaths. And the remainder? Foreign migration.
In California's case, foreign migration is largely from Asia. These people come for jobs, particularly tech jobs, education, and opportunity, or to get themselves and some of their assets away from the long arm of their government.
And now the greatest fear of the housing industry in California is that this inflow from Asia is going to slow down. Even a small slowdown, with domestic out-migration as large as it is, could create massive demand problems for the housing market.
And suddenly there's Toll Brothers anecdotally confirming that fear.
The 2017 Census data does not yet include the impact of the Trump administration's changes to the tax law and the discussions about curtailing H-1B and related tech visa programs, including spousal work visa programs. A crackdown on the tech visa programs would impact immigration from India the most. Revisions of the investor visa programs, such as EB-5 visas, would impact immigration from China the most. These are the people who enter the housing market in the largest urban centers in California. The agricultural workers from south America don't impact the super-expensive coastal housing markets that much.
In addition, any slowdown in hiring in the tech and social media sectors – given that their stocks are now getting battered on a regular basis – would also impact recruits coming from overseas. And the housing market could already be feeling the first signs of this.
The underlying dynamics changed in August and have worsened since. And this is still the tech boom. Read… Bubble Trouble: Silicon Valley & San Francisco Housing Markets Head South
Enjoy reading WOLF STREET and want to support it? You can donate. I appreciate it immensely. Click on the beer and iced-tea mug to find out how:

Would you like to be notified via email when WOLF STREET publishes a new article? Sign up here.