We knew "free money would inevitably end. Affordability would become an issue – particularly around new vehicles."
It has been a tad rough in the stock market for AutoNation, the largest auto retailer in the US, with 242 new-vehicle dealerships, selling 33 brands, including Toyota, Lexus, Honda, Acura, Ford, GM's brands, Fiat-Chrysler, Mercedes-Benz, Nissan, Infiniti, BMW, Volkswagen, Audi, Porsche, etc. After the company reported earnings on Tuesday, shares [AN] dropped 4%, and this morning, they're down another 3% (despite the overall market which has been up sharply on both days). Shares have now plunged 37% from their 52-week high in January.
The problem is in new-vehicles sales.
Many customers are strung out by high vehicle prices and rising interest rates, and they're switching to used vehicles, which AutoNation also sells – and that part of the business is good. But the new-vehicle business was lousy in the third quarter, compared to the same period last year:
New-vehicle sales fell 5.6%, to $2.93 billion.
The number of new vehicles retailed fell 6% to 78,300 vehicles (overall industry sales fell 4%).
Due to rising prices from manufacturers and a consumer shift from cars to more expensive SUVs and trucks, average revenue per new vehicle retailed rose by nearly $1,000 to $37,017.
New-vehicle gross profit (revenue minus what manufacturers charge after incentives) plunged 13.4% to $125 million.
Per new vehicle retailed, gross profit dropped 7% to $1,571.
During the conference call, the company cited "pressure on new vehicle margins" – meaning the dealer is getting caught between rising prices charged by manufacturers and consumers unwilling to accept them.
"We anticipated headwinds coming in the new vehicle business," said CEO Mike Jackson in the conference call. And preparing for it entailed a "shift from new towards pre-owned" vehicles. This shift to used vehicles took several forms, including a $50-million investment for a 7% stake in online used-vehicle-sales startup Vroom Inc., which was announced before the conference call. In a subsequent interview, Jackson added some color:
"We concluded several years ago that free money would inevitably end. Affordability would become an issue – particularly around new vehicles – and we better have created new capabilities for the company to deal with the double whammy of rising rates, both for us and for our consumers."
"They're looking at more affordable alternatives," he said.
The double whammy are rising costs for highly leveraged companies, such as auto dealers, and consumers facing rising prices of vehicles to be financed at higher rates. Something has to give.
Hence the shift to used vehicles.
For AutoNation, every metric on used vehicles was up.
Sales rose 4.3% to $1.28 billion.
Revenue per used-vehicle retailed rose 3.3% to $20,044.
The number of used vehicles retailed rose 3% to 58,700.
Used-vehicle gross profit rose 6% to $88 million.
Used-vehicle gross profit per vehicle retailed rose 2% to $1,456.
For consumers this makes sense: the average amount they paid for a used vehicle at AutoNation of $20,044 is just over half of the average they paid for a new vehicle ($37,017).
These new and used vehicle numbers do not include Finance and Insurance (F&I), which in the industry is treated as a separate profit center for new and used vehicles combined. This is where the dealer makes money off arranging auto loans with lenders and sells additional warranties, dubious insurance products, and miscellaneous fluff & buff.  At AutoNation, F&I gross profit rose 4% to $244 million; on a per-vehicle-retail basis, it rose 6% to $1,781.
In other words, as is industry norm, the dealer makes more money in F&I off each vehicle than by actually selling the vehicle.
Parts and service sales rose 2.7% to $864 million, generating a gross profit of $473 million. In every department except new vehicles, sales and gross profit rose. But due to the dominance of new vehicles (55% of total sales), whose sales slumped, total revenues fell 1.5%. And total gross profit, also weighed down by new vehicles, inched up only 1.1%.
Operating income swoons
Selling, general, and administrative expenses rose, and depreciation and amortization also rose, while "other income" made up for some of it, and total operating income fell 3.6% to $204 million.
Borrowing costs surge, due to higher interest rates  
The interest expense of floorplan financing (to finance new and used vehicle inventories) jumped by 30% year-over-year to $32.7 million.
The company's floorplan facility is based on one-month dollar LIBOR, which tracks slightly higher than the US Treasury one-month yield, which has been pushed up by the Fed's rate hikes. The one-month Treasury yield is at 2.21%, and one-month dollar LIBOR is 2.28% — both of them up from near-0% three years ago (data by YCharts):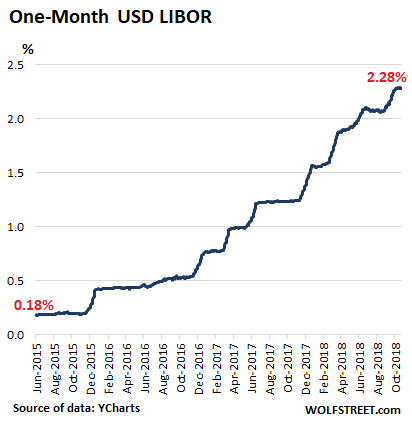 This is how the normalization of borrowing costs – and that's all this really is as the era of "free money" has ended – is beginning to bite.
Non-vehicle interest expense fell slightly to $28.4 million, "primarily due to lower average debt balances and lower average interest rates as we refinanced higher cost debt with lower rate senior notes and commercial paper towards the end of last year." And total interest expense jumped by 11% to $61 million.
But the corporate tax cuts saved the day
With operating profit down 3.6% (at $204 million), and total interest expense up 11% (at $61 million), pretax income fell 8.1%, or by $12.8 million, to $145 million.
But thank you, thank you, thank you for the corporate tax cuts. Income tax provisions plunged by 46% from $60.3 million in Q3 a year ago to $32.8 million: "We have not completed our accounting for the tax effects of enactment of the Act; however, we made a reasonable estimate of the effects," the company said.
And due to this $27.5 million reduction in income taxes, after-tax net income actually rose 15% to $112 million.
So that tax cut came in the nick of time, to temporarily overcome the growing "double whammy" as Jackson put it, generated by what is still just the normalization of interest rates, layered on top of rising prices, and consumers having to juggle it all.
Enjoy reading WOLF STREET and want to support it? You can donate. I appreciate it immensely. Click on the beer and iced-tea mug to find out how:

Would you like to be notified via email when WOLF STREET publishes a new article? Sign up here.