Bigger issues than propping up the stock market beckon.
Today, the Shanghai Composite Index dropped another 2.9% to 2,486.42. In the bigger picture, that's quite an accomplishment:
Lowest since November 27, 2014, nearly four years ago
Down 30% from its recent peak on January 24, 2018, (3,559.47)
Down 52% from its last bubble peak on June 12, 2015 (5,166)
Down 59% from its all-time bubble peak on October 16, 2007 (6,092)
And back where it had first been on December 27, 2006, nearly 12 years ago.
The chart of the Shanghai Stock Exchange Composite Index (SSE) shows the 2015-bubble and its implosion, followed by a rise from the January-2016 low, which had been endlessly touted in the US as the next big buying opportunity to lure US investors into the China miracle. Investors who swallowed this hype got crushed again: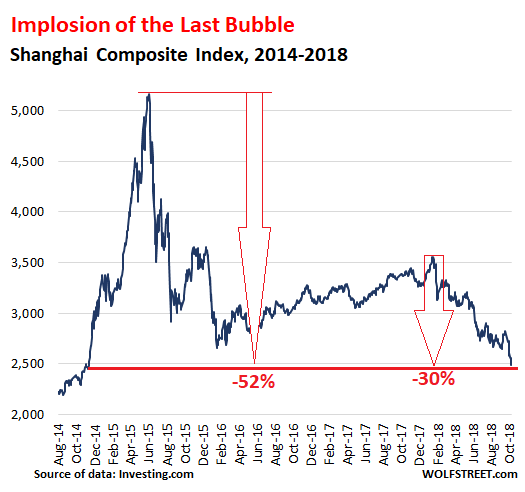 Over the longer view, the implosion is even more spectacular. Today's close puts the SSE back where it had first been nearly 12 years ago, on December 27, 2007. This dynamic has created a double-bubble and a double-implosion, with every recovery rally in between getting finally wiped out. The index is now down 59% from its all-time high in October 2007, the super-hype era in the run-up to the Beijing Olympics.
It is not often that a stock market of one of the largest economies in the world is whipped into two frenetically majestic bubbles that implode back to levels first seen 12 years earlier – despite inflation in the currency in which these stocks are denominated.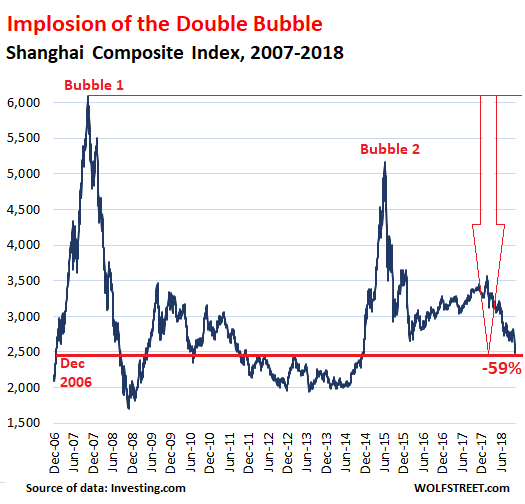 During the 2015 implosion, there had been big efforts by Chinese authorities to prevent the market from collapsing further, ranging from arresting wrong-headed market participants to forcing large brokerages and funds to buy the shares. These players were commonly dubbed "the national team." And there were different lines in the sand that could not and would not be allowed to be breached: 3,500, then 3,000, then 2,700. The latter line in the sand held until September 10, 2018, but then it too got trampled.
So has that "national team" thrown in the towel in face of overwhelming problems? Perhaps. Bloomberg reported that there has been a "twist":
It's local authorities who have been most active to cushion what's been a 30 percent plunge in the Shanghai Composite Index from its January high. Officials in the southern cities of Shenzhen and Shunde as well as Beijing's Haidian district have moved to help listed firms from their areas, according to local authorities and media reports.

Rather than the across-the-board purchases seen in efforts led by the central government in the wake of a $5 trillion sell-off in 2015, this time around aid appears to be channeled to specific companies in need of liquidity support.

Many are linked to share pledging — the practice of taking out loans using stocks as collateral. Stock slides spur brokerages to dump the collateral, in turn worsening the market rout and making it all the tougher for the companies involved to find financing.
But these efforts have been ineffectual in halting the implosion.
Given the problems China is facing these days, authorities have likely more important things to do than keeping the stock market from going to heck entirely. They're trying to keep the China miracle overall from unraveling.
The China miracle was based on endless and mind-bending credit creation. But now, many trillions of yuan in "hidden debt" are rolling out of the bamboo forest on off-balance-sheet vehicles. The peer-to-peer lending bubble has collapsed, and consumers who've lost their savings are clamoring for a bailout. Auto sales have started to drop sharply, in a sign that consumers might be tapped out. The enormous housing bubble is making authorities quake in their boots. The deteriorating status of corporate debt has been triggering a combination of bailouts and defaults. The Chinese version of the US dotcom bubble of 1999 is beginning to implode. Etc., etc.
With all these things going on simultaneously, the implosion of the stock market is one of the smaller problems that authorities are grappling with, and so maybe they decided to focus their prop-up energies and various "national teams" on the larger issues to keep the China miracle from unraveling.
In terms of global reserve currencies, the Chinese renminbi gains, but remains inconsequential as central banks are leery. Read… US Dollar Refuses to Die as Global Reserve Currency — But Loses Ground
Enjoy reading WOLF STREET and want to support it? You can donate. I appreciate it immensely. Click on the beer and iced-tea mug to find out how:

Would you like to be notified via email when WOLF STREET publishes a new article? Sign up here.