It shot up 240% from long-run average and 500% from a year ago.
Reading the purposefully repetitive and strategically mind-numbing minutes of the FOMC meetings, such as the minutes that the Fed released today, can be a brutal affair. But it's where the Fed discusses the economy and vaguely hints at risks balling up in it. It sprinkles in clues about its decisions on interest rate hikes. So these minutes are a link in understanding where interest-rate policy might go in the future, and they're designed to communicate precisely that.
To allow everyone to dodge the torture of having to sort through it all manually, I have designed a nifty Fed Hawkometer – pronounced haw-KO-meter. It's untested, and results may vary, as they say. If it appears slightly tongue-in-cheek, that's OK. It measures how many times the minutes use the word "strong," "strongly," and "stronger" to describe the economy: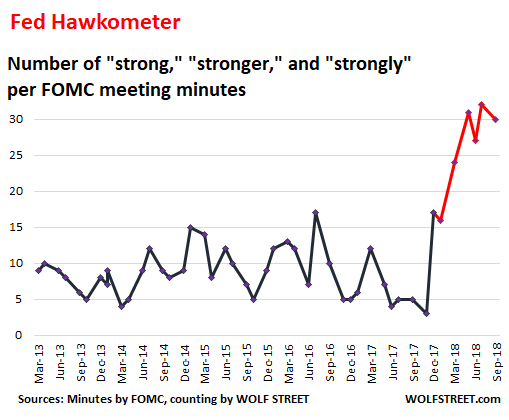 The average frequency of "strong," "strongly," and "stronger" between January 2013 and December 2017 was 8.7 times per meeting minutes. In the minutes released Wednesday afternoon of the Fed's meeting on September 25-26, it was 30 times. The average over the past four meeting minutes (May, June, August, September) was also 30 times. That's an increase of 240% from average!
And the frequency in today's minutes shot up 500% year-over-year. In other words, the Fed Hawkometer is now redlining.
Here's a sample of those 30 occurrences in the minutes, released Wednesday afternoon, of the Fed's meeting on September 25-26 (bold added):
Equity markets had posted strong gains
GDP appeared to be rising at a strong rate in the third quarter
Total nonfarm payroll employment increased at a strong pace, on average
Real PCE [Personal Consumption Expenditures = consumer spending] appeared to be rising strongly in the third quarter
Stronger-than-expected average hourly earnings
Stock prices increased for many sectors in the S&P 500 index, as the second-quarter earnings reports for firms that reported later in the earnings cycle came in strong
In part because of strong earnings
Economic activity rose at a strong rate
Job gains were strong, on average, in recent months
Household spending and business fixed investment grew strongly
Recent data pointed to a pace of economic activity that was stronger than they had expected earlier this year
These included strong labor market conditions
Recent strong growth in GDP may also be due in part to increases in the growth rate of the economy's productive capacity
Participants generally characterized consumption growth as strong
Business fixed investment had grown strongly so far this year
Input prices had been bolstered by strong demand
Greater-than- expected effects of fiscal stimulus could lead to stronger-than-expected economic outcomes
Real economic activity rising at a strong rate
Strong labor market conditions
In my Fed Hawkometer above, you can see that the post-crisis economy was running along recovering, and things were "strong" in some areas and still waiting for inspiration in others, but starting in December 2017, the mentions of "strong" started piling up massively.
This is an indication of how the Fed – given the data it looks at and what its contacts in the business community are saying – thinks about the economy and where it is going, and by extension, where monetary policy should go.
There were a few tidbits in the minutes that gave a clue as to what is on the Fed's worry list, including risks to financial stability due to inflated assets prices that are used as collateral. The reference this time was to one of our favorite topics, "leveraged loans," an asset class the Fed and other bank regulators have been warning about for four years:
Some participants commented about the continued growth in leveraged loans, the loosening of terms and standards on these loans, or the growth of this activity in the nonbank sector as reasons to remain mindful of vulnerabilities and possible risks to financial stability.
And relatively new references started to crop up in larger numbers, namely to the "stimulative" effects of fiscal policy, including:
"Stimulative federal tax and spending policies"
"Stimulative effects of the changes in fiscal policy"
"Fiscal stimulus"
"Recent changes in federal tax policy"
In the prior minutes from the August meeting, "stimulus" or "stimulative" appeared just once, in the phrase, "stimulative federal tax and spending policies." So clearly, these stimulative effects of what I have come to call a stupendous spending binge and big-fat tax cuts are keeping the Fed Hawkometer at the redline.
As a flood of US debt washes over the globe, someone is buying these Treasury securities. Here's who. Read…  Who Bought the $1.6 Trillion of New US National Debt Over the Past 12 Months?
Enjoy reading WOLF STREET and want to support it? You can donate. I appreciate it immensely. Click on the beer and iced-tea mug to find out how:

Would you like to be notified via email when WOLF STREET publishes a new article? Sign up here.