But no blood in the streets. Just a rate-hike cycle at work.
Today the US Treasury 10-year yield broke out of its recent range and surged 8 basis points to 3.08% at the close, the highest since July 2011. The price of a bond falls when its yield rises.
The odds have been stacked against the bond market for a while: the Fed's rate-hike cycle, the Fed's QE Unwind, a surge in government spending, the tax cuts, and the ensuing onslaught of debt issuance that is looking for buyers.
In addition, and with impeccable timing, the biggest US corporations with the most "cash" parked "overseas" are now "repatriating" this "cash" and are using it to buy back their own shares. What this really means for the bond market is this: This "cash" isn't cash but is invested in securities, mostly US Treasury securities, corporate bonds, and the like. Companies are now selling those securities in order to use the proceeds to buy back their own shares at a record pace. So these huge bond buyers have turned into net sellers.
In other words, to entice enough new investors into the market, yields have to rise to make those bonds more attractive.
While short-term Treasury yields have been rising for a couple of years in a fairly consistent manner, longer-term yields are not so well-behaved and, despite the Fed's efforts to push them up, are subject to messy market forces and speculative positions, including large short positions. And so the 10-year yield has moved in leaps followed by some backtracking until the next break-out and leap. Note that the most recent back-track only lasted a couple of months and barely shows up on this chart: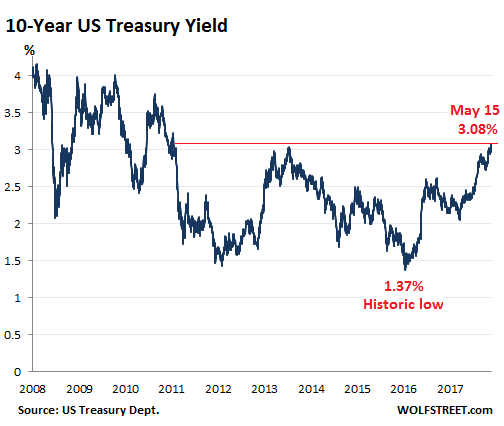 The two year yield ticked up to 2.58%, the highest since July 2008: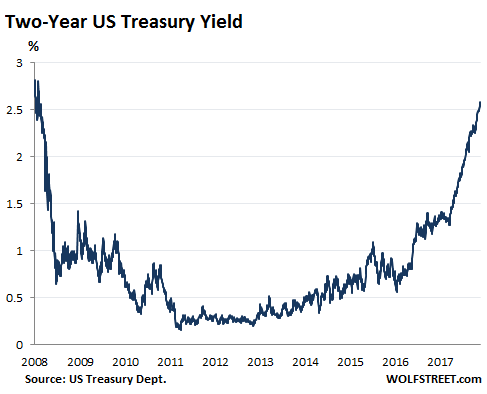 The difference (spread) between the two-year yield and the 10-year yield widened from 45 basis point to 50 basis points (0.5 percentage points), as the 10-year yield rose faster today (by 8 basis points) than the two-year yield (3 basis points).
So today provided some relief for those people who fear an "inverted yield curve," a phenomenon when the 10-year yield is lower than the two-year yield. There are various theories about the cause-and-effect relationship between an inverted yield curve and the economy, but the last inversion was followed by the Financial Crisis, and prior ones had been followed by recessions, and that's why people are nervous about this spread between the two-year yield and the 10-year yield. But so far so good, by the skin of its teeth, so to speak: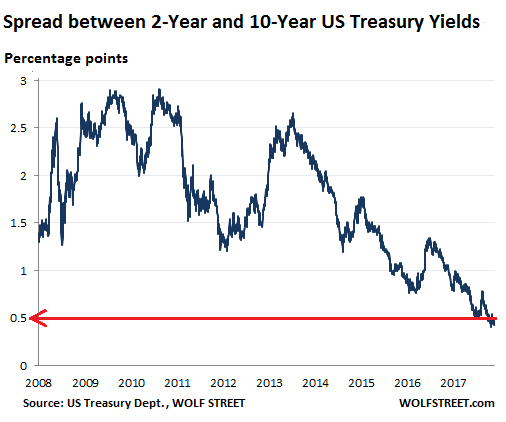 The three-month yield edged down to 1.92% from yesterday's close at 1.93%, which had been the highest since June 18, 2008: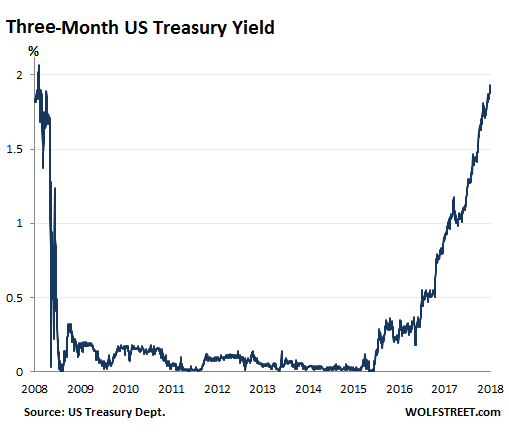 The 10-year yield functions as benchmark for the mortgage market, and when it moves, mortgage rates move. And today's surge of the 10-year yield meaningfully past 3% had consequences in the mortgage markets, as Mortgage News Daily explained:
Mortgage rates spiked in a big way today, bringing some lenders to the highest levels in nearly 7 years (you'd need to go back to July 2011 to see worse). That heavy-hitting headline is largely due to the fact that rates were already fairly close to 7-year highs, although today did cover quite a bit more distance than other recent "bad days."
The "most prevalent rates" for 30-year fixed rate mortgages today were between 4.75% and 4.875%, according to Mortgage News Daily.
The 10-year yield remains low, given what the Fed is trying to accomplish. Spreads remain narrow. Risk premiums between Treasury securities and corporate junk bonds remain extraordinarily low, still, despite everything. The Fed has been moving at a very "gradual" pace. It is two-and-a-half years into this rate-hike cycle and has raised its target range only from 0-0.25% to 1.50-1.75%. During the last rate-hike cycle, it raised rates from 1.0% to 5.25% in just two years! So this rate-hike cycle is occurring in slow motion and might last four or five years.
Markets are very slow to catch up to this already very slow pace. But they're in the process of catching up, and today was one of those days, and there will be many more.
The Fed leads, the ECB follows. Read…  Global QE Dream Ends, ECB Sees Rate Hikes, "Normalization" Becomes a Thing
Enjoy reading WOLF STREET and want to support it? You can donate. I appreciate it immensely. Click on the beer and iced-tea mug to find out how:

Would you like to be notified via email when WOLF STREET publishes a new article? Sign up here.