Japan systematically dumps US Treasuries while China hangs on.
China increased its holdings of US Treasury bonds, notes, and bills by $11 billion in March to $1.19 trillion, the highest since October last year, according to the Treasury Department's TIC data released Tuesday afternoon. Thus China is the number one holder of US Treasuries, a position it gave up for eight months during its era of peak capital-flight from October 2016 through March 2017.
At the low point, in November 2016, China's holdings of Treasuries fell to $1.05 trillion. It has since added $138 billion to its stash.
The increase in February and March of nearly $20 billion might have been a goodwill gesture to President Trump, saying in essence, "We're not interested in a trade confrontation, we're interested in getting this worked out."
Japan however has been systematically cutting its exposure to Treasuries. Since July 2016 it has slashed its holdings by $111 billion, including $16 billion in March, to $1.04 trillion, the lowest since October 2011.
This chart of the holdings of China (red) and Japan (blue) shows China's peak capital-flight era and the recovery since, but also the systematic downtrend of Japan's holdings: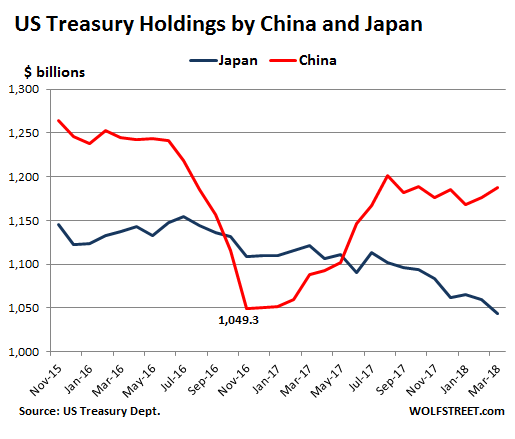 Here are the top holders of Treasuries, after China and Japan – many of them tax havens and alleged money laundering centers, and tiny countries or jurisdictions with inexplicably huge balances. For example, Ireland, which is in overall third position behind China and Japan, holds $318 billion of Treasuries, higher than its GDP ($304 billion in 2016).
Ireland: $318 billion
Brazil: $286 billion
United Kingdom ("City of London!"): $264 billion
Switzerland: $245 billion
Cayman Islands: $243 billion
Luxembourg: $222 billion
Hong Kong: $196 billion
Taiwan: $170 billion
India: $157 billion
Saudi Arabia: $151 billion
Belgium: $125 billion
Note that Germany, a country with a massive trade surplus with the US and the rest of the world, and the fourth largest economy in the world, only holds $76 billion in Treasuries.
In total, foreign holdings edged up by $2.3 billion In March, to $6.294 trillion. Over the past 12 months, these holdings gained $220 billion.
So official foreign entities are overall adding relatively small amounts of Treasuries to their balances. But who picked up the rest, and how much was the rest?
Over the same 12-month period through March 31, 2018, the US gross national debt surged by mind-boggling $1.24 trillion with a T to an even more mind-boggling $21.1 trillion. This is split in two ways:
Debt held internally by US government entities has risen by $185 billion to $5.66 trillion
Debt that is publicly traded has soared by $1.06 trillion to $15.4 trillion.
This publicly traded debt of $15.4 trillion is held by these entities:
15.6% or $2.4 trillion by the Fed as part of its QE
41.0% or $6.3 trillion by foreign official entities (see above).
49.4% or $6.7 trillion by, well, mostly Americans, directly or indirectly.
But here's the thing: the Fed's Treasury holdings have decreased by $51 billion over the 12-month period through March 2018, as it has started the QE unwind. Foreign official holdings have only increased by $220 billion. Leaves $891 billion. So who bought this crazy tsunami of publicly traded US debt over those 12 months?
It's mostly Americans directly and indirectly, via bond funds pension funds, and other ways, along with some "unofficial" investors from other countries. For them, Treasuries have become more attractive as yields have now risen sharply – though they remain relatively low. These "risk free" Treasury yields from three month and up now even exceed the S&P 500 dividend yield, and they practically blow away the yields in the twisted NIRP regions of Europe and Japan. So that's a deal.
And those Treasury yields are crossing some big lines. Read… US Treasury 10-Year Yield Breaks Out, Mortgage Rates Jump to Highest in 7 Years
Enjoy reading WOLF STREET and want to support it? You can donate. I appreciate it immensely. Click on the beer and iced-tea mug to find out how:

Would you like to be notified via email when WOLF STREET publishes a new article? Sign up here.