What will Housing Bubble 2 do when mortgage rates hit 6%?
Wow, this was fast. The average interest rate for 30-year fixed-rate mortgages with conforming loan balances – $453,100 or less with 20% down) jumped to 4.80% for the week ending April 27, from 4.73% in the prior week, and from 4.66% two weeks ago, the Mortgage Bankers Association reported this morning (chart via Trading Economics):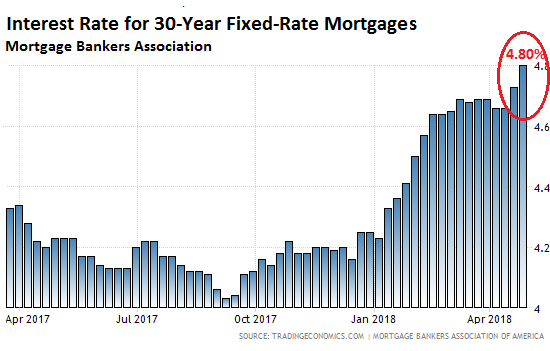 At 4.80%, the average 30-year fixed rate is now equal to the highest rate since September 2013. And the last time, the rate was higher than 4.80% was in 2011 (chart via Trading Economics):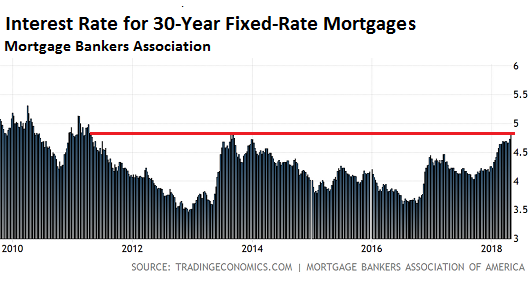 That date with 2011 has already happened:
The average interest rate for 30-year fixed-rate mortgages backed by the FHA jumped 10 basis points in the week, to 4.81%, the highest since July 2011.
The average interest rate for 15-year fixed-rate mortgages jumped 8 basis points in the week, to 4.21%, the highest since February 2011.
"Points" – the upfront fees, such as origination fees, that are usually rolled into the mortgage balance – rose 4 basis points during the week to 0.53% of the mortgage balance (mortgages with 20% down), after having already risen 3 basis points to 0.49% in the prior week.
The Mortgage Bankers Association (MBA) obtains this data from weekly surveys of over 75% of all US retail residential mortgage applications handled by mortgage bankers, commercial banks, and thrifts.
The MBA's measure of the average mortgage rate is headed for 5% in the near future and to 5.5% later in the year. The Fed is on its rate-hike path, which pushes up shorter-term yields, and longer-term yields are following with delays and in wild spasms. The Fed is also unwinding QE, which puts pressure on long-term yields. It has eased into the QE Unwind, starting last October, just like it gradually tapered QE out of existence. But the QE Unwind is picking up speed. The US Treasury yield, currently near 3%, is setting up for the next spasm higher. This will push the 30-year fixed rate to 5%.
At 5.2%, the average mortgage rate will hit the highest level since 2010; 5.5% would take it to the highest level since 2008.
The big difference between 2010 and now, and between 2008 and now, is that home prices have skyrocketed since then in many markets – by over 50% in some markets, such as Denver, Dallas, or the five-county San Francisco Bay Area, for example, according to the Case-Shiller Home Price Index. In other markets, increases have been in the 25% to 40% range. This worked because mortgage rates zigzagged lower over those years, thus keeping mortgage payments on these higher priced homes within reach for enough people. But that ride is ending.
For now, demand for mortgages continues, as homebuyers are trying to make deals before rates rise even further. The MBA's Purchase Index, which tracks the number of mortgages taken out to purchase a home (as opposed to refis) increased 5% compared to the same week a year ago – after last week's 11% increase.
A 5% mortgage rate will trim off some homebuyers at the margin but is unlikely to derail demand at this point. The real pain for homebuyers, and the housing market, will likely start closer to 6%. While 6% is still a historically low 30-year fixed-rate, home prices are historically high, and the equation has changed. It's unlikely to get to 6% in 2018, but next year is a candidate.
In terms of rents, the housing market is veering off in all kinds of directions. In Chicago, asking rents have collapsed by 30%. In New York City, they're swooning. But they're soaring in Southern California. And the US average hides all the drama on the ground. Read…  Update on the Most Splendid Rental Bubbles & Crashes in the US
Enjoy reading WOLF STREET and want to support it? You can donate. I appreciate it immensely. Click on the beer and iced-tea mug to find out how:

Would you like to be notified via email when WOLF STREET publishes a new article? Sign up here.