Fed's favorite inflation gauge spikes, consumer spending holds up solidly.
Consumer spending on goods and services – which includes anything from toys to rent and which accounts for over two-thirds of GDP – rose by 4.4% in March from a year ago, according to the Bureau of Economic Analysis this morning. This growth rate is in the upper third of the range of the past few years. Solid but not spectacular comes to mind.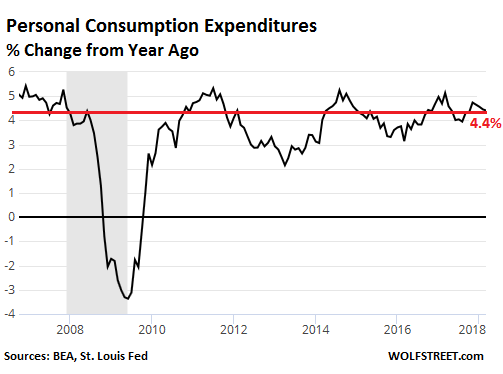 In terms of dollars, the seasonally adjusted annual rate in March (which shows what the total amount of consumer spending would be for the entire year at the rate March was going) reached a record of $13.82 trillion, and remains on the same trajectory of the past few years. The seasonally adjusted annual rate in March is 36% above the mini-peak in July 2008: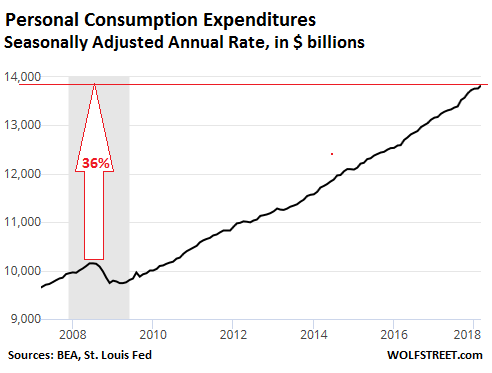 But these numbers of consumer-spending growth do not include the impact of inflation, and inflation is stirring.
The BEA also released the PCE price index this morning – the Fed's favorite inflation measure because it usually tracks lower than the Consumer Price Index and thus further understates the deterioration of the purchasing power of the dollar as consumers experience it. The PCE price index rose by 2.0% from a year ago, which is right smack-dab on the Fed's target. And it's up from 1.7% in February. Note that the Fed's target of 2% inflation isn't a minimum, but a target.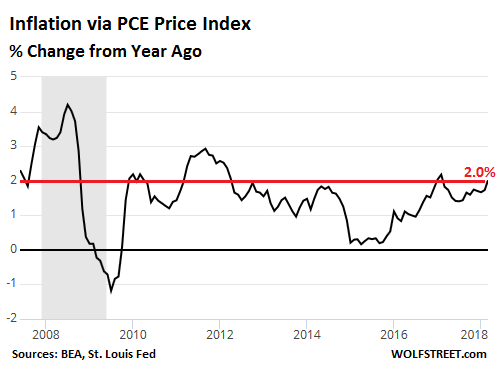 The Fed is even more focused on the PCE price index without food and energy – not because food and energy are not important to consumers, but because their prices can gyrate wildly. And this core PCE price index jumped by 1.9% from a year ago. Up from an increase of 1.6% in February. And the spike-like trend looks worrisome.
In the chart below, also note the low point in core inflation last summer, when Fed Chair Janet Yellen said that this was "transitory," and she pointed at some specific factors, even as the financial media and Wall Street pooh-poohed her and clamored for the Fed to back off its rate hike path:
The PCE and core PCE inflation measures came in as widely expected. That inflation is now rising is no longer surprising anyone. It has been documented in numerous data points, including earlier this month when the Consumer Price Index for March surged 2.4% year-over-year, and the core CPI (without food and energy) rose by 2.1%.
Price pressures are building up in the pipeline to the point where companies are beginning to fret about it. Just today, the ISM Chicago Business Barometer reported ominously that the indicator for input prices paid by companies surged 22.8% compared to a year ago:
Input material prices continued to rise in April, soaring to a near-seven-year-high. Up 22.8% on the year, the Prices Paid indicator surpassed the 70-mark in April for only the third time since 2012. A wide range of inputs were reported as more expensive on the month and some firms felt uncertainty was driving prices higher.
These kinds of anecdotal and not so anecdotal tidbits on rising price pressures – including the surge in transportation costs – are now forming a steady drumbeat. This isn't just one item, such as energy, or just a seasonal thing, or whatever: It's broad based and ongoing and is working its way through the economy. And the Fed sees this too.
Today's data is the kind of data the Fed will drag out to justify further rate hikes, spaced more closely together, though it will continue to use the word "gradual."
But for now, the Fed remains on its track of only hiking rates at meetings that are followed by a press conference. There are four of those meetings a year. The FOMC's meeting this week will not be followed by a press conference, and therefore I don't expect a rate hike – a rate hike during that meeting or any non-press-conference meeting, would be a "monetary shock." And this Fed is not likely to dish them out, especially not with four of the seven slots on the Fed's Board of Governors still being vacant. But I do expect a word or two about inflation approaching its target.
The costs of salaries, wages, and benefits are a combustible fuel for the Fed's tightening machine. Read… Employment Costs Surge Most since 2008, Fed Raises Eyebrow
Enjoy reading WOLF STREET and want to support it? You can donate. I appreciate it immensely. Click on the beer and iced-tea mug to find out how:

Would you like to be notified via email when WOLF STREET publishes a new article? Sign up here.