Slightly good news for workers, bad news for employer profits, and combustible fuel for the Fed's monetary-policy tightening machine.
Total compensation costs for civilian workers — which include wages, salaries, and benefits of workers in the private sector and in state and local governments — increased 2.7% seasonally adjusted, over the past 12 months ending in March 2018, up from a 2.4% increase in the prior quarter, the Bureau of Labor Statistics reported this morning. This was the fastest 12-month increase since Q3 2008: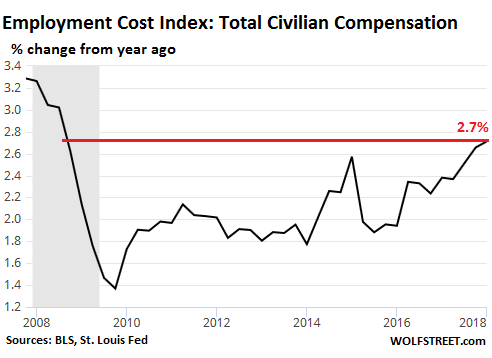 Wages and salaries account for about 70% of total compensation costs. Benefits account for the remaining 30%. As we'll see in a moment, the surge was mostly caused by wages and salaries in the private sector. Benefit cost increases, while always too much, were in the middle of the range over the past decade. And wages and salaries for workers at state and local governments inched up less than inflation.
Wages and salaries in the private sector jumped 1% over the past three months, the fastest quarterly increase in 15  years (since Q1 2003)! And for the 12-month period, they rose 2.9%, the fastest since Q3 2008: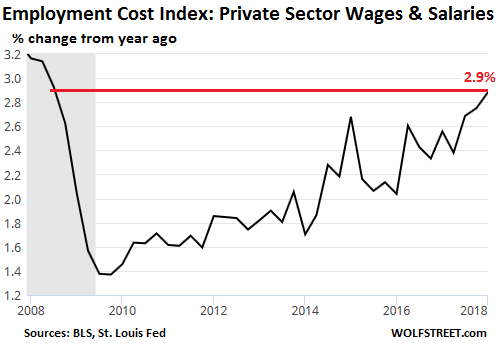 Employee benefits in the private sector rose 2.6% compared to a year ago. The sub-category of healthcare costs rose only 1.5% over the 12-month period. This chart of private-sector benefit costs shows that the year-over-year increase in Q1 was smack-dab in the middle of the range of the past 10 years: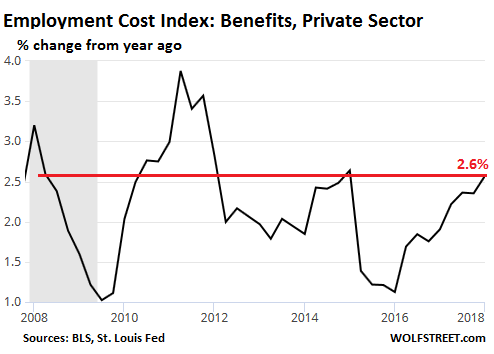 At state and local governments, it looked a little less promising for workers. Total compensation costs rose 2.2% year-over-year, with benefit costs surging 3%. But wages and salaries rising only 1.8%, roughly in line with the past three years, and below the rate of inflation (CPI):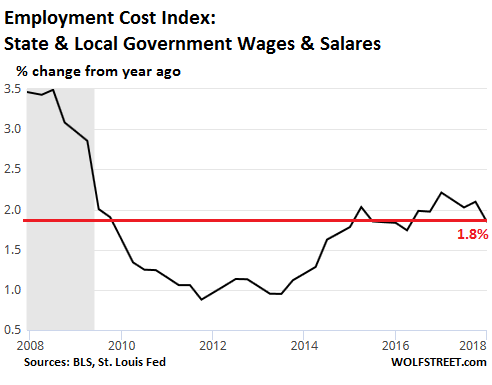 So this time, it's not government pay scales that push up the averages. It's the private sector.
The surge in private sector employment costs – particularly of wages and salaries – has figured high on the Fed's inflation-worry list, based on the classic theory that rising wages and salaries will help create demand from consumers that have more money to spend which will help push up inflation; and this additional demand will enable employers to raise their prices to maintain their profit margins as their compensation costs rise, now that consumers are making more money. That would the beginning of the circularity that the Fed frets about.
This type of data is precisely what confirms the Fed's more hawkish bent. And it comes on top of the other factors the Fed has been mentioning in past pronouncements, such as "elevated" asset prices, the "search for yield," and the risks to "financial stability" that they pose in a highly leveraged financial system. But it's not the type of data, at least not yet, that will make the Fed deviate from its plan to move "gradually" so that the economy has plenty of time — years, as the first rate hike was over two years ago — to adjust to higher rates and tighter financial conditions.
Bonds, junk bonds, spreads, commercial real estate, "leveraged loans," over-leveraged companies… all get named as risks to the banks. This is why "gradual" tightening will continue for a long time. Read… Now Even a Fed Dove Homes in on the "Everything Bubble"
Enjoy reading WOLF STREET and want to support it? Using ad blockers – I totally get why – but want to support the site? You can donate. I appreciate it immensely. Click on the beer and iced-tea mug to find out how:

Would you like to be notified via email when WOLF STREET publishes a new article? Sign up here.

Classic Metal Roofing Systems, our sponsor, manufactures beautiful metal shingles:
A variety of resin-based finishes
Deep grooves for a high-end natural look
Maintenance free – will not rust, crack, or rot
Resists streaking and staining
Click here or call 1-800-543-8938 for details from the Classic Metal Roofing folks.