The income data from the Census Bureau is here. Men, sit down.
On the surface, the data looks benign, with trends improving. And this is what you will see when you look at the media coverage of the Census Bureau's Income and Poverty report (PDF) released today:
Median household income, adjusted for inflation (via CPI), rose 3.2% between 2015 and 2016 to $59,039, the second year in a row of annual increases.
For "family households," the median income rose 2.7% to $75,062. For "nonfamily households," it rose 4.5% to $35,761.
The official poverty rate (weighted average threshold for a family of four = $24,563) inched down from last year to 12.7%, about the same as in 2007, before the Financial Crisis made a mess of people's lives. In total, 40.6 million people live in poverty by this definition.
The poverty rate for families fell to 9.8%, from 10.4% a year earlier, affecting 8.1 million families.
The survey is based on respondents at 98,000 addresses across the US — so a very large sample. Household income includes the amounts of money that the household received during that year from each of the following sources:
Earnings
Unemployment compensation
Workers' compensation
Social security
Supplemental security income
Public assistance
Veterans' payments
Survivor benefits
Disability benefits
Pension or retirement income
Interest
Dividends
Rents, royalties, and estates and trusts
Educational assistance
Alimony
Child support
Financial assistance from outside of the household
Other income
All these sources combined form household income in this survey. Adjusted for inflation via the Consumer Price Index for urban consumers (CPI-U), the median household income, at $59.039, has set a new record, beating the prior record set in 1999 ($58,665).
This was the good news, with median household income finally a tad above where it had been 17 years ago: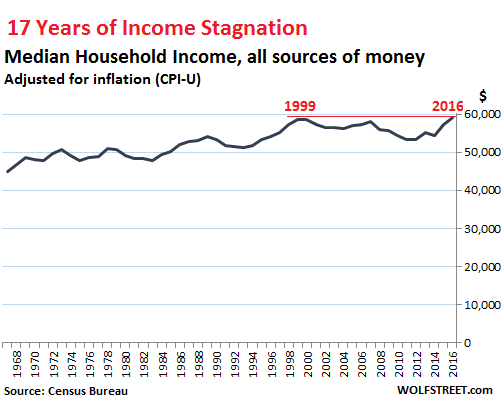 And that's what the media focused on, this triumph of 17 years of stagnation, rather than decline. But buried in the data is a bitter reality for men:
44 years of real earnings decline.
For women who were working full-time year-round, median earnings (income obtained only from working) rose 0.7% on an inflation-adjusted basis from a year ago to $48,328, continuing well-deserved increases over the data series going back to 1960. The female-to-male earnings ratio hit a new record of 80.5%, after steady increases, up from the 60%-range, where it had been between 1960 and 1982. And while that may still be inadequate, and while more progress needs to be made for women in the workforce, it was nevertheless the good news.
Men in the workforce haven't been so lucky. They have experienced the brunt of the wage repression over the past four decades, obtained in part via inflation, where wages inch up, but not quite enough to keep up with the Fed-engineered loss of purchasing power of the dollar.
Median earnings for men who worked full-time year-round fell 0.4% in 2016, adjusted for inflation, to $51,640. On this inflation-adjusted basis, men had earned more than that in 1972 ($52,361). And it's down 4.4% from the earnings peak in 1973 ($54,030). This translates into 44 years of real earnings decline: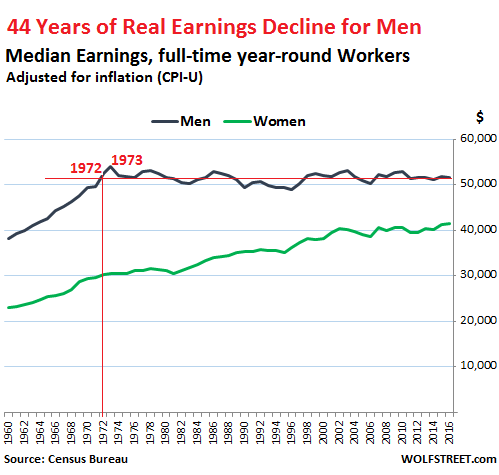 Time after time, when several years of earnings increases in a row gave hope to men, to where earnings finally rose a tiny bit faster than the official rate of consumer price inflation, a new bout of inflation whacked their real earnings back down where it had been before or even lower.
But throughout this period, nominal earnings (not adjusted for inflation) for men have increased. This makes the loss of purchasing power an insidious effect that simmers beneath the surface.
So when economists at the Fed and elsewhere spout off about the benefits of consumer price inflation, and how it isn't enough, and how there needs to be more of it, a mantra endlessly repeated in the media, ask yourself: Who benefits from inflation?
There are beneficiaries from inflation: Companies whose sales and earnings rise on paper with price increases without having to sell an extra thing; companies needing cheap labor; or borrowers with fixed-rate debts and incomes that rise with inflation, such as corporations and governments that issue bonds.
But consumer price inflation whittles down the purchasing power of labor and thus weakens consumers. Working women are affected by this just as much as working men; the difference is that women have started out far behind and have seen earnings increases that exceed inflation. And men have not.
So a good way to get the consumer economy off the ground would be to bring consumer price inflation to zero, and make that the stated goal, and allow for real wage increases for men to translate into more consumer demand. Stronger consumers might be a good alternative to the current debt-funded consumption growth that is creating legions of debt slaves — even if it comes at a small cost to corporate profits.
Vitamin World has just filed for bankruptcy, as has Perfumania Holdings. Toys R Us hired a bankruptcy law firm, as has Bon-Ton Department stores. All in just two weeks. Read…  Brick & Mortar Meltdown: Bon-Ton Department Stores Hires Bankruptcy Advisor
Enjoy reading WOLF STREET and want to support it? You can donate. I appreciate it immensely. Click on the beer and iced-tea mug to find out how:

Would you like to be notified via email when WOLF STREET publishes a new article? Sign up here.