Bank of Mexico faces stagflation or worse.
Mexico has begun the new year in much the same way as it began the last one — with news of a gasolinazo. This time the tabled increase in fuel prices, at 6.9%, is considerably smaller than last year's eye-watering one-off hike of 20%, but with inflation already at well over 6%, in part due to last year's gasolinazo, the consequences are still likely to be severe.
The main reason for last year's hike was the liberalization of Mexico's energy market which put an abrupt end to most of the government's fuel subsidies. It was also done for a fiscal reason: over just a few years, Mexico's fast-shrinking state-owned (but soon to be privatized) oil giant, Pemex, had morphed from a huge funding asset, at times providing as much as one-third of total government revenues, to a national liability, requiring a $4.2 billion bailout from the government.
Empty Promises
Mexico's reformist president Enrique Peña Nieto had repeatedly promised that market liberalization would lead to markedly lower prices at the pump. However, as his government began withdrawing the generous public subsidies that had underpinned the market for decades while raising fuel excise duties to help fill at least a few of the holes on the government's balance sheets, the only way for prices to go was up.
The price jumps sparked a wave of protests in Mexico's main cities that led to 500 arrests for robbery and vandalism just in the capital and neighboring state Estado de Mexico alone. The price hike also cost the state-owned oil company, Pemex, hundreds of millions of dollars worth of stolen fuel last year as oil theft, now one of the biggest sources of funds for Mexico's drug gangs, surged to unprecedented levels.
Now, 12 months on, the prospect of a new, albeit smaller, gasolinazo has raised concerns that Mexico could be about to witness a new wave of violence. The Mexican Association of Gas Station Owners (Amegas) warned in a public statement on Tuesday that the price of gasoline could rise up to 7% if the federal tax to which petrol is subject (the IEPS) keeps going up.
Both the Pemex and the government were quick to play down the forecast.
"Petróleos Mexicanos affirms that it will maintain the policy of gradual changes in fuel prices and categorically rejects any speculative comments regarding alleged increases in them. There is no basis for expecting an abrupt increase," stressed the management of the former state monopoly in a statement. In other words, prices will not rise "abruptly", but they will rise.
Contagion Effect
Even as early as Jan 1 prices at the pump had begun creeping up, although there were sharp regional variations due to differences in logistical costs. In some states, including Oaxaca and Tijuana, the increases were as much as 66 cents (centavos) per liter for regular gas and 70 cents for Diesel.
The knock on effects on basic food costs are already being felt. The average price of the country's staple food, corn tortilla, consumed by 21 million of the country's 26 million families, is estimated to have increased by 35% since Mexico's last gasolinazo. According to the national tortilla-maker association, there could be a further 20% rise in prices in the coming weeks due to cost pressures.
The last time the price of tortilla rose so fast, in 2006, it led to food riots. At its climax, prices reached as high as 10 pesos per kilogram, before temporary price controls kicked in. Since then average prices have more than doubled and are now as high as 18-19 pesos in some regions.
It's not just tortillas that are facing price pressures. According to Ruben Vasquéz de la Rosa, president of the national association of grain growers, the rise in the price of diesel, which is essential to run farm vehicles, could trigger price increases of between 15-20% for basic grains like corn, wheat, rice and beans. Eggs are also up between 10 and 15% over the last month, depending on the type.
It wasn't meant to be this way. The Bank of Mexico spent most of 2017 raising rates and confidently forecasting that inflation would be back under control by the end of the year. And this is what happened: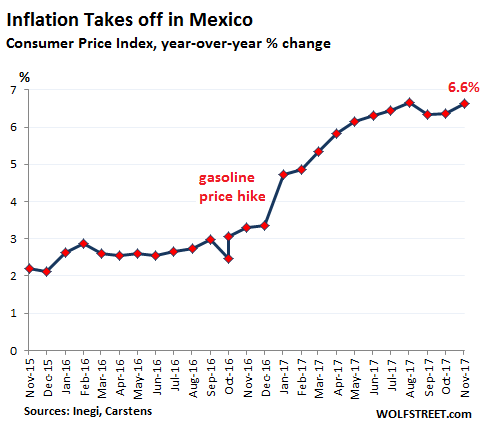 The consumer price index rose 6.63% in November, over double the central bank's target rate and the second highest level in the last 16 years. It's one of the reasons why the Bank of Mexico pushed its policy interest rate to 7.25% in its December meeting. Some of the members of the board concede that bringing inflation down could be a lot harder than previously anticipated.
Mexico is already facing major challenges in 2018, including:
The potential for a breakdown in negotiations with the Trump administration over NAFTA 2.0;
A possible shift in capital flows from Mexico to the US due to Trump's recent tax reforms as well as likely further hikes in the Federal Reserve rate;
A slowing economy, as evidenced by a 0.3% drop in third-quarter GDP and, for the first time since 2009, sliding annual automotive sales in 2017.
A weak currency, which recently resumed its long-term downward trajectory against the dollar, falling 7.5% since September. And any rate increases by the Federal Reserve will put further downward pressure on the peso.
The political risks posed by this summer's general election, which could see arch-populist Andres Manual Lopez Obrador elected as president. This prospect, together with the risk of a breakdown in NAFTA renegotiation, was enough to win Mexico fourth place in the Eurasia Group's top global political risks of 2018.
To put a lid on price pressures and keep up with the Fed, Banxico could raise its policy rate further, but in the process it would be strangling credit growth and hurting economic activity, in an environment of surging prices and crumbling real wages. By Don Quijones.
Ironically, banks in Mexico are clamoring for it. Read…  Next Phase in Forcing Biometric Tracking on Consumers
Enjoy reading WOLF STREET and want to support it? You can donate. I appreciate it immensely. Click on the beer and iced-tea mug to find out how:

Would you like to be notified via email when WOLF STREET publishes a new article? Sign up here.