I'm just kidding, but others are not, and people are falling for it.
I'm just kidding, I didn't rename my WOLF STREET media mogul empire "Wolf Blockchain," and since I'm the only stockholder, what surge the stock undertook since the imaginary renaming went unnoticed, and I didn't sell any shares either – but others are not kidding, and people are falling for it.
Today, a company that sells ready-to-drink soft drinks, Long Island Iced Tea Corp, but had changed its name on December 21 to the evocative Long Blockchain Corp, and whose shares skyrocketed 350% over the three-day period around the announcement, from $2.08 to an intraday high of $9.49, announced today that it would sell 1,603,294 shares in a secondary offering at a price of $5.25 per share.
If the offering succeeds, the net proceeds after underwriting discounts and expenses will be about $7.74 million to the tiny soft-drink maker with a new plan.
It also changed its ticker symbol from LTEA to LBCC. Today, upon the announcement of the stock sale, and on the first day of trading under the new ticker, shares plunged 21% to $5.04.
See, the old plan wasn't working very well. The company had sharply increasing sales that generated much faster increasing losses, losses that have ballooned to triple the amount of its revenues — which is deadly, over time. This chart shows annual sales and net losses through 2016 and the first three quarters of 2017: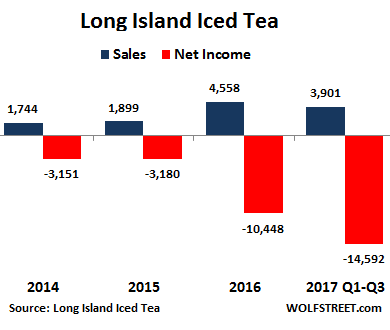 On December 21, when the company changed its name to Long Blockchain, it said in the SEC filing that "it was shifting its primary corporate focus towards the exploration of and investment in opportunities that leverage the benefits of blockchain technology."
The company disclosed that it had entered into a "Loan and Option Agreement" with Court Cavendish Ltd. under which it could borrow $2 million, with an option to double this amount to $4 million. In addition to a facility fee of $100,000 paid at execution, the company would also pay the interest on the loan, and additional fees on the extension amount.
And here is the good part:
The Company also issued to the Lender three-year warrants to purchase 100,000 shares of Common Stock of the Company exercisable at $3.00 per share and agreed to issue to the Lender warrants to purchase an additional 50,000 shares on the same terms for each $1,000,000 drawn on the Extension Amount.
Court Cavendish has the option at any time to convert any outstanding principal and interest into shares "at the lower of (i) $3.00 per share and (ii) the closing price per share on the date of the conversion, but in no event at a price less than $2.00 per share." And it has the right to appoint two members to the Company's board.
December 26, Long Blockchain announced that Court Cavendish had converted the initial draw-down of the loan – $750,000 – plus interest into shares at the exercise price of $3.00 a share, so 250,233 shares. They were worth about $1.25 million at the time. Not bad for five days.
OK, moving at lightning speed over the holidays. On January 1, the board of LBCC appointed two directors, nominated by Court Cavendish: Shamyl Malik, "who is the Global Head of Trading at Voltaire Capital, and Som Ghosh, a technology entrepreneur with experience in blockchain technology."
On January 4, LBCC announced that it has a entered into a purchase agreement with "several" vendors to acquire 1,000 "mining rigs" and power supplies — to be "used to mine bitcoin, bitcoin cash and any other coin using SHA256 algorithm" — for $4.2 million, payable in 260,000 shares and $2.9 million in cash, to be raised via the stock offering announced today.
The sellers have agreed to hang on to the shares for 90 days after the completion of the sale of the equipment. But if the stock closes at $15 a share or more for 15 trading days in a row, they're free to dump their shares.
In one of the several press releases today, LBCC added:
The mining equipment will be installed in a world-class third-party data center experienced in cryptocurrency mining and located in a Nordic country. Long Blockchain expects to benefit from an established infrastructure and competitive energy costs using geothermal and hydro-electric power sources.
"The commencement of our mining operations places us on a path to generating blockchain-related revenue through the accumulation of bitcoin," CEO Philip Thomas said in the statement.
Let's adds this up. Court Cavendish got 250,233 shares. The vendors are getting 260,000 shares. And the company will sell another 1,603,294 shares, in total 2,113,527 shares, to become a bitcoin miner in a Nordic country with hopefully excess electricity.
And who gets the fees and commissions? Alexander Capital, L.P., the placement agent for the stock offering, will get nearly $600,000. The stock offering is expected to close on January 9.
So that was fast: From December 21 to January 9, and over the holidays. Going forward:
[The soft-drink maker] is focused on developing and investing in globally scalable blockchain technology solutions. It is dedicated to becoming a significant participant in the evolution of blockchain technology that creates long term value for its shareholders and the global community by investing in and developing businesses that are "on-chain."

Blockchain technology is fundamentally changing the way people and businesses transact, and the Company will strive to be at the forefront of this dynamic industry, actively pursuing opportunities.
Meanwhile, until blockchain is "fundamentally changing" anything other than company names and ticker symbols, the company's subsidiary, Long Island Brand Beverages, LLC, will continue to sell the original ready-to-drink soft drinks.
But LBCC is just one of many tiny outfits adding "blockchain" to their names for instant fame and financial success. This can happen only during the late stage of an extraordinary bubble. Read…  I'm in Awe of How Far the Scams & Stupidities around "Blockchain Stocks" are Going
Enjoy reading WOLF STREET and want to support it? You can donate. I appreciate it immensely. Click on the beer and iced-tea mug to find out how:

Would you like to be notified via email when WOLF STREET publishes a new article? Sign up here.