You'll get whiplash just from watching.
Overnight and this morning, cryptocurrencies crashed across the board in a spectacularly dizzying way. The craziness of this, and the religious fervor with which these things are being promoted, and what happens when some folks are trying to get out, are taking on ever grander, more exaggerated, and even humorous proportions.
So here are the top eight cryptos by market capitalization, with prices at the moment. There is one thing I can guarantee: by the time you read this, prices will have changed dramatically, one way or the other, in a whiplash inducing manner.
Bitcoin (BTC), with a market capitalization currently of $200 billion, has crashed 23% so far today to $12,121, according to WorldCoinIndex. It's down 39% from its peak of $19,900 on December 17. Chart via WorldCoinIndex: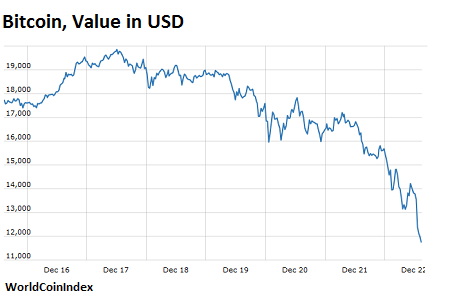 Note that the prices quoted at different exchanges around the globe vary by a large margin. Bitfinex, the largest exchange by volume, quoted BTC just above $12,000 while CEX, the sixth largest exchange, quoted it about $2,000 higher. So this is pricing chaos. WorldCoinIndex takes the price from different exchanges and averages them out.
There is a lot of talk of how traders are just switching from bitcoin to the "next bitcoin," that they're dumping bitcoin and buying the next bitcoins, but the next bitcoins are crashing even more.
Ethereum (ETH) with a market cap of $54.6 billion has plunged 29% so far today to $565.46 and is down 34% from its peak of $860 on December 19.
Bitcoin Cash (BCH), the offshoot of Bitcoin, has crashed 35% today to $2,030 and is down 51% from its peak of $4,100 on December 20, cutting its market cap to $33.4 billion.
Ripple (XRP) has crashed 35.6% today to $0.76. Just late yesterday it had peaked at $1.22. On December 20, it was at $0.71. One heck of an up-and-down trip. Two weeks ago, it was still at $0.23. Market cap of $29.4 billion
Litecoin (LTC) has crashed 34% today to $206 and is down 43% from its peak two days ago, which was when its founder Charlie Lee announced that he'd dumped his entire stake, possibly a very wise decision on his part. Market cap has shrunk to $11.4 billion.
Iota (IOT) has crashed 43% today to $2.68 and is down 52% from its peak of $5.60 on December 19. Market cap has plunged to $7.4 billion
EOS, whose mind-blowing, record-setting, buyers-get-nothing ICO (initial coin offering) we featured a couple of days ago, has crashed 33% today to $7.14 and is down 41% from its peak of $12.14 on December 19. Market cap plunged to $7.15 billion
Dash has plunged 30% today to $972.43 and is down 38% from its peak of $1,569 on December 20. Market cap is now down to $7.5 billion
All kinds of reasons are being trotted out to explain this massacre, but there are really just three things that matter and that came together:
There is no liquidity in cryptocurrencies, and it's devilishly hard to get out without crashing the price. So when even a modest amount of selling occurs, the price crashes.
There is no rational framework with which to value these things, so they cannot be "overvalued" or "undervalued," and the price can go anywhere, and that's what it does.
Betting on cryptos is a peculiar form of online gambling on a global scale that requires a consensus among participants that they only buy, and that you cannot ever cash out, and now that some folks are trying to cash out, the bets for everyone else are souring. The same dynamics that pushed prices up have reversed and are causing them to crash.
Every day, I get a dozen or more emails in my inbox that promote one or the other crypto or ICO. There have been about 170 ICOs so far this year that raised over $4 billion. So this is big money. The promoters – some of them are hired PR firms, others are parties related to the token issuers – want to get free promos on my site. That's how they operate. They're promoting the craziest things. And many of them are now promoting the "next bitcoin."
These promoters are also paying a ton of money for ads, which have spread all over the internet, including "next bitcoin" ads.
It doesn't help that the SEC has finally woken up and is starting to crack down.
"We're in line for some serious regulatory responses to all of this and that will be forthcoming after the first of the year," Harvey Pitt, former SEC chairman, told CNBC on Thursday. There has already been some action, including blocking an ICO in the US.
"Everyone else is investing in it, and the price seems to be going up," Pitt said. "That's a real problem because there's a lack of education and knowledge on the part of many of the people who are actually doing the investing."
The SEC's impact will be limited because much of the betting is happening in Asia. But there too authorities are cracking down, particularly in China and South Korea, even while North Korea is hacking into exchanges and wallets and steal what it can.
Meanwhile, for onlookers, it's a form of entertainment, a glance at the dizzying, whiplash-inducing wonders of a world gone nuts.
A software startup registered in the Cayman Islands and lacking a central office has accomplished an astounding feat: It has extracted $700 million from the global public by selling tokens, called EOS. It is by far the largest ICO ever. Hang on to your hat. Read… The Hottest, Largest-Ever Cryptocurrency ICO Mindblower
Enjoy reading WOLF STREET and want to support it? You can donate. I appreciate it immensely. Click on the beer and iced-tea mug to find out how:

Would you like to be notified via email when WOLF STREET publishes a new article? Sign up here.