Yellen was right to brush off "transitory" factors of "low" inflation.
Consumer prices, as measured by CPI for October, rose 2.0% year-over-year. A month ago, CPI increased 2.2%. The Fed's inflation target is 2%, but it doesn't use CPI, or even "Core CPI" – which excludes the volatile food and energy items. It uses "Core PCE," which usually runs lower than CPI, and if there were an accepted measure that shows even less inflation, it would use that. But it does look at CPI, and there was nothing in today's data to stop the Fed from raising its target rate in December.
The Core CPI rose 1.8%, up a tad from September's 1.7% increase. Core CPI has been above 2% for all of 2016 and through March 2017. In the history of the data going back to the 1960s, Core CPI had never experienced "deflation." But when Core CPI rates retreated in the spring through August, along with other inflation measures, a sort of panic broke out in the media: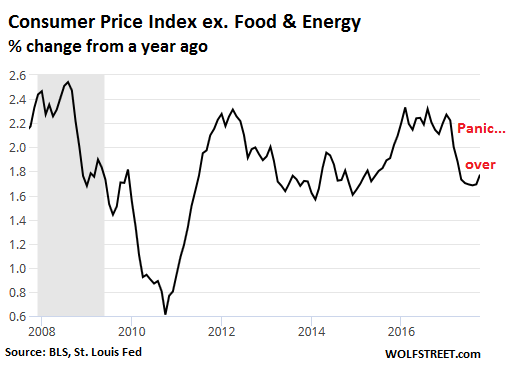 But the retreat was repeatedly brushed off as "transitory" by Fed Chair Janet Yellen and other Fed governors, starting in June, when they vowed to continue raising rates "gradually" and proceed with the QE unwind. Yellen had specifically pointed at a few of those "transitory" factors. These factors are now turning around. Core prices have re-accelerated their increases.
One of the "transitory" factors Yellen had pointed out specifically was telephone services, which includes the monthly costs that consumers pay for their smartphones and landlines. Those costs had plunged as a price war among wireless carriers broke out in 2016. This summer, the CPI for wireless services plunged as much as 13% year-over-year. Consumers loved it, but it couldn't last.
Telephone services matter, with a relative importance of 2.2% in the overall CPI. The index is still down 7.1% from a year ago, with wireless down 10.8%, but the price-war-plunge has stopped, and wireless services prices increased 0.4% in October on a monthly basis, after having already risen 0.4% in September. The price index has now made a sharp hook after a hard plunge: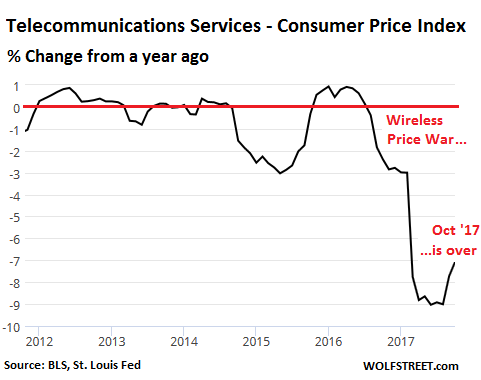 The auto industry is another "transitory" contributor to "low" inflation this year. Combined, new and used vehicles, including leased vehicles, have a relative importance in CPI of 6%.
The CPI for new vehicles has declined 1.4% in October year-over-year. But consumers haven't seen these declines.
The average new vehicle transaction price, despite all the incentives in October, was up 0.3% from a year ago, according to Kelley Blue Book. Since December 2013, in less than four years, the average transaction price has risen 7%. In dollar terms, the average transaction price in December 2013 was $32,890. In October 2017, it was $35,263. An increase of $2,373 in less than four years!
This is based on what consumers are actually paying for their new vehicles. But it doesn't enter into the price index for two reasons: one, the average transaction price is impacted by changes in mix, as consumers might buy more or less expensive models; and two, the price increases within models are whittled down in the calculation of CPI by "hedonic quality adjustments" and other adjustments. According to the Bureau of Labor of Statistics:
Quality adjustments are based on resource cost provided by manufacturers in categories such as: reliability, durability, safety, fuel economy, maneuverability, speed, acceleration/deceleration, carrying capacity, and comfort or convenience. Adjustments are also made when equipment is added or deleted from the tracked model.
This has created the phenomenon where consumers shop for a new vehicle and get sticker shock, while the CPI for new vehicles has been tame or even declined. That $2,373 or 7% surge in the average transaction price since December 2013 translates into a decrease of the CPI for new vehicles over the same period of -1.0%!
Even with this decline in CPI for new vehicles, consumers face these higher prices on the lot, and they go into a sort of rebellion. This is what started to happen last year and came into full bloom this year: consumers backed off, and automakers had to throw record incentives at their models to overcome consumer resistance.
On a monthly basis for new vehicle CPI, the low point was in July, with a monthly decline of -0.7%. Since then, the price declines have retreated. By October, the monthly decline was only -0.1%. I expect the price index to be flat or rise on a monthly basis in November. And that too would mark a turnaround from the "transitory" factors of "low" inflation.
A similar scenario has played out in used vehicles. The CPI for used cars and trucks has stopped falling. I already pointed at underlying industry dynamics, including surging whole sale prices and sharply rising retail prices at the older end of the used-vehicle spectrum.
The CPI for used vehicles is now picking up these price pressures, with a jump of 0.7% in October on a monthly basis. The index remains down 2.9% from a year ago. But in March it was down 4.7%: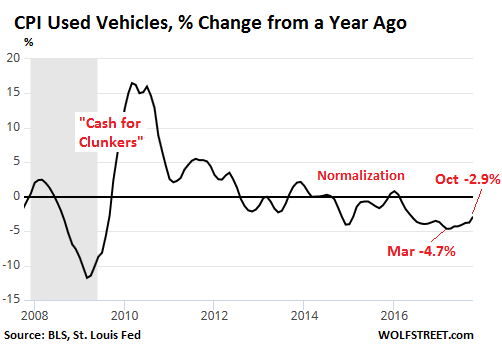 The chart below shows the monthly changes in the used vehicle CPI so far this year: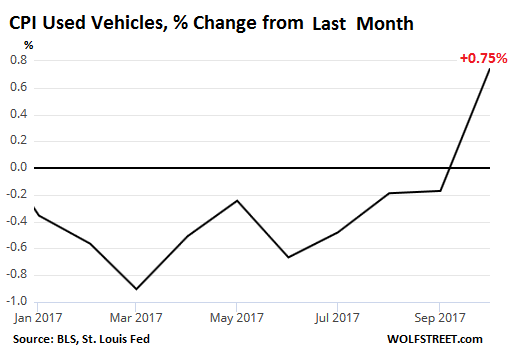 The Bureau of Labor Statistics today named used cars and trucks for the first time in this cycle as one of the pressures points in price increases, after the "shelter index" and "medical care," while it still pointed at new vehicles as a source of price declines, but that too will change soon.
There is no Financial Crisis now. These are the boom times in the US economy, with the unemployment rate at the lowest level since March 2000, but subprime auto lenders see a different world. Read…  Auto-Loan Subprime Blows Up Lehman-Moment-Like
Enjoy reading WOLF STREET and want to support it? You can donate. I appreciate it immensely. Click on the beer and iced-tea mug to find out how:

Would you like to be notified via email when WOLF STREET publishes a new article? Sign up here.