She did her homework. And consumers got a temporary gift.
A "suddenly hawkish" Yellen, as she is now being prefaced by some voices, brushed off the dip in inflation when she spoke after the FOMC meeting yesterday.
Inflation backtracked a tiny bit. The Consumer Price Index rose "only" 1.9% year-over-year in May, and the core CPI without food and energy rose "only" 1.7%. "Only" in quotes because there is still enough inflation to whittle away at the purchasing power of wage earners who have to make do with stagnant wages and retirees who have to live off their near-zero-yield savings.
But Yellen looked at the details of the inflation reports and discovered that there were some one-time or short-term factors that brought inflation down a bit – and none of them are going to last.
During the news conference after the FOMC meeting, she conceded that "there have been several weak readings" on inflation recently. But "it's important not to overreact to a few readings, and data on inflation can be noisy. Idiosyncratic factors have held down inflation in recent months."
She mentioned two of those "idiosyncratic factors" that are temporarily pushing down inflation. Prescription drug prices dropped, she said, but the drop was likely a one-time affair. And prices for telecommunications services have dropped by a large amount as cellphone carriers are currently waging an all-out price war.
And I'll add a third "idiosyncratic factor": used vehicle prices.
A couple of days ago, Sprint, fourth largest carrier in the US, took the wireless price war to the next level and pulled the nuclear option: free unlimited wireless service for a year, but only to people who currently have service at another carrier and are willing to switch to Sprint. After a year, regular rates apply. Verizon customers are the primary target.
That was just the latest salvo. The wireless price war has been going on for a few months. And it shows up in the Consumer Price Index for telecommunications services: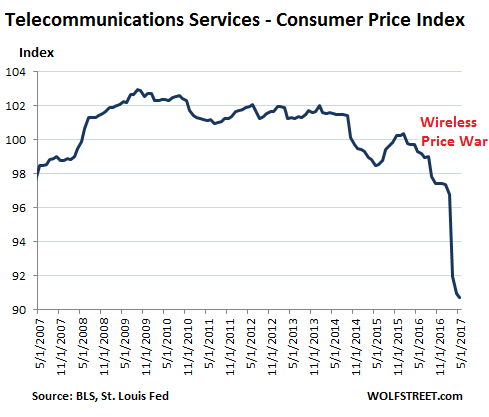 I've been writing for months about the sharp decline in used vehicle values at the wholesale level. They're down 13% from their peak, according to the NADA. This has caused all kinds of problems for automakers, finance and leasing companies, rental car companies, subprime auto-loan backed securities, and the specialized companies that issue these securities.
But dealers love the dropping wholesale prices because their costs go down. And there is record demand for used vehicles at the retail end. So the lower costs are only partially being passed on to consumers. The rest is dealer profit.
The chart below shows the Consumer Price Index for used vehicles at the retail level. In May, the index fell 4.3% year-over-year: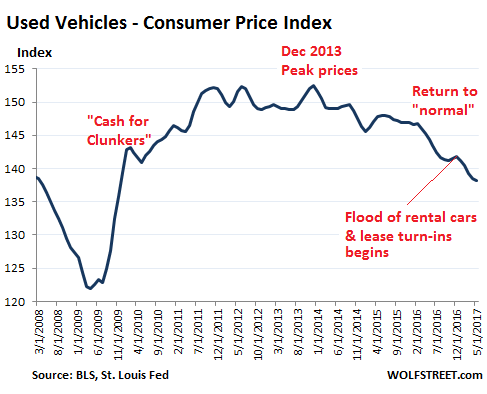 Used vehicle prices were immensely inflated during the "Cash for Clunkers" program when the government, to bail out the automakers, bought for all practical purposes an entire generation of perfectly good and affordable older cars and destroyed them so the people would be forced to move up to newer vehicles along the entire chain. This caused a surge in used vehicle prices from 2009 onward.
But starting in January 2014, the impact from that lost generation of cars began to fade and prices began the long trajectory toward "normal." This process got a new boost this year as a flood of rental cars and lease-turn-ins is hitting the market.
Bringing used vehicle prices back down to normal is a great thing for car buyers, and the effect shows: used vehicle sales are on track to set a record this year. In terms of inflation, once used vehicle prices settle near a "normal" level, the impact on inflation will fade.
Lowering the costs of wireless services is also a godsend for consumers. But there are limits to how much longer this can last. Sprint is in iffy condition and won't survive a brutal drawn-out price war. So there will likely be a bounce-back. And for the longer-run inflation rate, the price war will have little impact.
So Yellen may not have been "surprisingly hawkish" after all. She just did her homework and looked beyond the surface. And she saw, unfortunately for workers and consumers, that overall inflation is likely to get worse soon.
The Fed lays out its plan to unwind QE by $600 billion a year. Markets shrug. But "Painful sell-offs eventually materialize…" Read…  Markets Blow off the Fed until Next "Financial Event"
Enjoy reading WOLF STREET and want to support it? You can donate. I appreciate it immensely. Click on the beer and iced-tea mug to find out how:

Would you like to be notified via email when WOLF STREET publishes a new article? Sign up here.