Something is moving beneath the surface.
Today is inflation day. After the Bureau of Labor Statistics released its Consumer Price Index for October this morning, several other inflation gauges were released, all based on rejiggering in some way the minute disaggregated details of the BLS data pile. This includes the Atlanta Fed's "Sticky-Price CPI," which ticked up 2.2%, and the New York Fed's "Underlying Inflation Gauge," which hit the highest level since August 2006.
Inflation – when defined as increase in consumer prices – is very much in the eye of the beholder, or rather of the spender. Every household has its own inflation rate, depending on whether they have kids in college, have high medical expenses, or rent an apartment in a city where rents are high and soaring at double-digit rates.
And now that the New York Fed's Underlying Inflation Gauge has hit an 11-year high, in a sign of things to come, we better take a look at it.
The UIG comes, like most inflation measures, in two forms: The "prices-only" UIG, which is based on 223 disaggregated price series in the CPI and is comparable to a "core" inflation measure; and the "full data set" UIG, which incorporates all the data of the "prices-only" UIG plus 123 macroeconomic and financial variables.
In October:
The "prices-only" UIG rose 2.3% year-over-year.
The "full data set" UIG jumped 3.0% year-over-year, the highest rate since August 2006.
This chart shows the "full-data set" UIG. Note the recent surge to 3%.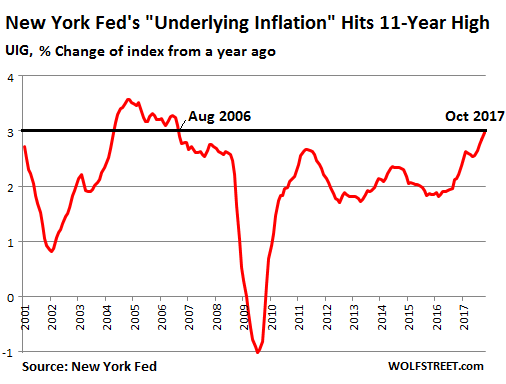 "Both UIG measures continue to indicate a firming in trend inflation," the New York Fed says. They're both currently estimating the CPI inflation trend "in the 2.25% to 3.00% range."
How did they get there? The New York Fed explains its gauge:
The UIG provides a measure of underlying inflation and is defined as the persistent part of the common component of monthly inflation. The design of the UIG is based on the idea that movements in underlying inflation are accompanied by related changes in the common persistent component of other economic and financial series.

Consequently, we examine a large data set and apply modern statistical techniques, known as dynamic factor models, to extract a small number of variables that capture the common fluctuations in the series. These summary factors serve as the basis for constructing the UIG.
The "full data set" UIG, in addition to the 223 price categories in the CPI for urban consumers (CPI-U), includes 123 data sets across these different groups:
Other inflation data, such as the PPI of finished consumer goods, capital equipment, or home health services, plus the Dallas Fed's "Trimmed-Mean 12-month PCE inflation rate, export and import prices, etc..
"Real Variables," such as the new orders index, employment index, inventory indices, supplier deliveries index, and the like.
Labor measures, such as various unemployment rates, employment-to-population ratios, average weeks unemployed, etc.
"Money" measures, such as M1 and M2 money supply, adjusted monetary base, reserves of depositary institutions, etc.
Financial indices, such several measures of the prices of gold, oil, and other commodities, the effective federal funds rate, Treasury yields, corporate bond yields, Libor euro dollar rates, foreign exchange rates, stock indices, and the like.
Here is the complete list of the 346 data sets.
The idea is that consumer price inflation at the surface is a result of complex interrelated dynamic processes, and if you can measure these dynamic processes, you might be able to get a better handle on the trajectory of consumer price inflation.
There are still a few Fed governors running around out there, proclaiming, inexplicably, that they're worried about "low" inflation, such as Chicago Fed President Charles Evans today. He belongs to those whose personal income always rises faster than any inflation rate, and so no big deal for him to wish even more purchasing-power destruction upon American workers whose incomes are stagnating, and for whom the destruction of their purchasing power is real and painful on a daily basis. Maybe he should take a look at what his colleagues at the New York Fed are digging up.
Yellen was right to brush off "transitory" factors of "low" inflation. Read… Why Core Inflation is Rising & What it Means for Fed Rate Hikes
Enjoy reading WOLF STREET and want to support it? You can donate. I appreciate it immensely. Click on the beer and iced-tea mug to find out how:

Would you like to be notified via email when WOLF STREET publishes a new article? Sign up here.