Plunging gasoline prices and dropping prices in a few other categories hold down overall CPI. A mess for the Bank of Canada.
The overall Consumer Price Index for Canada in October decelerated to +3.1% year-over-year, due to plunging gasoline prices, according to Statistics Canada today. Without gasoline, it would have risen 3.6%, just a hair more slowly than a month earlier (3.7%). Food price increases also decelerated to a still hot +5.4% year-over-year. But the CPI for services accelerated to +4.6% year-over-year, up from 3.9% in September, due to higher travel costs and housing related costs, including rents.
Rents exploded.
On a month-to-month basis, the CPI for rents spiked by 1.4% in October from September, annualized 17.9%, the biggest month-to-month spike in 40 years, since August 1983. The data has become very volatile, but you can see the pattern of ever bigger and now crazy month-to-month spikes: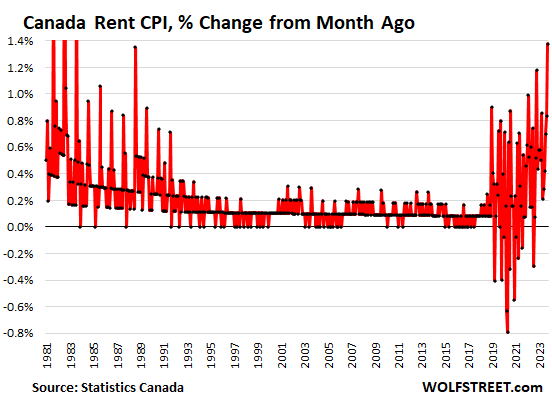 Compared to a year ago, the CPI for rent spiked by 8.2% in October, up from 7.3% in September, and the biggest year-over-year spike since April 1983.
Rent isn't a discretionary item that people can easily choose to forego if it gets too expensive. It's an essential, and it is on a crazy-scary spike, not matched by wages or anything else. Rent inflation has become a relentlessly worsening problem for Canadians: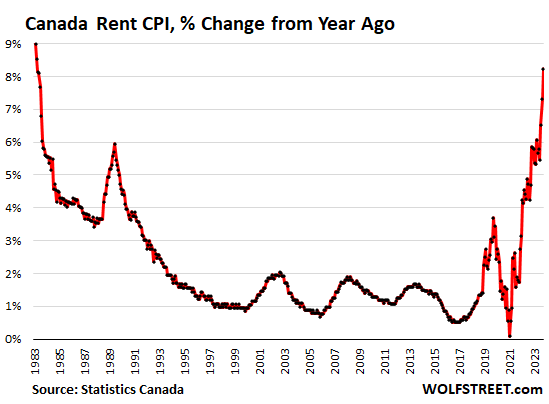 The Bank of Canada has pointed at inflation in the housing sector as a big problem and as one of the reasons for its tightening. Housing inflation, as measured by CPI in Canada, comes in two big flavors: Rents and homeownership costs.
Before the BOC started tightening, it pointed at inflation in home prices which at the time were spiking, driven by the BOC's own near-0% policy rates and massive QE. Now home prices, amid the 5% policy rate, have started to seriously sag: The Most Splendid Housing Bubbles in Canada: Prices Drop to where They'd Been 2 Years Ago, Sales Swoon, Supply Rises. But rents are going the opposite way.
The CPI for homeownership, or "owned accommodation," spiked on a month-to-month basis by 1.04%, or 13.2% annualized, in October from September:
Year-over-year, the CPI for homeownership accelerated to 6.7%, right back where it had been last year. The index includes the following items (% year-over-year), and note the aspects of services inflation in this list:
Mortgage interest cost: +30.5%;
Homeowners' replacement cost (the dropping home prices): -1.2%;
Property taxes and other special charges: +4.9%;
Homeowners' home and mortgage insurance: +7.7%
Homeowners' maintenance and repairs; +3.5%;
Other owned accommodation expenses: 0.4%.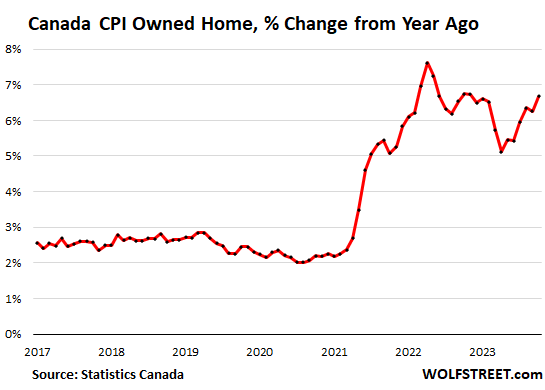 Services inflation spiked 0.88% month-to-month, or 11.1% annualized. On a year-over-year basis, it re-accelerated to 4.6%, back where it had been in May: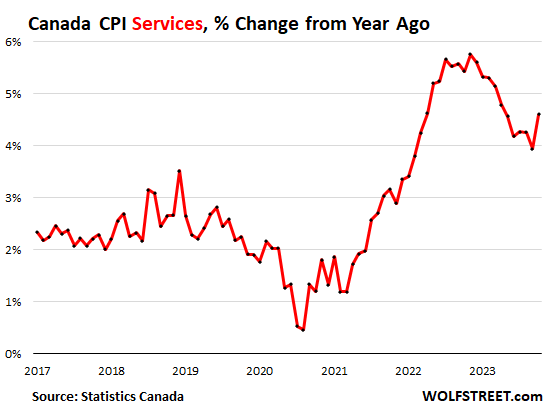 The Bank of Canada has a complex problem on its hands. In the overall CPI, plunging energy costs and decelerating food costs, and falling inflation in some other categories hide the surge in rents, housing-related costs, and services generally. The BOC has kept its main policy rate at 5.0% since July. It faces a slowing economy, but surging inflation in services, particularly in rents.
Services inflation is part of the "underlying inflation" that the BOC keeps fretting about. But it's politically tough to hike rates past 5% with the overall CPI at 3.1% and a slowing economy – though the BOC has consistently kept the option of more hikes on the table.
A historic spike in immigration is one of the drivers behind the spike in rents, and housing costs more generally, following the government's decision to open the floodgates to immigration as a solution to everything?
Canada's population soared by 1.16 million people over the past four quarters, or by 2.1%, to 40.1 million in Q3, according to Statistics Canada, between two and five times the growth rate in prior years. People pouring into Canada need housing, and most of them will initially chase after rental units, pushing up demand at the lower portion of the rent scale, and rents then jump, and those increases move up the ladder. This is another crazy chart – but it explains in part why rents are exploding, even as home prices are sagging: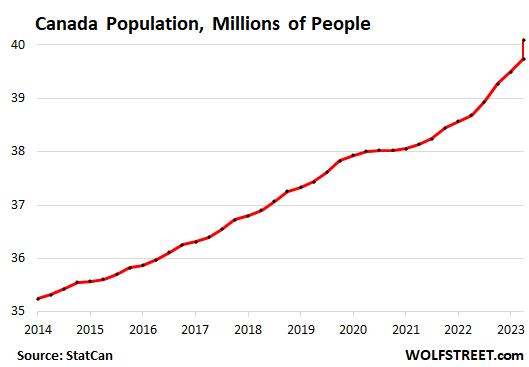 Enjoy reading WOLF STREET and want to support it? You can donate. I appreciate it immensely. Click on the beer and iced-tea mug to find out how:

Would you like to be notified via email when WOLF STREET publishes a new article? Sign up here.