Only 2% of credit card users are delinquent, according to new data from the New York Fed; 98% are current.
Credit card balances are among the most misreported data points out there. They're largely a measure of spending rather than borrowing. Credit cards are the dominant consumer payments method in the US. Credit cards were used for $5.8 trillion in consumer transactions in 2022, up 18% year-over-year due to a surge in spending on travels and other services, and due to the surge in inflation at the time.
Banks charged merchants $126 billion in credit card processing fees in 2022, according to Nielsen's annual report on merchants' processing fees. That $126 billion in fee income is why banks love credit cards, and why they push credit-card kickbacks such as 1.5% cash-back, so people will use their credit cards to buy stuff so banks can get their cut from every purchase, often around 3% from the merchant.
Most people pay off the card every month by the due date. But reported credit card balances are statement balances and show all balances, including those that will be paid off a couple of weeks later and will never accrue interest.
Credit card balances (red line in the chart below) rose by $48 billion in Q3 from Q2, to $1.08 trillion, according to the New York Fed's Household Debt and Credit report. Year-over-year, credit card balances rose 16.6% on higher spending for services such as travels, restaurants, and entertainments, and on higher prices.
"Other" consumer loans (green line), such as personal loans, payday loans, and Buy-Now-Pay-Later (BNPL) loans, were essentially flat in Q3. Unlike credit card balances, most of these "other" balances are interest bearing, but not all. BNPL loans are interest-free for the consumer and are subsidized by retailers. This data is not adjusted for inflation.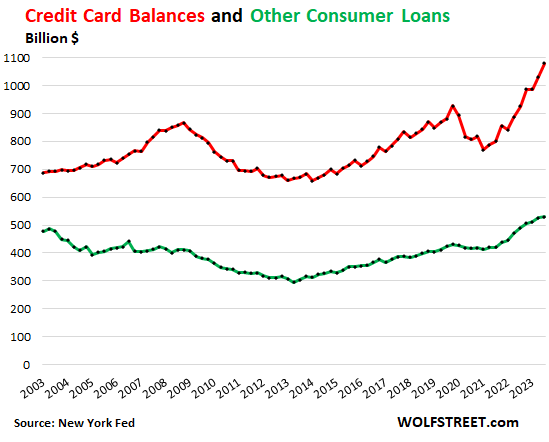 Earlier, we discussed how consumers were dealing with their housing debt: Mortgage & HELOC Balances, Delinquencies, Foreclosures: How Are our Drunken Sailors Holding Up?
Consumer spending, even adjusted for inflation, has been on a crazy growth binge despite high interest rates, and we call them Drunken Sailors for that reason. But a record number of people are working, and they have received the biggest wage increases in four decades, and they're making more money than ever before, and they're spending some of it, and they're still able to save a portion of their income.
Below is consumer spending, adjusted for inflation (via 2017 dollars), in the GDP release that caused Powell to tear out his hair. By contrast, credit card balances above are not adjusted for inflation.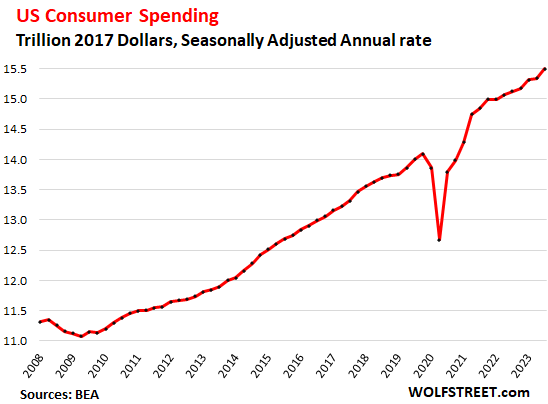 The burden of credit-card balances normalizes at low levels. Credit card balances and "other" consumer debt combined in Q2 of $1.61 trillion amounted to 7.9% of disposable income. Disposable income is income from all sources except capital gains, minus taxes and social insurance payments; it's what consumers have left to buy stuff and pay off their credit cards.
The spike in disposable income during the stimulus era caused the ratio to plunge to record lows. The burden of credit card balances and other consumer loans has now come up from those record lows but remains below the Good Times before the pandemic.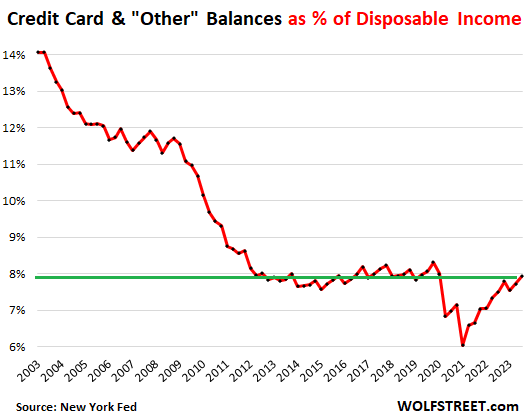 Credit is not tightening. Banks have raised the aggregate credit limits on credit cards to a record $4.7 trillion. With only $1.08 trillion in credit card balances outstanding, the total available unused credit rose to a record $3.63 trillion.
This growing amount of available credit shows that there is no sign of a "credit crunch," though the small subsegment of subprime might experience a credit crunch – that's what we've seen in  vehicle financing, where subprime delinquencies have jumped and credit has tightened.
During the Financial Crisis, credit limits plunged, a sign of tightening credit. There is no sign of this now, on the contrary: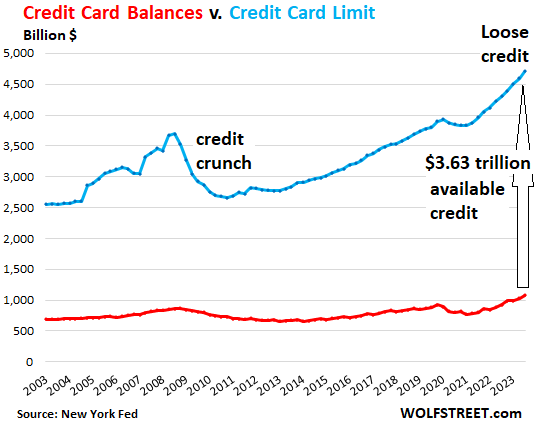 Delinquencies rose from the trough as the trough during the stimulus and forbearance era is behind us.
Credit card balances that transitioned into delinquency – 30 days or more past due at the end of the quarter – rose to 8.0% in Q3, higher than in recent years, but lower than any time before 2011 back to 2003. In 2019, the rate was about 7.0% (red line).
Other consumer credit transitioning into delinquency inched up to 7.3%. In Q3 2019, it was 7.2%, in 2018, it reached 7.4%; so back to Good Times levels before the pandemic (green).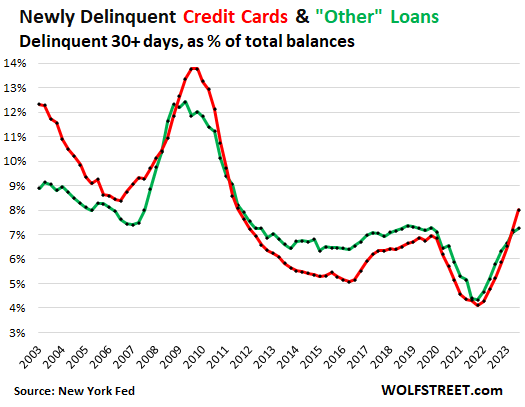 The above delinquency data from the New York Fed is based on its data from Equifax and shows the amounts that are delinquent. Below is new data from the New York Fed that shows the percentage of credit card users (people) who are delinquent.
Only 2% of credit-card users are 30+ days delinquent, according to new data from the New York Fed in a blog post, using the Equifax data and the New York Fed's survey data from its Consumer Credit Panel.
This 2% of all credit card users being 30-plus days delinquent, while 98% of credit card users are current, that's practically a rounding error within the overall economy. Before the pandemic, roughly 1.5% to 1.7% of all credit card users were delinquent.
The fact that 98% of credit card users are current on their credit cards — either paying them off by due date or making at least the minimum payments on time — is another sign that consumers are not Drunken Sailors, and that we use the term lovingly and facetiously.
What it does show is that this very small number of credit card users (2% in Q3) is delinquent on more than one card, and on larger balances. They're in a heap of credit trouble, but their number is so small that when they run out of options, it has little impact on overall consumer spending.
This data goes back only to 2015; it only shows the Good Times. It would be nice to have this data going back to the Great Recession to get a feel for what it's like when the economy gets in trouble (chart via New York Fed).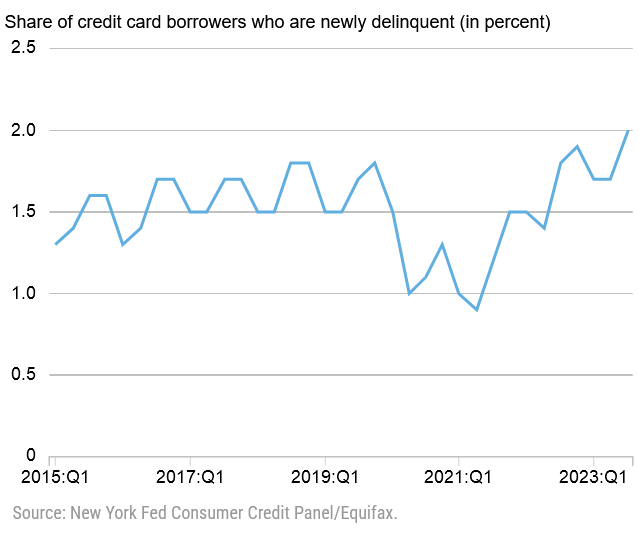 Enjoy reading WOLF STREET and want to support it? You can donate. I appreciate it immensely. Click on the beer and iced-tea mug to find out how:

Would you like to be notified via email when WOLF STREET publishes a new article? Sign up here.