Spiking Interest payments will hopefully, knock on wood, force the drunken sailors in Washington to go through detox.
The gigantic US government debt is now approaching $33 trillion, amid a tsunami of issuance of Treasury securities to fund the mind-blowing government deficits and roll over maturing securities. At the same time, the Fed has hiked its policy rates where borrowing with short-term Treasury bills costs the government now close to 5.5% in interest, and borrowing longer-term costs over 4%.
But the higher interest rates that the government pays now apply only to the new Treasury securities to fund the new deficits and to replace maturing securities with lower rates. The securities issued years ago will cost the government whatever coupon interest they came with until they mature.
So the average interest rate that the government is paying on all its interest-bearing debt has been ticking up gradually from the historic low point of 1.57% in February 2022 to 2.84% in July. And it will continue to rise as new securities with higher interest rates take on a larger share. Back in 2001, the average interest rate was over 6%: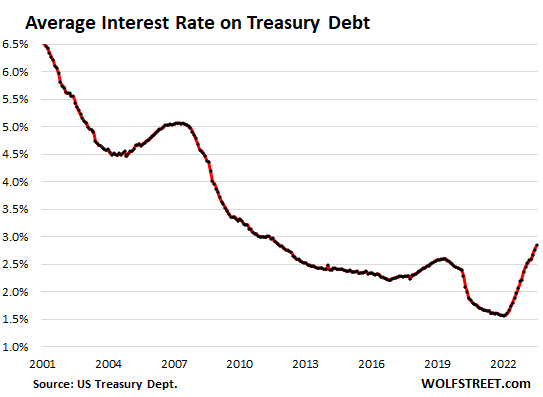 To what extent interest payments eat up tax revenues.
So first the primary measure of the burden of the national debt on government finances, and then into the components: The chart below shows interest expense as a percent of tax revenues. This measure of tax revenues – total tax revenues minus contributions to social insurance and some other factors – was released today by the Bureau of Economic Analysis as part of its GDP revision. This is what's available to pay for regular government expenditures, including interest expense.
The ratio of interest expense as percent of tax revenues spiked to 36.2% in Q2, up from 33.0% in Q1, and up from 20.9% a year ago, a huge jump in just one year.
The ratio (36.2%) is back where it had been in Q1 1997
In Q1 2022, the ratio had dropped to 19.3%, lowest since 1969.
Between 1983 and 1993, the ratio ranged from 45% to 52%. Oh, those crazy times! Eventually, it triggered a lot of fretting, including in Congress.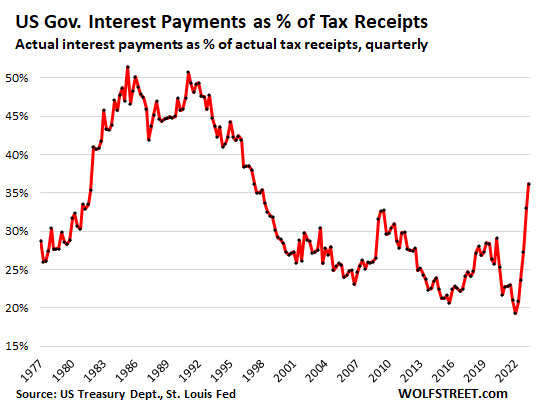 Detox not yet. As we saw back when interest expense ate nearly half of the federal tax revenues in the 1980s through early 1990s, a high interest burden might be the only discipline available that will sober up our drunken sailors in Congress. But I'm not taking any bets on it. Drunken sailors don't want to sober up. Free booze for this long is a terrible thing. Hard to detox.
Tax revenues and interest payments.
Tax revenues fell to $670 billion, from capital-gains-inflated spike. Tax revenues fell because 2022 was a lousy year for investors, with all kinds of asset classes getting bashed down, some brutally. As a consequence, capital gains taxes for the tax year 2022, paid by April 15, 2023, plunged.
The plunge of the capital gains taxes came off the enormous high that had been caused by the asset-price spike in 2020 and 2021, that the Fed had fueled with trillions of dollars of QE.
But personal income taxes have continued to surge as a record number of people worked, earning the biggest pay increases in 40 years, of which the government extracted its pound of flesh. Income tax revenues rise with growing employment and wage inflation.
The red line in the chart below shows tax revenues. The trend line shows how crazy the capital-gains-driven spike in tax revenues was in 2020 through Q1 2022 (biggest and final leg of the spike).
Interest payments spiked to $242 billion, having nearly doubled since Q4 2020. Ballooning debts funded with higher average interest rates did do that (green).
The chart shows tax receipts (red) and interest payments (green) together for a better sense of proportion of both of them: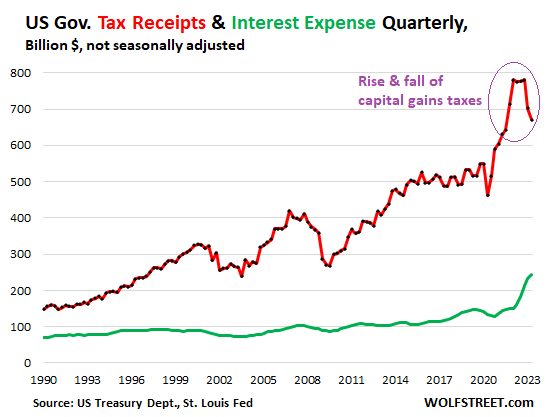 Interest payments as percent of GDP edged up to 3.6% in Q2, the highest since 2000, but well below the budget-nightmare times of the 1980s when it exceeded 5% of GDP for a few quarters.
This ratio is quarterly interest expense (not adjusted for inflation, not seasonally adjusted annual rate) divided by quarterly nominal GDP (not adjusted for inflation, not seasonally adjusted annual rate). So, it too gets our attention – not yet in the nightmare shape of the 1980s, but it doesn't take much imagination to see where this might be going.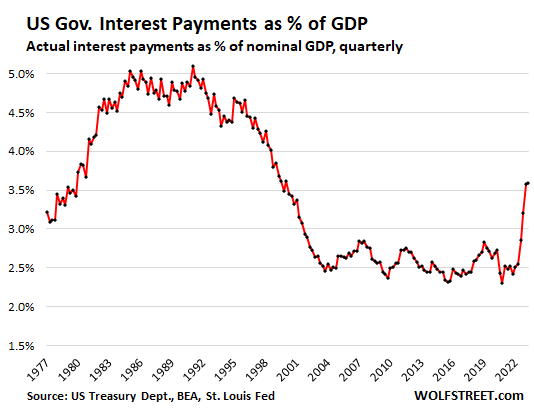 The US debt-to-GDP ratio edged up to 122.8%. This is based on the gross national debt at the end of Q2 (not adjusted for inflation) divided by the revised nominal GDP (seasonally adjusted annual rate, not adjusted for inflation) released today by the BEA. The spike to over 130% had occurred because GDP had plunged and the debt had spiked.
Economic growth and inflation increase nominal GDP, and the debt is growing with the deficits. If nominal GDP grows faster than the debt, the ratio comes down, and it did come down some from the spike, but in Q2 it edged back up: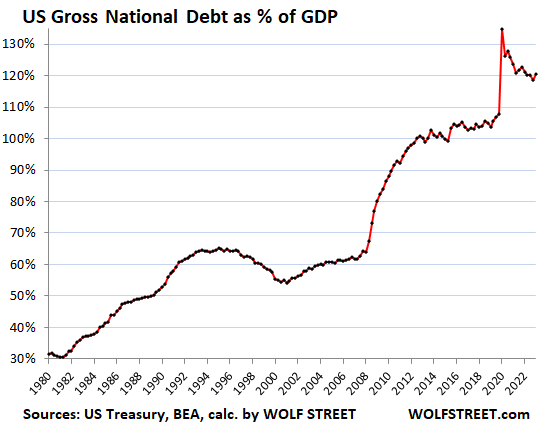 All these reckless deficits over the many years, and still today, were made possible by Easy Money when the cost of debt just didn't matter much. Now it matters, but now the country is stuck with this mountain of debt, and it continues to swell, amid the worst resurgence of inflation in 40 years. The interest payments will eat an ever-larger share of taxpayer money until hopefully, knock on wood, they will force our drunken sailors in Washington into detox.
Enjoy reading WOLF STREET and want to support it? You can donate. I appreciate it immensely. Click on the beer and iced-tea mug to find out how:

Would you like to be notified via email when WOLF STREET publishes a new article? Sign up here.