Prices eased in other categories.
The scary part about inflation in Canada is the red-hot rent inflation, which has shot up in nearly a straight line to 7.3% in September year-over-year, the highest rate since July 1983 when it was on the way down, according to Statistics Canada today. This rent inflation is a huge problem for Canadians.
The Bank of Canada has cited inflation in the housing sector as a major problem. Initially, the problem was in inflation in home prices, before overall consumer-price inflation had even begun to rage. Now the issue of spiking rents gets added to the pile: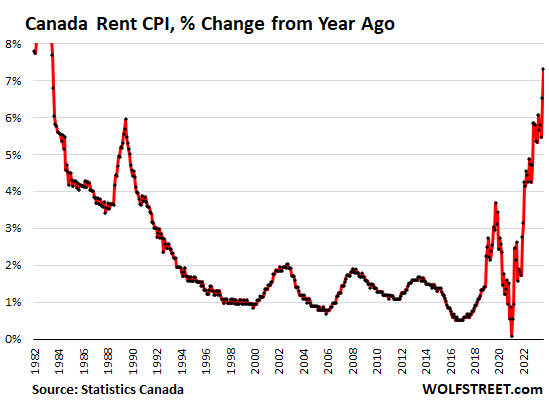 The Bank of Canada, which has been citing housing inflation as one of the factors in its rate-hike decisions, has contributed to this inflation in the housing sector by repressing interest rates and massively engaging in money printing, until it had a change of mind when inflation began to rage.
The population spike was another big contributor to rent inflation, following the government's decision to open the floodgates to immigration. It doesn't take a genius to figure out that the people pouring into the country are chasing after housing – most of them initially rental housing. And when they push up demand at the lower portion of the rent scale, rents rise in response, and then those rent increases percolate up the ladder.
The population of Canada increased by 1.16 million people over the past four quarters, or by 2.1%, to 40.1 million in Q3, according to Statistics Canada. This was between two and five times the growth rate in prior years. In addition to whatever other issues this sudden surge in population poses, it turns the rental-housing market into an inflation hotbed. Note the spike in the population in the quarter: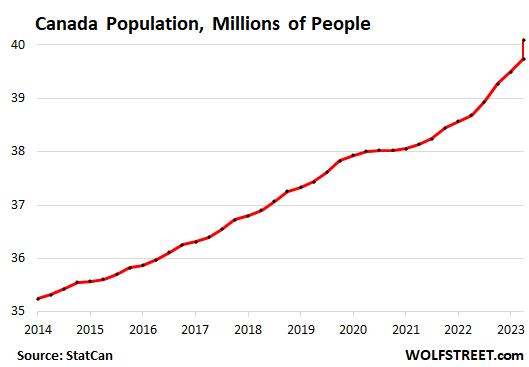 The month-to-month CPI for rent spiked by 0.83% in September from October (annualized 10.4%!). This month-to-month measure is a notoriously volatile measure, as you can see in the chart, but after a while it adds up: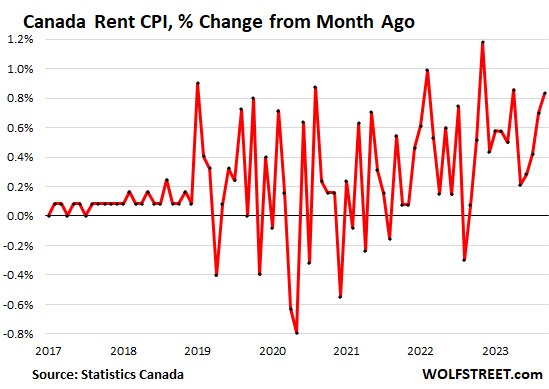 Homeownership CPI accelerated on a month-to-month basis to 0.61% in September (7.6% annualized), and has been in the same range around +0.6% since April.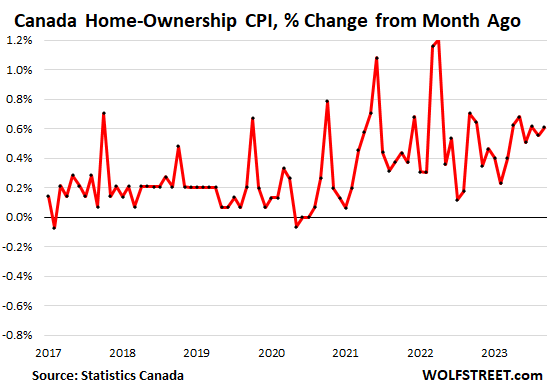 Year-over-year, the CPI for homeownership or "owned accommodation" eased a tad to 6.3% in September from 6.4% in the prior month, which had been the highest since February.
The index includes, year-over-year:
Mortgage interest cost: +30.6%;
Homeowners' replacement cost (the dropping home prices): -1.1%;
Homeowners' home and mortgage insurance: +8.2%
Homeowners' maintenance and repairs; +3.3%;
Property taxes and other special charges: +3.6%;
Other owned accommodation expenses: 0.1%.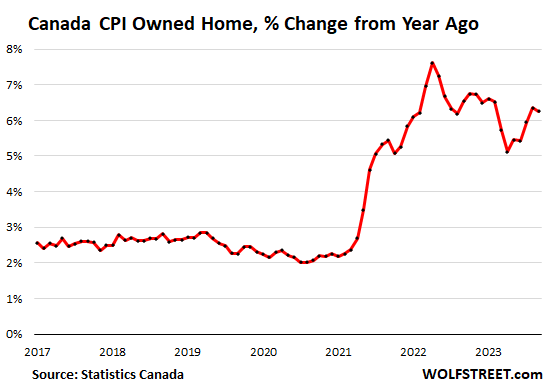 Overall CPI was pushed down by month-to-month declines in durable goods, energy, food purchased at stores, purchase costs of passenger vehicles, and big month-to-month drops in the costs of healthcare services (-1.0%), travel accommodation (-2.45%), and transportation (-1.0%). Overall CPI is the red line in the chart below.
Among the items pushing up were rents, owned accommodation, and medicinal cannabis. The services CPI remained unchanged.
Core CPI, which excludes food and energy, was essentially flat on a month-to-month basis, and decelerated to 3.2% year-over-year (green).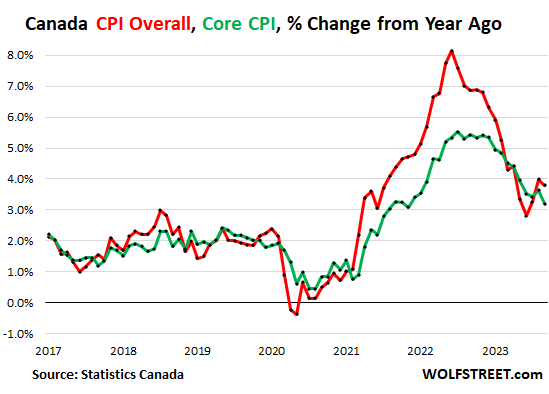 Enjoy reading WOLF STREET and want to support it? You can donate. I appreciate it immensely. Click on the beer and iced-tea mug to find out how:

Would you like to be notified via email when WOLF STREET publishes a new article? Sign up here.