Tech & social media companies went nuts during the pandemic hiring-bubble, then sobered up. Now it's already over.
In terms of actual workforce reduction, let's look at Alphabet for a moment. In its earnings report on Tuesday evening, Alphabet disclosed that the "substantial majority of the employees affected by the reduction of our workforce" – the 12,000 layoffs announced in January – "are no longer included in our headcount as of June 30, 2023."
As of June 30, Alphabet's headcount, at 181,798 full-time employees, was down by 8,436 from the peak as of December 31, just before the announcement. Yet, year-over-year, compared to June 30, 2022, the headcount was still up by 7,784 employees.
Tech and social media companies had gone nuts during the pandemic-hiring-bubble. In Q3 2022, at the peak of the feeding frenzy, Alphabet had added 12,765 employees. In the year 2022, it had added 33,734 employees. In 2021 and 2022 combined, Alphabet had added 54,933 fulltime employees, increasing its headcount by 41%. Those were huge numbers in crazy times, with most of them working from home, to where, as I can imagine, no one really knew anymore what anyone was actually doing. Musk fired something like two-thirds of Twitter's employees and contractors and got away with it. What were all these people doing anyway? In the layoff announcement in January, CEO Sundar Pichai said, "we hired for a different economic reality than the one we face today."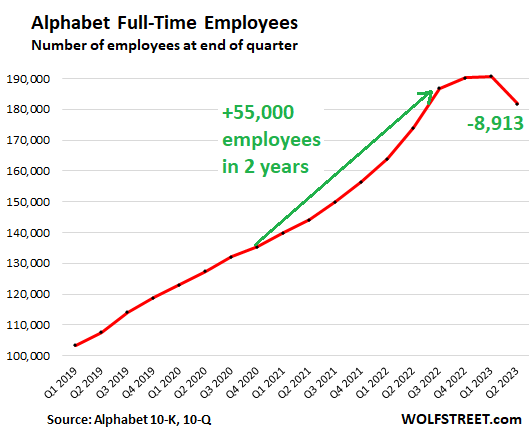 Google's headcount reduction of 8,436 employees through June 30 from the peak on December 31 spanned the globe. The US count was much smaller. And many of the laid-off employees found work quickly.
While these layoffs were weeding out a lot of people, Alphabet still hired new people. Some had gotten laid off by other tech and social media companies, some it hired away from other companies, and some of those now vacant slots at these companies were filled by laid-off Googlers. Other companies – such as automakers staffing up their new EV divisions – finally had a chance to hire tech workers as they were no longer hopelessly outbid by tech companies.
So these tech layoffs that were all over the news last year and earlier this year created mostly churn, with a lot of empty slots getting filled elsewhere.
And we can see that principle at work more broadly in claims for unemployment insurance filed by people who'd gotten newly laid off.
Initial claims for unemployment insurance backtrack. The number of initial claims for unemployment insurance that people filed in the latest reporting week with state unemployment offices fell by 7,000 from the prior week, to 221,000 initial claims, seasonally adjusted, the third week in a row of declines, and back to February levels, according to the Labor Department today. These claims for unemployment insurance are now back at the low end of the past 50 years.
The 4-week moving average irons out weekly ups and downs, but it lags a little behind. And we can see that the mild uptrend that started early this year sputtered out in April, and then reversed: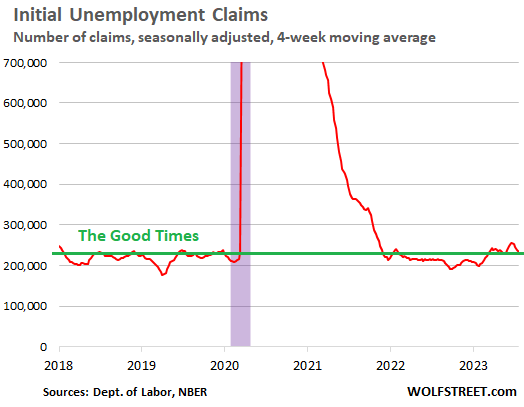 "Continued Claims" backtrack. The number of people who are still claiming unemployment insurance at least one week after the initial application – people who haven't found a job yet – fell to 1.69 million, the lowest since the end of January, as people find jobs more quickly than earlier this year and are rehired more quickly and come off the unemployment-benefit rolls faster.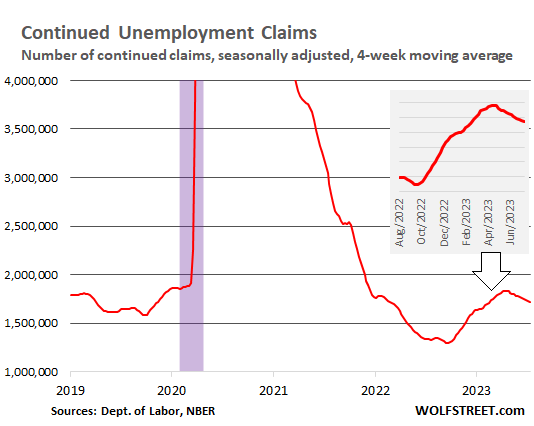 Alphabet was just one example. With the big tech and social media companies, it followed the same pattern: Big layoff announcements globally, but a smaller headcount reduction because hiring continues to this day, and only a portion of the headcount reduction took place in the US, and then those workers got picked up quickly by other companies that have been struggling for talent, and a lot of them ended up in new jobs that still paid very well – but less than their prior jobs.
It did put a lid on employment growth in the tech sector. Employment in the "Information" sector saw a Googlesque hiring boom in 2021 through mid-2022 that then suddenly turned south, with employment dropping for a few months late last year. But this year, employment has inched up again.
The "Information" sector includes web search portals, data processing, data transmission, information services, software publishing, motion picture and sound recording, broadcasting including over the Internet, and telecommunications.
So this layoff spree turned into massive churn – rather than a pileup of unemployed workers – with most of the laid-off people changing jobs within the industry. But some changed industries, such as switching to the tech divisions of industrial companies, and so the headcount in Information fell last year, before starting to inch back up this year: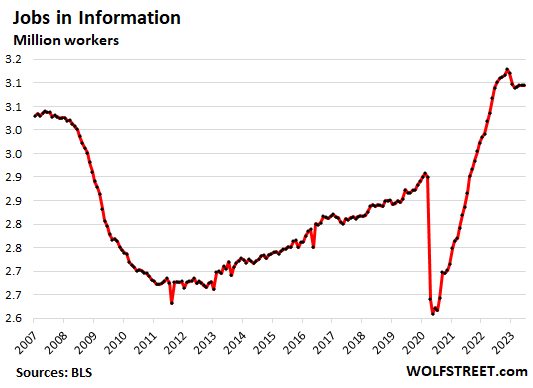 Enjoy reading WOLF STREET and want to support it? You can donate. I appreciate it immensely. Click on the beer and iced-tea mug to find out how:

Would you like to be notified via email when WOLF STREET publishes a new article? Sign up here.