What's easier to see in this scenario is more persistent inflation.
GDP, adjusted for inflation ("real GDP"), jumped by 2.4% in Q2 from Q1, following the heavily upwardly revised 2.0% increase in Q1, according to the Bureau of Economic Analysis today. All major categories, adjusted for inflation, increased:
Consumer spending rose by 1.6%, after the upwardly revised 4.2% surge in Q1.
Government spending rose by 2.6%, driven by surge at state and local governments.
Gross private investment surged by 5.7%, the biggest increase since 2021, after a series of big drops, including an 11.7% plunge in Q1. That was a huge swing, driven by nonresidential investments.
The trade deficit got a little less horrible, on a big drop in imports. So it subtracted a little less from GDP.
Change in private inventory investment added a hair to GDP (+0.1 percentage points).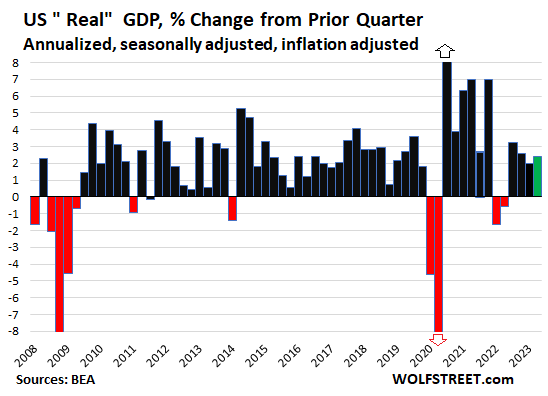 "Nominal GDP" (not adjusted for inflation) jumped by 6.3% to $26.8 trillion annualized. This is the actual size of the US economy, expressed in "current" dollars. By contrast, "real GDP" (the inflation-adjusted figures here), expressed in "2012 dollars," came to $20.4 trillion. All figures below are adjusted for inflation via 2012 dollars.
Consumer spending on goods and services rose by 1.6% annualized and adjusted for inflation, after the upwardly revised 4.2% surge in Q1. So average them out, and that's where this is going. Consumer spending accounts for 70% of GDP.
Year-over-year, consumer spending rose 2.3%, adjusted for inflation, which is above the 2019 growth rates and right in the range of the Good Times years before the pandemic.
Spending on goods still rose at 0.7%, after the 6.0% surge in Q1, despite the massive shift of spending from goods to services.
Spending on services rose by 2.1%, adjusted for inflation, with consumers easily out-splurging inflation in services (with "core" services CPI at 6.2%!). Spending on services accounted for 62% of consumer spending.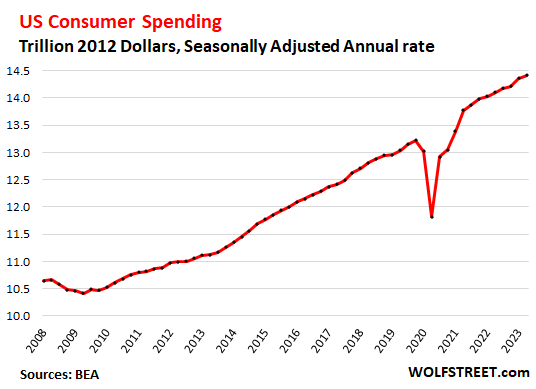 Government consumption and investment rose by 2.6% to a new record, and the fourth quarter in a row of increases, after five quarters in a row of declines.
Federal government: +0.9% (national defense -1.1%, nondefense +2.5%).
State and local governments: +3.6%, driven by an increase in wages for government employees.
Government consumption and investment does not include transfer payments and other direct payments to consumers (stimulus payments, unemployment payments, Social Security payments, etc.), which are counted in GDP when consumers and businesses spend or invest these funds.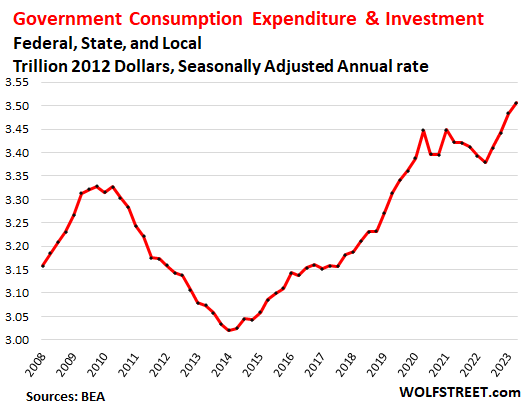 Gross private domestic investment jumped by 5.7%, after the 11.9% plunged in the prior quarter. The plunges in the prior quarters had worked off the entire pandemic spike and overshot on the way down, which had dragged down GDP. In Q2, investment perked back up, heading back to trend.
Nonresidential fixed investments: +7.7%:

Structures: +9.7%.
Equipment: +10.8%.
Intellectual property products (software, movies, etc.): +3.9%.

Residential fixed investment: -4.2% (-4.0% in Q1, -25.1% in Q4).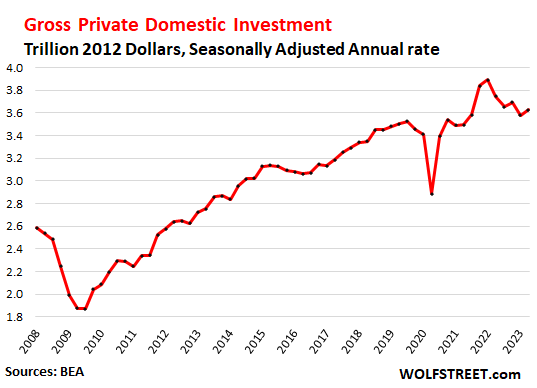 The Trade Deficit ("net exports") in goods & services got a little less horrible:
Exports fell 10.8%.
Imports fell 7.8%.
Imports subtract from GDP. So falling imports in Q2 boosted GDP. Exports add to GDP. So falling exports subtracted from GDP. On net, the trade deficit – the negative "net exports" – is a negative for GDP. In Q2, it was just a tad less horrible than in Q1, so it subtracted just a tad less from GDP.
The massive trade deficit during the pandemic was caused by a historic stimulus-driven buying binge of goods in the US, a lot of which were imported, or whose components were imported. The trade deficit is now back to its normal horrible trend: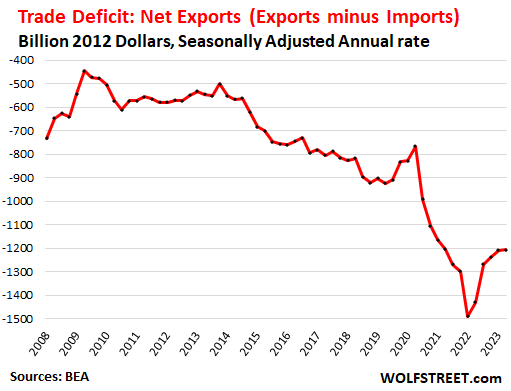 Change in private inventories added 0.1 percentage points to GDP. Changes in inventories count as a business investment. Inventories ticked up just a hair in Q2, to $2.94 trillion, in inflation-adjusted dollars. You can see the inventory shortages that had caused a spike in goods inflation and that ended in the second half of 2022, when restocking efforts began to bear fruit: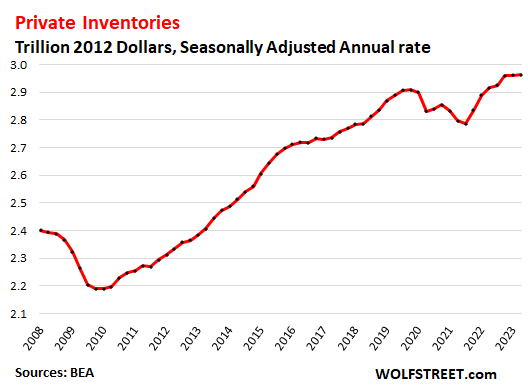 A slowdown is hard to see here. Inflation is easier to see in this scenario. When business investment takes off like this, and when government spending, particularly on government employee wages, surges like this, while consumers are still in party-mode and are outspending inflation without breaking a sweat, and are out-earning inflation, then it's really hard to see an economic slowdown or a recession. It's just not lining up.
What is a lot easier to see in this scenario that we now have before us is more persistent, inflation.
This is Fed Chair Jerome Powell's reaction when he saw today's GDP report, as captured by cartoonist Marco Ricolli for WOLF STREET: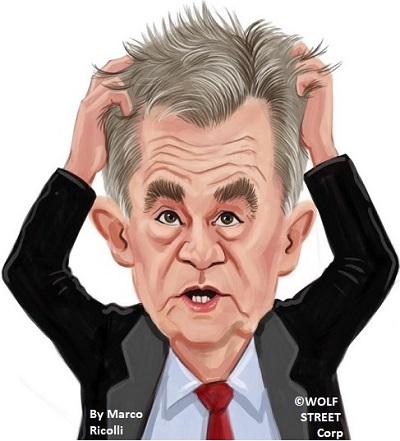 Enjoy reading WOLF STREET and want to support it? You can donate. I appreciate it immensely. Click on the beer and iced-tea mug to find out how:

Would you like to be notified via email when WOLF STREET publishes a new article? Sign up here.