But the layoff announcements in the media scared workers into surrendering some of their newly found power.
There is an interesting dynamic happening that we have seen on the ground, and that is now solidly showing up in unemployment insurance: some companies are laying off people in the US, but the same companies and other companies are hiring these people, and even big companies with huge layoff announcements are still hiring people; and the whole process of these layoff announcements and layoffs has scared employees, and it cut down workers quitting their jobs, and workers who'd refused to go back to the office are now trudging back to the office a few days a week, and demands for higher salaries have softened.
For the last three months, the number of people who "continue" claiming unemployment insurance benefits has been dropping, after seven months of increases due to the layoffs.
Starting in early 2023, we saw an increase in "initial" unemployment insurance claims, up from historic lows, but still near historic lows. And for a while, the number of people who continued to collect unemployment insurance inched up from historic lows, in a sign that it took them longer to find jobs. These were early indicators of the labor market weakening.
But that ended in April. Since early April, surprisingly, the number of people on continued unemployment insurance has dropped.
So here we go, first the "initial claims," then the "continued claims" — it's the continued claims where we see this phenomenon.
Initial claims for unemployment insurance. We won't get too excited about the weekly ups and downs; we'll look at the trends. But here we go. The number of initial claims for unemployment insurance that people filed in the latest reporting week with state unemployment offices fell by 12,000 to 237,000 initial claims, seasonally adjusted, the Labor Department reported today.
The chart of the 4-week moving average irons out those weekly ups and downs. And we can see the mild uptrend that started early this year, from near historic lows:
For the long view in the historic context, initial claims for unemployment insurance remain at the low end of the past 50 years: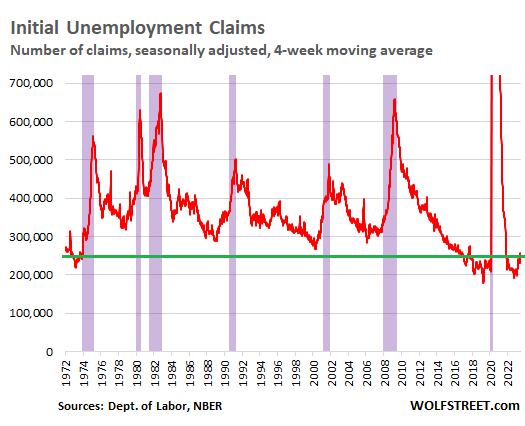 "Continued Claims" backtrack.
But the number of people who are still claiming unemployment insurance at least one week after the initial application – people who haven't found a job yet – has slowly fallen from this year's high in early April of 1.86 million to 1.73 million in the latest week. This was unexpected.
It means that people find jobs more quickly than earlier this year and are rehired more quickly and come off the unemployment-benefit rolls faster.
It means that companies are now hiring people faster than they're laying off people.
Recessions from the Great Recession back through the Double-Dip recession in the early 1980s began when continued claims for unemployment insurance spiked through about the 2.5-million mark. This is one of our recession indicators, but it has been backtracking over the past three months. The gray insert shows the details over the past 12 months: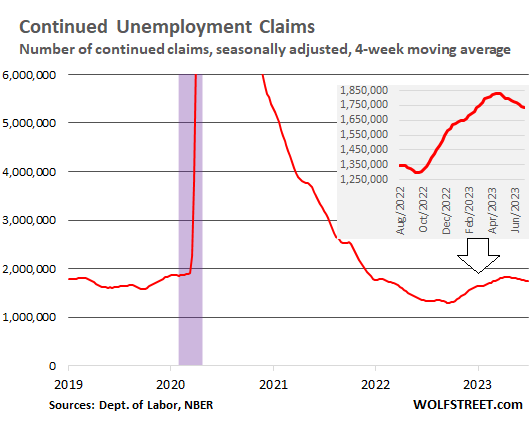 In a historic context, all that has really happened is that the labor market, as depicted by people continuing to claim unemployment benefits, weakened a little in the months leading up to April, to something that was still historically tight, but since then, it has re-tightened a little: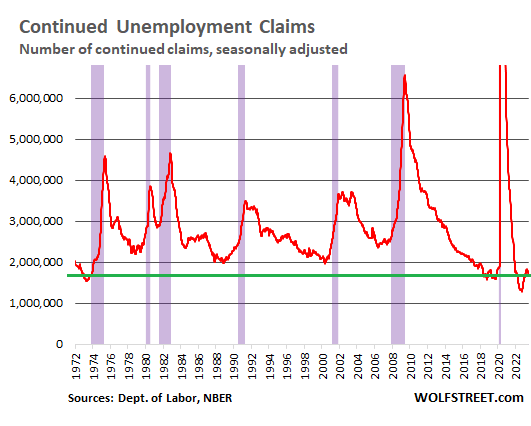 So what we're seeing in these claims for unemployment insurance benefits is that the labor market, after loosening just a little earlier this year, is now backtracking a little, rather than loosening further, amid still very strong demand for labor.
And we're also seeing in the data of slower wage increases and dropping voluntary "quits" that workers have been intimidated by the avalanche of global layoff announcements starting a year ago that the media enthusiastically turned into clicks, and that caused workers to surrender some of the extraordinary power they'd gained in the prior two years.
Other data from different sources confirmed this phenomenon in different ways: Landing Still Cancelled: Labor Market Cruises through Updrafts and Air Pockets
Enjoy reading WOLF STREET and want to support it? You can donate. I appreciate it immensely. Click on the beer and iced-tea mug to find out how:

Would you like to be notified via email when WOLF STREET publishes a new article? Sign up here.