Month-to-month, durable goods prices rose again, on price spike of motor vehicles, after steep drops; services might be cooling a little. Energy plunged.
The core PCE price index, which excludes food and energy products and is the inflation measure favored by the Fed, dipped in May to 4.62%, from April (4.68%), but was above March (4.61%), and was exactly where it had been in December (4.62%), and has essentially gotten stuck in this narrow range and gone sideways for the sixth month in a row. The Fed's target is 2%: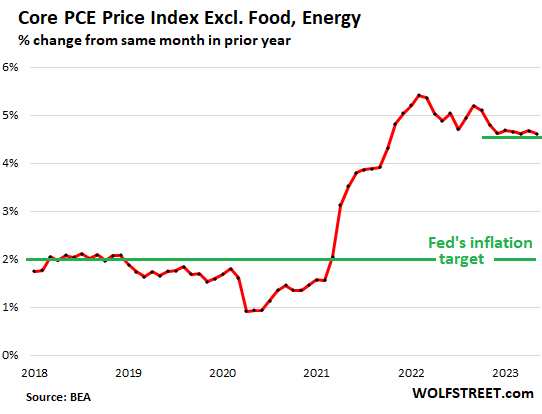 Month-to-month down trend, or not? On a month-to-month basis (green in the chart below), the core PCE price index has oscillated in a dizzying manner since 2021. The oscillations now appear to settle down somewhat. In May, it rose by 0.31%, a slightly smaller increase than in April (0.38%), but roughly the same as in March, and right back where it had been in October (0.31%), according to data from the Bureau of Economic Analysis today. Core PCE has been in this range of 0.3% to 0.4% for the fourth month in a row.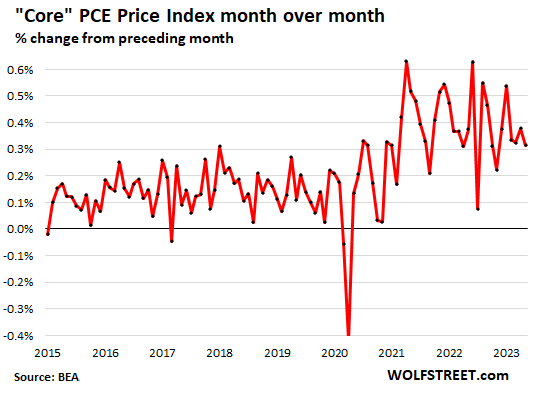 The six-month average of Core PCE (red line in the chart below), which smoothens out the wild volatility and gives a better feel for the trend, was 0.38% in May, same as in November. You can see how it trended down through late 2022 and has then remained roughly in place since then. The six-month average of core PCE priced index in May of 0.38% translates into an annualized rate of 4.7%.
Core services inflation (without energy services) rose by 5.4% in May, year-over-year, a hair lower than in April (5.5%), but same as in March (5.4%) and in December (5.4%). It has been stuck at roughly this level – the highest level in four decades – for the fifth month in a row: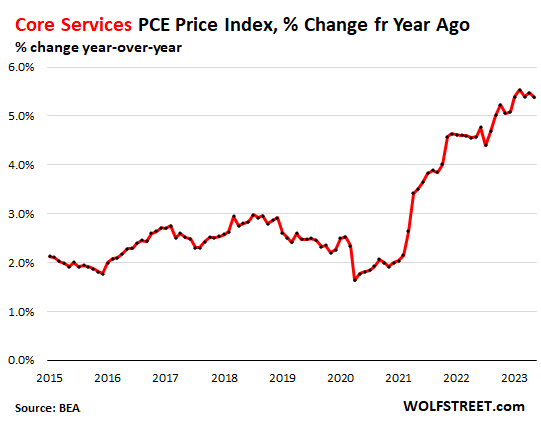 Month-over-month, services inflation appears to be cooling off a little. In May, the index rose by 0.3%, a smaller increase than in the prior months. In April it had spiked by 0.45%. The three-month average came in at 0.37% (red line), showing a three-month cooling period. But it remains very high. That three-month average of 0.37% is 4.5% annualized.
But then, inflation is a weird thing. For the three months through October 2021, there were the same kind of hopeful downtrend of the three-month average, only to reverse and turn into a long uptrend.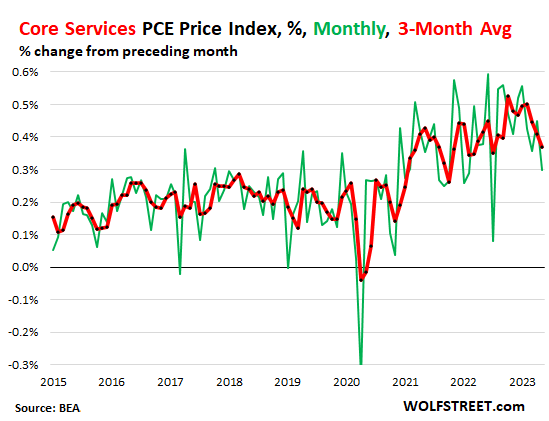 The game of inflation whack-a-mole.
Prices of durable goods, which had been plunging, with negative month-to-month changes, rose again on a big spike in motor vehicle prices.
The index for motor vehicles and parts spiked by 1.4% in May from April (18% annualized), after having spiked by 1.5% in April from March. So that's not good. This spike might not last, but who knows, prices have done strange things over the past two years: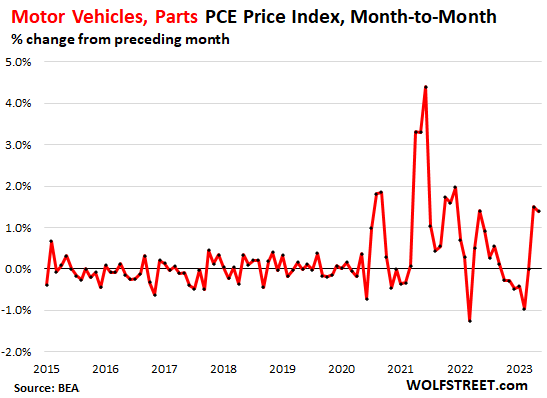 The index for durable goods rose again month-to-month, after having been largely negative since last fall on a month-to-month basis. In May, it rose by 0.25% from April after the 0.20% increase in April from March.
The drop in durable goods prices over the past 12 months – with actual negative readings – had been a big contributor to holding down core PCE inflation. What we saw over the past two months is that this episode of price plunges appears to have ended.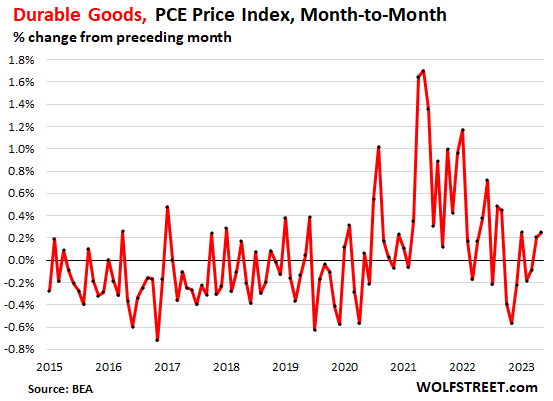 In normal pre-pandemic times, the index for durable goods – manufactured goods that are intended to last a while – was negative year-over-year, driven by improvements in products (hedonic quality adjustments), manufacturing efficiencies, offshoring, and competition.
After the huge year-over-year spike in durable goods prices in 2021 and the first half of 2022, the index now seems to be stabilizing at a positive rate, rising 0.7% in May, roughly the same over the past four months, rather than reverting to pre-pandemic negative rates: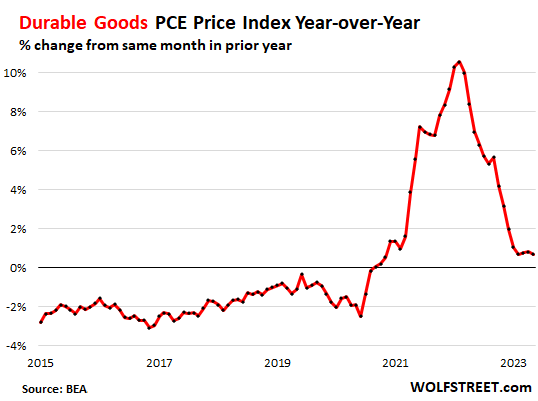 The PCE price index for gasoline and other energy goods plunged by 5.6% in May from April, and by 21.9% year-over-year. This plunge in energy prices pulled down the overall PCE price index.
Food prices, after dipping month-to-month in March and April, rose a tad in May. This reduced the year-over-year increase further to 5.8%, the least bad increase since December 2021.
The overall PCE price index, pulled down by the plunge in energy prices, rose by 3.8%, the lowest since April 2021.
The overall PCE price index was below core PCE for the third month in a row, the result of the plunge in energy prices. Core PCE shows the underlying inflation trends beyond the volatile food and energy components.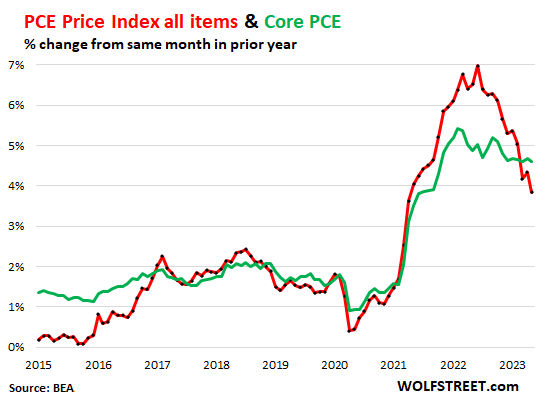 Enjoy reading WOLF STREET and want to support it? You can donate. I appreciate it immensely. Click on the beer and iced-tea mug to find out how:

Would you like to be notified via email when WOLF STREET publishes a new article? Sign up here.