"… to assess additional information and its implications for monetary policy."
Amid massive expectations of a "pivot" or a "pause," or at worst, a "hawkish skip" followed by one rate hike, the FOMC decided on a "very hawkish skip": It kept its policy rates unchanged, with the upper end at 5.25%. With this "skip," the Fed has hiked by 500 basis points in 15 months. The vote was unanimous.
But it sees two more 25-basis-point rate hikes this year, as per its newly updated median projections in its "dot plot." This turns today's decision into a "very hawkish skip,"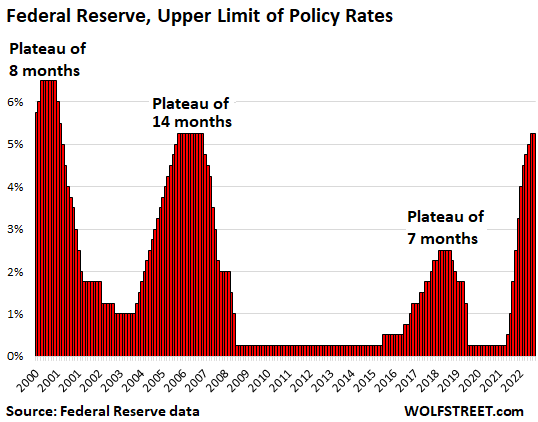 The FOMC kept its five policy rates unchanged:
Federal funds rate target at a range between 5.0% and 5.25%.
Interest it pays the banks on reserves at 5.15%.
Interest it charges on overnight Repos at 5.25%.
Interest it pays on overnight Reverse Repos (RRPs) at 5.05%.
Primary credit rate at 5.25% (what banks pay to borrow at the "Discount Window").
The May 3 statement and Powell at his press conference had made painstakingly clear that the FOMC could either pause or hike at today's meeting, without giving any indication in which direction they would lean, and that the decision would be dependent on the data, rather than run on a predetermined course. It would look at "economic and financial developments" over the intervening weeks.
And those "economic and financial developments" came in fairly hot, including "Core CPI," which, on a month-to-month basis, accelerated for the second month in a row, and hasn't improved at all in seven months, running persistently at two-and-a-half-times the Fed's target range. The banking crisis from March has been moved to the back burner. And hiking at this meeting would have been consistent with the data and with the Fed's claim that its decision would be data-dependent.
But OK, it already hiked by 500 basis points so far, and waiting another month to see how things develop isn't going to change all that much. And it does take a while for higher rates to tamp down on inflation. And then hike a couple more times.
New language was added to the statement to explain the skip: "Holding the target range steady at this meeting allows the Committee to assess additional information and its implications for monetary policy."
And it repeated the language that was new at the May statement, which leaves the door open for more rate hikes:
"In determining the extent to which additional policy firming may be appropriate to return inflation to 2 percent over time, the Committee will take into account the cumulative tightening of monetary policy, the lags with which monetary policy affects economic activity and inflation, and economic and financial developments."
The "dot plot." In its updated "Summary of Economic Projections" (SEP) today, which includes the infamous "dot plot," the median projection for the federal funds rate at the end of 2023 rose by two rate hikes, to 5.625%. Two more rate hikes this year, that was a very hawkish add-on.
This would move the target range for the federal funds rate between 5.5% and 5.75% by the end of the year. And obviously there is no rate cut in the projections for 2023; not a single member projected a rate cut.
Nobody in the dot plot projected rate cuts by year end. Two members projected holding rates at current levels for the remainder of the year (mid-point of 5.125%, for a target range of 5.0% to 5.25%, which is the current target range). The remaining 16 members projected one or more rate hikes by year end, with one of them projecting 1 full percentage point (mid-point of 6.125%).
These are the projected mid-points of the target range:
1 expects: 6.125%
2 expect: 5.875%
9 expect: 5.625% (median)
4 expect: 5.375%
2 expect 5.125%
Median projections also ratcheted up expectations for GDP growth to 1.0% from 0.4%.
And they've kept raising their projections for inflation ever since the rate hike cycle started. Today, they raised the median projection for the "core PCE" price index again, this time to 3.9% by year-end, from 3.6% in the prior dot plot. In other words, they're watching googly-eyed how core inflation just isn't coming down, and they're having to chase after reality.
Banking crisis may help push down inflation: The May 3 statement had discussed the banking crisis and its impact on inflation, that it just might help push down inflation through "tighter credit conditions for households and businesses" that "are likely to weigh on economic activity, hiring, and inflation," conceding that "the extent of these effects remains uncertain." In today's statement, the Fed repeated the same language.
QT will continue on track, with the Treasury roll-off capped at $60 billion per month, and the MBS roll-off capped at $35 billion a month, same as in the prior months.
And here's Powell at press conference on the New Hawkishness in the Dot Plot and on Inflation: "We See that it Tells Us that We Need to Do More"
Enjoy reading WOLF STREET and want to support it? You can donate. I appreciate it immensely. Click on the beer and iced-tea mug to find out how:

Would you like to be notified via email when WOLF STREET publishes a new article? Sign up here.