What we saw on Friday was large-scale fear of taking big uninsured deposits into a potentially gruesome FDIC weekend.
What we saw last week in the Treasury market and particularly on Friday was fear – large-scale fear by individuals and companies with big uninsured deposits in certain banks. They yanked those deposits out from their accounts at those banks – millions or tens of millions or hundreds of millions of dollars each – exacerbating the run on their bank. And they moved their money elsewhere, including to other banks, some of which gained a large amount of deposits, and into Treasury securities.
In the Treasury market, there was huge demand that pushed up prices and caused yields to plunge amid whiplash-inducing volatility, and concluded on Friday, with another bout of panic-buying as yields re-plunged, after having jumped on Thursday. But by Monday, the weekend – and the fear of going into the weekend with large deposits – will be over, and yields are due for a massive bounce.
The two-year Treasury yield plunged by 33 basis points on Friday to 3.81% the lowest since September, having plunged by 109 basis points during five-day period, amid breath-taking ups and downs. So this is fear that you're seeing here – fear of a gruesome banking weekend. And the next move, stimulated by relief that no other bank collapsed over the weekend, knock on wood, should be a big move up: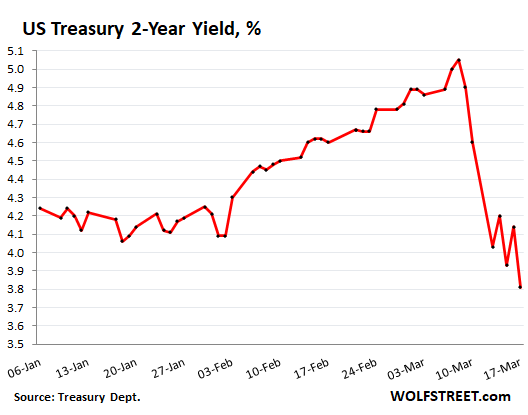 Those depositors, by yanking their money out and buying Treasury securities and thereby driving down yields weren't betting on an emergency rate-cut of 50 basis points via Fed teleconference on Sunday afternoon or whatever. It's just that they didn't want to enter a potentially gruesome weekend where on Sunday they would find out that their bank has been taken over by the FDIC.
They didn't want to find out that their uninsured bank deposits would not be available for a while, and that when they would become available, there would only be a portion. They didn't want to find out Sunday afternoon that their bank didn't have enough deposits from self-righteous well-connected billionaires with big megaphones and from companies that those billionaires invested their billions in.
They didn't want to find out that their bank was just a normal bank and not a billionaire's playground, and that the rules of deposit insurance would therefore be applied to them. And they preemptively yanked their money out, especially on Friday, and lots of them bought Treasury securities.
The six-month Treasury yield plunged by 23 basis points on Friday to 4.71% the lowest since early December, having plunged by 61 basis points during the week.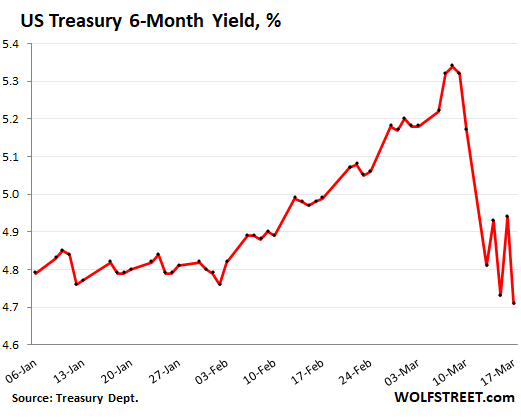 Volatility in yields was breath-taking. On Monday, the two-year yield plunged 57 basis points, after having already plunged 30 basis points on Friday, March 10, when Silicon Valley Bank collapsed. On Tuesday, yields bounced. On Wednesday they plunged intraday and then undid some of the plunge intraday. On Thursday yields jumped 21 basis points, including an intraday recovery of 40 basis points. And then on Friday, there was such massive demand for two-year maturities that prices jumped and yields plunged 33 basis points – fear of a gruesome banking weekend.
The volatility last week in the two-year yield exceeds anything we've seen during the worst moments of the pandemic and during the Financial Crisis. This chart shows day-to-day changes in basis points of the two-year yield. Fear-driven panic buying: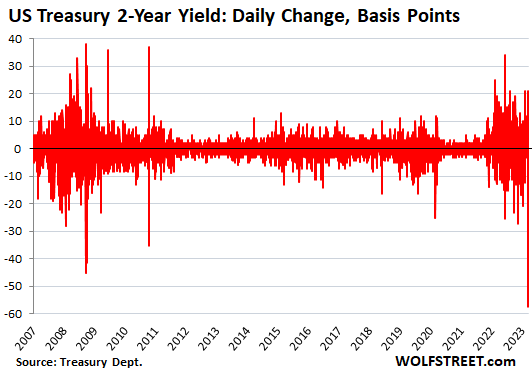 And Monday? It's now Saturday afternoon, and so far, so good, no collapse-announcement in the news, knock on wood. Some bank-buyout rumors in the news though about First Republic and Credit Suisse, and that would be a good thing. If this relative calm – or rather the absence of new chaos – continues, it's going to be met with relief in the depositor and banking scene on Monday, and Treasury securities should sell off and yields should produce a circus-worthy bounce.
Enjoy reading WOLF STREET and want to support it? You can donate. I appreciate it immensely. Click on the beer and iced-tea mug to find out how:

Would you like to be notified via email when WOLF STREET publishes a new article? Sign up here.